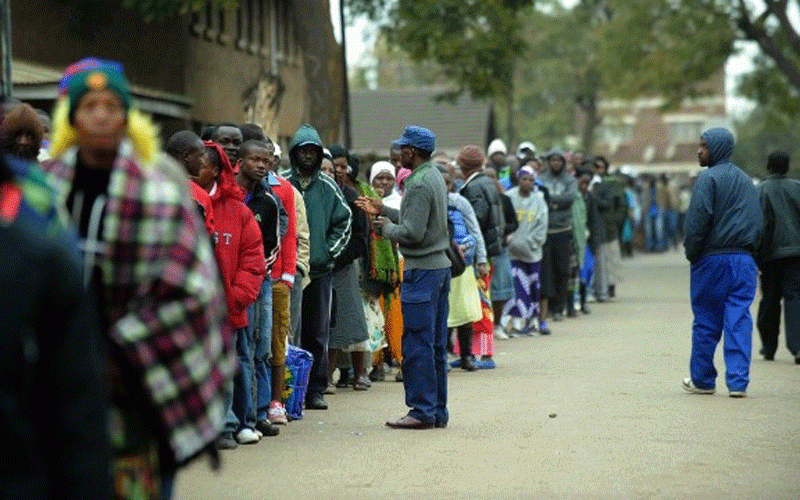 In this edition, I seek to partly demonstrate how some traditional leaders rig elections in favour of the ruling Zanu PF party on voting day in marginal rural areas. I further suggest practical interventions as a way to ignite wider debate ahead of Zimbabwe's 2023 general election. This is based on insights drawn from a history of researching electoral politics in Zimbabwe.
My intervention follows Kembo Mohadi's public claim on the political positioning of traditional leaders on April 20, 2023. Mohadi is one of Zanu PF's deputy presidents. Mohadi claimed that chiefs have assured Zanu PF a massive victory in the 2023 general election. According to Mohadi, the agreement between Zanu PF and the chiefs entails that "on voting day, a headman will marshal his subjects and ensure they have all voted before he votes last".
Most Zimbabwean political commentators have correctly castigated Mohadi's statement on the basis that it violates Chapter 15 of the Constitution that bars traditional leaders from being partisan and has reinforced the important need for civic education on the constitutional role of chiefs. I take a slightly different angle that seeks to empirically substantiate Mohadi's claims which were just but a tip of the iceberg.
This is important given that the institution of traditional chieftaincy is not on the verge of disappearing in Zimbabwe. Even the nationalist movements' efforts to eliminate the traditional institution on the eve of African independence about half a century ago on the basis that it clashed with the liberation vision for political equality and democracy have largely failed on the continent.
Reader, I am aware that traditional leaders are not a homogeneous bloc in Zimbabwe. However, a significant number of them continue to play a partisan political role in ways that undermine electoral democracy.
Some traditional leaders disseminate party-State patronage, openly campaign for the ruling elite and at times punish opposition supporters in their jurisdictions. It is important to note that their alliances also include antagonisms with the ruling elite which means power between them is ever contested.
Nevertheless, the traditional leaders do not just rely on political alliances, hard power, the law and their control over customary land. The chiefs also widely appeal to cultural, historical, spiritual and social legitimacy in complex ways. This is located in their day-to-day social and administrative functions in the villages outside the volatile electoral calendar. In some rural constituencies, the traditional system is like a religion as the chief's word is final.
The chiefs, therefore, become a coveted target for co-option by some politicians to help manipulate elections in distinct ways during the electoral cycle and in particular on the voting day, which is the focus of this article.
Reader, on voting day, some village heads "paddock voters", that is they shepherd voters to the polling booth, which makes many voters feel they are under surveillance and, therefore, fail to vote freely. The village heads assemble people at their homesteads early in the morning on the voting day before polling stations open.
The village heads then assign a leader to accompany the voters to the polling station as a group, with instructions to vote for Zanu PF. Voters are then directed to stand in a queue behind their assigned leader so that their vote can be "ascertained" thus depriving them of the right to choose.
Reader, this trend was prevalent in the eleven wards of Zhombe constituency in Midlands province in the 2013 general elections and this was replicated in Bikita West in the 2017 by-election and other rural constituencies like Mudzi where it was dubbed "sabhuku nevanhu vako" (the village head with his/her people) in the 2018 general election.
Fear is reinforced as traditional leaders actually man some entries to the polling stations writing down names of people who would have voted, as was the case at Kebvunde Primary School in Mutoko North in Mashonaland East province in 2013. Such practices make citizens living in the rural areas afraid to vote as Zanu PF has a record of punishing — even killing — those who vote against it like what happened in June 2008.
Reader, hand-in-hand with the paddocking of voters is that some traditional leaders also tell voters to record the two digits of the ballot serial number during voting, and submit them to Zanu PF's 'depository centres' set up by ruling party activists working with village heads and "boys on leave" (partisan members of the security sector deployed in villages during elections).
Villagers are usually terrorised so that they can leave their ballot serial numbers at the depository centres. For example, in Mutorashanga, Mashonaland West province, Kamushinda's house was used as the depository centre where people took their ballot serial numbers.
This was also pronounced and widespread in wards 4, 10, 11 and 12 of Nyanga South in Manicaland province in 2013 as well as in the 2018 general elections. This serves to instil fear among the citizens and to make them believe that their vote is not a secret.
In some cases, village heads force suspected opposition supporters to feign illiteracy so that they can assist them to vote. This is why the number of assisted voters was high in the 2018 general elections and the March 2022 by-elections reaching up to 30% of voters at some polling stations.
This is both a continuing and a historical trend. For example, in Mt Darwin North on July 31, 2013, early in the morning, before polling stations opened, people had to assemble at the homesteads of their headmen. Each headman had a list of suspected opposition Movement for Democratic Change (MDC) supporters, relatives of MDC officials and youths aged between 18 and 35 years who were not active in Zanu PF.
All these were assigned Zanu PF supporters to assist them to vote on the pretext that they were unable to write. Even a Roman Catholic Church Bishop like Chakaipa in ward 4 was said to be unable to write an X but ironically, he is able to read the bible and preach every Sunday.
Coercing opposition members and potential voters to agree to be treated as 'assisted voters' whereas they can read and write reduces them to subjects and compromise the integrity of the elections.
In addition, some traditional leaders are deployed as election agents for Zanu PF candidates on the voting day in violation of the Constitution. For example, during the 2018 general elections in ward 4 in Gokwe at Chireya and Kayenga polling stations, traditional leaders were deployed as election agents representing Zanu PF candidates. These were village heads for Nerwande, Ruvhute and Mavi villages.
The voting day is a site for political struggles requiring robust strategies and tactics to detect, deter and mitigate fraud and manipulation.
Practical interventions might therefore include but are not limited to sustained collective strategies to democratise the post-colonial traditional customary institution; building local resilience through establishing community protection mechanisms such as village-based peace committees; hedging citizens against risk through increasing the number of accredited observers from local civil society organisations.
Encouraging and lobbying for the physical presence of Southern African Development Community, African Union, European Union and other foreign observers in the often neglected but volatile rural constituencies on the voting day to build confidence in the communities.
This works better in a context where there would have been observers deployed two months ahead of the polls and one month after the voting day; advocating for non-partisan recruitment of polling officers and for meticulous verification of election agents; deploying vigilant polling agents at all polling stations in rural areas; co-ordinating and setting up of rapid response contacts in the rural provinces; politically educating targeted communities to engage in more subtle means of resistance on voting day in ways that enable them to express their will through the ballot.
This happened in rural Matabeleland in the 2000 parliamentary election to the surprise of Zanu PF and in Zambia during Michael Sata's 2011 'Don't Kubeba' [Do not tell] successful presidential campaign. There is need to counter electoral manipulation strategies in the rural hinterland and to strengthen Zimbabwe's chain of democratic choices. Otherwise the majority of the people living in rural areas will continue to vote without a choice as"subjects" not as citizens.
Phillan Zamchiya is a Zimbabwean political activist.
Related Topics