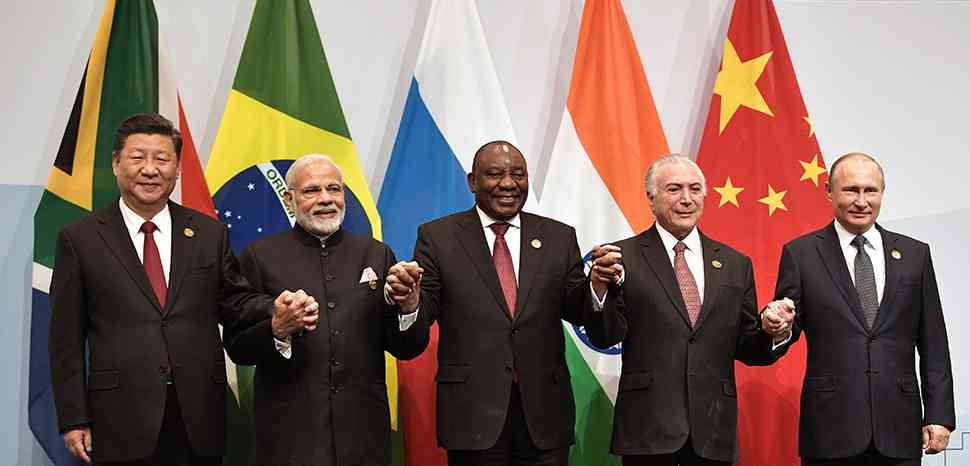 BRICS, a group of five leading emerging economies namely, Brazil, Russia, India, China and South Africa, sent shocks waves again last week with calls from Russia for the establishment of a new reserve currency to better serve their economic interests. The new currency will be based on a basket of the currencies of the five-nation bloc.
This comes after half a century of what some described as the United States's (US) abuse of its reserve currency status. The US has been accused of bullying other nations by using its reserve currency status and sanctions to undermine their sovereignty. As of March 2022, about two dozen countries were subjected to US sanctions. These include Afghanistan, the Balkans, Belarus, Burma, Central African Republic, Cuba, Democratic Republic of Congo, Ethiopia, Hong Kong, Iran, Iraq, Lebanon, Libya, Mali, Nicaragua, North Korea, Russia, Somalia, Sudan, South Sudan, Syria, Ukraine, Venezuela, Yemen and Zimbabwe.
What is 24 out of 195 countries in the world today, one is tempted to ask. It is not the number of countries under USA sanctions that matters. It is the impact of those sanctions on the global economies that is of concern to other countries, mainly emerging economies. Some, if not most, of these countries under sanctions, are major suppliers of vital raw materials and essential commodities to world markets and yet that is curtailed by unilateral sanctions by the US. We all remember the global economic downturn caused the war in Ukraine and the ensuant US and Western sanctions on Russia — a major global supplier of energy and wheat.
Did the world need to suffer because of political differences between Russia and the West? It is a question that underlies and rapidly inspiring the idea of a new multipolar world. This will likely see the USA facing a rising global protest to de-dollarisation as most of the growing and most populous countries in the world are uniting towards US dollar alternative to cushion themselves from US political palpitations.
In a context whereby we live in a highly globalised and connected world, a disruption in one country impacts others and sometimes the whole world. Sanctions have become the go-to foreign policy tool for the United States. Coercive economic measures such as trade tariffs, financial penalties and export controls affect large numbers of companies and countries across the world.
American politicians have not yet woken up to the realisation that not every political difference with another nation must be addressed by the imposition of US sanctions, mainly when the economic impact is further and wider than the targeted country and also when the US is the global currency supplier under whom global oil trade is guaranteed.
For these reasons and others, BRICS members plus those who wish to be part of the bloc are seeing more benefits in pushing back against US dollars hegemony and in creating an alternative reserve currency to protect themselves from American emotional and immature reaction to global issues.
In December last year, President Xi Jinping of China told Gulf Arab leaders that his country was ready to work on buying oil and gas in his currency — the yuan, a situation that could enable China's goal to establish its currency in the global oil trade and challenge the US dollar. Any move by Saudi Arabia, one of the leading global oil suppliers, to abandon the US dollar in its oil trade, would be a major political and economic game changer — perhaps one that the world needs right now to unshackle themselves from western colonial and economic bondage.
Just last week, two senior Russian officials Alexander Babakov and Pavel Knyazev echoed the same sentiments that there is more to benefit with an alternative currency that is not exposed to the whims of the US political immaturity. Babakov, a Russian politician and a member of its Parliament, called for the creation of a new common currency between Russia, India, and the other BRICS nations that could be used for payments, calling it the "most viable" route to take at this time. He noted that India and Russia must establish "a new economic association with a new shared currency", to advance their economic interests and avert the impediments imposed by the US currency.
In addition, Pavel Knyazev, the Russian ambassador to the BRICS, stated last week that BRICS is working on a reserve currency that will be based on a basket of the currencies of the five-nation bloc: Brazilian Real, Russian Ruble, Indian Rupee, Chinese RMB Yuan and South Africa's Rand. Knyazev highlighted this in a discussion on expanding BRICS and the Shanghai Co-operation organisation adding that the "the possibility and prospects of setting up a common single currency based on a basket of currencies of the BRICS countries is being discussed" and that BRICS member states are "actively studying mechanisms" to exchange financial information to develop the alternative currency for international payments. The bloc is also working on establishing a joint financial infrastructure that will enable a reserve currency to be created and facilitated as well as a joint payment network to reduce dependence on western financial systems.
Tapiwa Gomo is a development consultant based in Pretoria, South Africa. He writes here in his personal capacity.
Related Topics