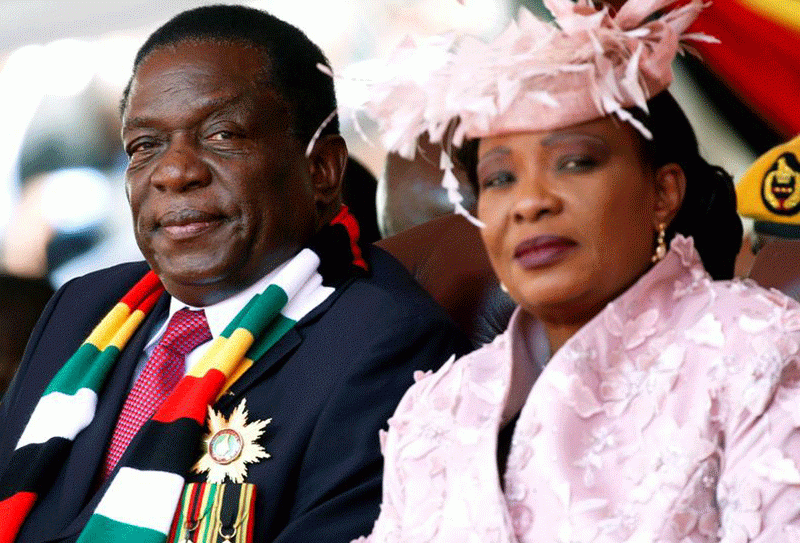 My Dear People
My attention was drawn to a statement issued by the Zimbabwe Republic Police (ZRP) yesterday about people who are said to be abusing Ngwena and Dr Amai II's names "in extortion, fraud, theft and other related criminal acts."
ZRP said the "suspects are duping members of the public who include individuals, businesspeople and companies on the pretext that they would have been tasked by the first family to fundraise or collect money for various activities, which include dinner dances, workshops, land sales and other criminal activities."
The once respected ZRP said some criminals were confiscating property, which included vehicles, land and cash for personal "aggrandisement while taking advantage of the president's name."
ZRP then threatened to name and shame the alleged criminals.
The statement was very strange even by our police force's standards!
One of the questions that came into my mind was: why would the police give criminals prior warning before arresting the alleged fraudsters or "naming and shaming them"?
Well, the other more serious question I asked myself was: why are so many people finding it easy to abuse Ngwena's name for criminal activities?
As a PhD holder myself I had an easy answer to that one, kkkkk
The criminals are taking advantage of the many parallel Zanu PF structures that Ngwena has been creating in his desperate bid to win next year's elections.
Here I am talking of briefcase organisations such as Men BelivED and Nurses for ED, among many other bogus sounding outfits.
The people behind those organisations are obviously looking for money to survive and what stops them from organising dinner dances and workshops in Ngwena's name?
They discovered that the Lacoste leader is desperate for re-election, but is alive to the fact that many of his enemies from within are plotting a serious Bhora Musango.
With this brief insight, I have made ZRP's job easier. They now know where to hunt for these alleged criminals, kkkkk.
We will only take them seriously when they start arresting people like that one who is stealing Harare's waste in broad daylight.
As for Dr Amai II, I warned you during my interface rallies and I won't hesitate to tell you again that you deserve her.
Absolutely no class!
In yesterday's newspapers there was a curious story about a senior army official who was arrested for allegedly smuggling 31 AK-47 rifles and 62 magazines from South Africa.
Colonel Leonard Matambo's story is puzzling and we may never really get to know the truth behind the alleged smuggling.
I am astonished by the likes of Joji and that nurse for ED moonlighting as a spokesperson for a serious ministry following the top soldier's arrest.
If it was anyone remotely linked to the opposition, those two would be beating the drums of war already about weapons of war and imaginary regime change agents.
Panonetsa continues to play with our minds concerning the faltering Zimbabwe dollar.
After declaring that everyone is free to charge for services in United States dollars, the RBZ yesterday had to spring to action after Harare City Council took heed of their advice.
Harare said it will start charging for some services in forex in line with the market conditions.
But Panonetsa's boys would have none of it.
They ordered the council to stop charging in forex forthwith, claiming that they were in violation of the law.
The horses have already bolted Panonetsa, the market is dollarising on its own.
Service providers, who know why they are in business, are already charging exclusively in US dollars.
No amount of press statements and directives will stop the process of dollarisation as you all saw in 2009.
The situation is bound to get worse as the government will begin to spend more towards projects as this is the only campaign route that can save Ngwena from humiliation in next year's elections.
Ngwena and his drum majorettes also don't seem to have any clue on how to stop the collapse of the local currency.
Most of their policies appear to be reactionary and the more this crisis unfolds, the more you see that Mthuli Ncube is overrated.
Parliament has in recent days been exposing Mthuli's purported surpluses as a fraud.
His ministry is struggling to explain how the government has been incurring millions of dollars in unapproved expenditure.
The past five years under Ngwena have clearly been a disaster and this explains why Zimbabweans are now fixated with HH next door.
Zambia is on the rise, thanks to HH's shrewd stewardship of the economy.
Suddenly the kwacha is now one of the best performing currencies.
International lenders such as the International Monetary Fund are once again happy to help Lusaka with loans after those disastrous years under Ngwena's friend, who was shown the door by the Zambians only a year ago.
Many of you have been bombarding my inbox asking for my thoughts on the new Marriages Act, but I will not rush to comment as I am still studying it.
But do you remember me warning you about a certain Bambazonke?
Some are whispering that the Lacoste people are foisting this law on us for their own selfish interests.
Small houses are very fashionable among this lot and you could be on to something, kkkkk.
Munopenga!!!!!!!!!!!
Dr Amai Stop it! PhD (Fake)
Related Topics