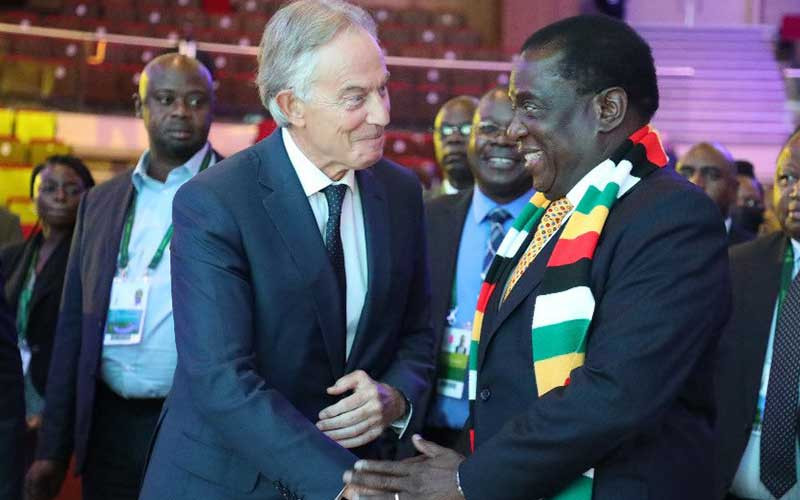 THE nation was in celebratory mood this week after the country's current owner shook hands with Tony Blair.
We sang many songs about Blair, filled our newspapers with diatribes against the warmonger, and even declared the 2005 election the "Anti-Blair election". Yet, here was our leader grinning ear to ear like a child at the scene of an accident involving an ice cream delivery truck.
"For Zimbabwe to flourish, we cannot let history hold us back. It was a pleasure to meet Tony Blair and Baroness Scotland, Secretary General for the Commonwealth," President Emmerson Mnangagwa's office announced to the nation.
Perhaps believing there would be concern from party headquarters, Mnangagwa's spokesperson, George Charamba, tried hard to explain his boss' enthusiasm for Blair's acceptance, saying "it was never the policy of the Zimbabwean government or leadership to avoid Tony Blair".
There was really no need for him to work that hard.
Which loyal party cadre is unaware that the party has long stopped pretending to have any kind of ideology? Unless Ideology is the name of a local gold dealer, it has no place in the party.
First Lady, first cook
Why was the President in Rwanda anyway? He was there to attend the African Green Revolution Conference.
Speaking at the event, our owner lectured other leaders on the glorious strategies he is leading at home to lead an agricultural revolution.
According to the Herald of absolute truth, the President told delegates about "the First Lady's programmes that seek to promote growing of small grains as well as her 'Cook Out' initiative that aims to boost the consumption of healthy indigenous foods."
We are blessed to be led by a modern man who boasts about his wife's cooking at work.
According to the organisers, the conference was a top event meant to end food shortages in Africa.
It is therefore only natural that they would invite our leader, himself an authority on causing food shortages, to provide expert opinion on hunger.
Despots' workshop
Still in Rwanda, our owner met the owner of Rwanda, Paul Kagame.
"Our vision for a stronger Africa is what unites us," the President announced to all of Africa, posting a picture of himself and Kagame.
Of course, some people paid by the West started asking silly questions. They started asking our leader if he had taken any notes from Kagame on things like how to run a stable and growing economy, how to stamp out corruption and all these other foreign values that Kagame is said to be known for.
Well, you can be sure that there was a lot of exchanging of notes on important things between the two leaders.
These include important things like how to make sure the opposition is kept as quiet as possible by banning their operations and arresting them for talking too much.
Football, what football?
There was more cause for celebrations throughout the week after former Chelsea footballer Didier Drogba was pictured with our owner.
Drogba, obviously pleased with being given an audience by one of Africa's greatest leaders, pledged to visit Zimbabwe soon. We are happy to see our leader taking this much interest in sport.
Meanwhile, Zimbabwe is currently banned by Fifa from playing football. Why? Because someone's son-in-law decided that as a nation, we have better things to do than play football. So he made sure we interfere with Zifa just so we can get banned.
When Drogba does visit Zimbabwe, as he must, he will be surprised to find out that there is a country on this planet that does not have a single working football stadium. The biggest one, a dust bowl on the Western verges of the city, has no working toilets the last time Muckraker dared to venture there recently.
Fishing in own pond
Visiting Zimbabwe recently, Botswana's president, Mokgweetsi Masisi must have made a lot of friends.
Arriving at the airport, Masisi grabbed a loud hailer and told a gathering of unemployable Zanu PF supporters: "We just came from our elective congress, and Zanu PF was represented very well. The two ruling parties have relations, we are friends."
Soon, he walked around the Harare Agricultural Show, made a few speeches, gave prizes to the army, then went fishing in a fishpond in Nyanga. All this angered a lot of opposition people in Zimbabwe, who have a habit of wanting everyone – from passing tourists to sports people – to be angry with them about the things they are angry about.
Instead, they should just ask Masisi to open his borders, in the spirit of solidarity.
Ready to own us
Every day, we come across people who try to suggest that Nelson Chamisa is not yet ready for leadership. Every time, he proves them wrong.
Amid all the noise about structures in his party, Chamisa told off people who referred to Charlton Hwende as the "Secretary General" of the party, the Citizens Coalition for Change.
"We have no such titles in the citizens movement, we are all change champions," he reminded the nation, before deleting his remarks.
Of course, the nation is free to refer to him as President. Is it not the only position that matters in this country? By making sure that all power and focus is on him and him alone, Chamisa is once again proving that he is now ready to own the country.
House of bones
There was some good news in the science world for Zimbabwe recently. According to reports, scientists have unearthed remains of Africa's oldest dinosaur in Zimbabwe, which lived about 230 million years ago.
They are calling it the Mbiresaurus, after the Mbire district where the remains were found.
According to the chief palaeontologist and deputy director of National Museums and Monuments of Zimbabwe, such a "fossil is rare and shows potential for Zimbabwe to unearth more discoveries".
Well, Mr Scientist, here is a little secret. These fossils are not as rare as you think in this country. Everyone in Zimbabwe knows that you need not look far. We have more than a few fossils at various locations, such as Zanu PF HQ and Munhumutapa Building.
Jealousy neighbour
Zambia has just secured a US$1,3 billion lifeline from IMF, a big win for our so-called northern twin after the country defaulting during the pandemic. The Zambian kwacha soared on financial markets after the announcement, a sign of investor confidence in the country after the deal.
You would think this is good news for everyone. Well, the news has not been received well by those who claim to own the land across the Zambezi and claim to be the guardians of all things pan-Africanist. Why celebrate a loan? Some super patriots lectured Zambia's Hakainde Hichilema.
Who can forget one of Aesop's most famous fables. Once, a fox tried to eat some juicy looking grapes, which were high up on a vine.
It couldn't reach them, after spending the whole day trying every sort of jump to get them. Rather than admit failure, the fox consoled himself: "The grapes are sour anyway."
Related Topics