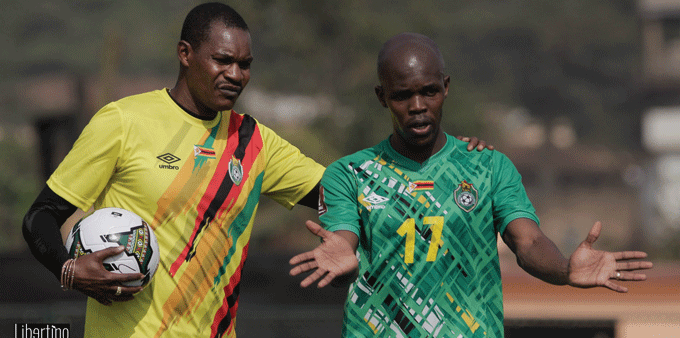 BY MICHAEL KARIATI The Warriors of Zimbabwe are back home and quicker than anyone else who went to the 2021 Africa Cup of Nations finals.
Some of the players have even forgotten that they were there in Cameroon in the first place but are reminded by their television sets that Afcon 2021 is still going on.
There is also every reason to feel for staunch Warriors supporter Chris Musekiwa whose holiday in Cameroon was also cut short despite the sacrifice and effort he made to be there to give support to the Warriors.
Many are still trying to figure out how a team with a reputation and a name in international football like the Warriors could be home so early when the likes of Comoros, Malawi and Gambia are still there in Cameroon.
This surely was a tournament that Zimbabwe could easily had made a breakthrough by reaching the quarter finals or the semi-finals even without Marvelous Nakamba, Marshall Munetsi, Tendai Darikwa, Khama Billiat and Brendon Galloway.
That the group winners Senegal had five points while Guinea and Malawi had four, and Zimbabwe had three, clearly shows that the opposition was not as strong as earlier thought and the Warriors have themselves to blame for being home this early.
Although there are other under-currents that contributed to Zimbabwe's overall poor show, the truth is that coach Norman Mapeza did not make the right player choices and also got it tactically wrong in the matches against Senegal and Malawi.
There was nothing wrong with the final 23-member squad for the journey, but the problem was in which players to play against which opposition and what system of play to adopt against a particular opposition.
In all fairness, Mapeza got the chance he was denied all along and he played his part and now is the time for him to go in the same way that Sunday Chidzambwa, Charles Mhlauri and Kalisto Pasuwa did after their time.
With the 2-1 win over Guinea, Mapeza can walk tall in the streets in Zimbabwe and history will live to tell that his team picked up three points and were still knocked out of Afcon 2021 when Comoros with the same number of points went through.
In fact, Zimbabwe — from now — should abandon this system of hiring coaches who are employed by clubs elsewhere and engage a coach on full time basis and for that matter on a long term contract.
Ghana's Black Stars and Zimbabwe' Warriors were too experimental with too many coaching changes in a short period of time along Afcon and World Cup qualifiers and the results are there for everyone to see.
Another big lesson that also came out of Afcon 2021 was that it is not being based in Europe or playing for a top club in Europe that should be the barometer for a place in the Warriors.
Instead, one should be injury free, playing regularly for his club and for that matter, performing well to be chosen rather than picking Tino Kadewere because he plays at Lyon in the French Lique 1.
Or choosing Kundai Benyu because he is at Vestri in Iceland or Teenage Hadebe because he is at Houston Dynamo in the USA when they are not playing regularly or are coming from injury while — at the same time — there are players in good form playing for clubs in Zimbabwe and Africa.
As the Warriors head for Afcon 2023 — and other immediate international engagements — Zimbabwe should appoint a full time national coach as a matter of urgency to start rebuilding the Warriors for the future.
Now that they have decided to get involved, the Sports and Recreation Commission (SRC) should persuade the government to pay the salary of the coach and take the burden off the financially crippled Zifa.
All over Africa, and even in some parts of Europe, the salary of the national coach is paid for by the government with the cash strapped football federation coming up only with bonuses and allowances.
However, after all that happened at Afcon in 2004, 2006, 2017, 2019 and 2021, the question is whether Zimbabwe should continue placing its faith in local coaches or go foreign ?
Surely, there are a lot of good coaches around in Zimbabwe whom we can dream of and throw around their names for the Warriors job but the truth is that this assignment is just too big for any of them.
Zimbabwe definitely needs a foreign coach who should be assisted by locals like Benjani Mwaruwari, Agent Sawu and probably Bruce Grobbelaar with the intention of them taking over after the finals of Afcon 2023.
The foundation is there in terms of players but what is needed is a coach who can bring together the disparate elements into a strong and cohesive unit and that coach can only be foreign.
The bricks are there, Marvelous Nakamba, Isaac Mabaya, Admiral Muskwe, Martin Mapisa, Teenage Hadebe, Bill Antonio, Marshall Munetsi, Tawanda Masvanhise, Jordan Zemura, Prince Dube, as well as Benyu and Kadewere, but what is not there is the bricklayer.
The future of the Warriors right now lies on who will be appointed the team's coach — a wrong choice would be disastrous along the road to Afcon 2023 and World Cup 2026.
 For your views, comments, and suggestions: [email protected] or WhatsApp on 0773 266 779.  
Related Topics