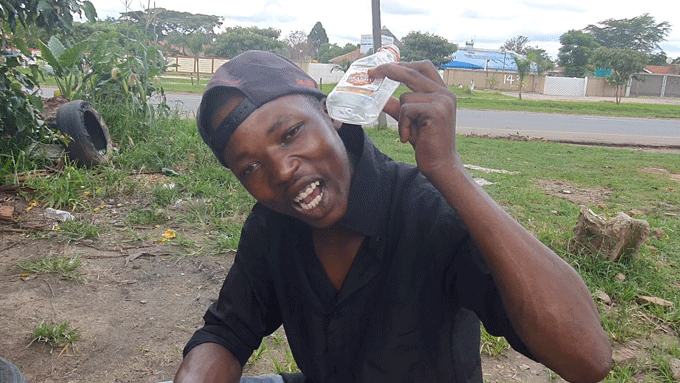 BY EVANS MATHANDA
Joseph Chimani remembers grabbing a marijuana stub covered with a yellow rizla and inhaling the fumes when he was just 13.
Chimani, now 21, says he stashed the remaining marijuana plants under his mattress before leaving for his daily school routine.
"I started smoking mbanje (marijuana) in 2010 while doing Grade 7 at Ardbennie Primary School," he said.
"I had three friends, who were in secondary school by then, and they are the ones that got me hooked into drugs.
"On the first day when I sniffed cocaine from my left hand, the effect was that I began seeing strange things; for example, it seemed to me that people were walking upside down.
"I giggled all the time after taking the drugs.
"Luckily, when I got home from school, there was no one at home to notice my wayward behaviour.
"My parents were at work and my elder sister was at school."
For Chimani, drugs made him bold and brave enough to talk to the teachers at school.
However, as he got addicted things changed and now cocaine is making him to forget things – especially his sorrows.
He continued taking drugs after he moved out of his parents' house in 2019.
"Drugs make me forget all my problems," Chimani said.
"I am not violent after smoking dagga or taking other forms of drugs.
"I can take six bottles of illicit alcohol popularly known as Krango, I take three while I am doing my hustles during the day, and when I get home I finish off with three bottles," he said boastfully.
<iframe data-src="https://www.facebook.com/plugins/video.php?
About 275 million people used drugs worldwide in 2021, while over 36 million people suffered from drug use disorders, according to the 2021 World Drug Report, released by the United Nations Office on Drugs and Crime (UNODC).
The impact of drug use in Zimbabwe following the outbreak of Covid-19 has been reported about extensively by the media.
The pandemic brought increased economic hardships on people, creating demand for illicit drugs and substances such as Tumbwa.
Padare Enkundleni Men's Forum director Walter Vengesai said Covid-19 created unfavourable conditions, especially to the young generation living in Sub-Saharan Africa.
"Covid-19 came with a loss of opportunities, especially for young people, especially the opportunity to be at school, the opportunity to get employment, and the opportunity for positive socialisation and mentoring in places such as churches and other forums were not available at the peak of the pandemic," Vengesai said.
"As a result, some young people turned to substance abuse.
"The lockdowns also have negative psychological effects on some young people as they felt alone and lonely, pushing them to use drugs.
"We should create more platforms and safe spaces for young people to socialise during the pandemic.
"This can be online. We should also come up with stringent laws against drug peddlers."
Chimani's ordeal is related to different sad stories of several other teenagers in Epworth and Mbare, and other areas in the country.
In Zimbabwe, there is a huge demand for methamphetamine during the Covid-19 period, as unemployment levels soared and children opted out of school.
Popular television personality and social commentator Rebecca Chisamba believes that most people now hide behind the Covid-19 pandemic to justify their bad behavior.
"Everything is now attributed to Covid-19. Yes, the pandemic has done more harm in communities, but not only in Zimbabwe," Chisamba said.
"People are born in a family set up, and everyone is born a Tabularasa, without norms and values and it is the role of the family to impact the norms and values to the new offspring for them to fit in communities.
"But now, everyone is busy chasing the dollar hanzi ndirikutsvaga mayuwesi (I am chasing the US$) and surprisingly most of the women, who are mothers are arrested daily for selling drugs to teenagers.
"As parents we no longer have enough time to pay attention to what our children do.
"As a country, I think we should go back to the drawing board and embrace the old culture of bringing up our children."
National police spokesperson Assistant Commissioner Paul Nyathi confirmed that as of January this year, around 7000 people were arrested for selling drugs.
"Since January 2022 we have arrested over 7000 drug dealers for selling meth, cocaine and other substances," Nyathi said.
"We are aware that there are social groups that are involved in mass drug dealing, but we are monitoring the situation.
"Parents must be alert and obverse their children because it's happening inside their houses."
The government should formulate national policies to safeguard teenagers, a move that will help the country to come up with systems that can make them quit drugs, Zimbabwe Civil Liberties and Drug Network (ZCLDN) executive director, Wilson Box, told The Standard.
"We don't have experience of working with schools, but as an organisation we have been advocating for drug policies in Zimbabwe," Box said.
"We need policies that protect our children. Covid-19 just came along, but drug abuse has been a major problem across the world."
Chamani is now struggling to quit drugs and he is failing to get used to not having cocaine around him.
He opined that cocaine was the main addictive drug that gives him energy and confidence during his eight-year life in drug use, which makes quitting so hard.
"If I don't take cocaine or drink at least two bottles of Tumbwa, then I get seriously sick," Chamani said.
"Last time when I had decided to quit, I struggled to survive for just a week, and honestly it's now difficult to live without drugs."
Related Topics