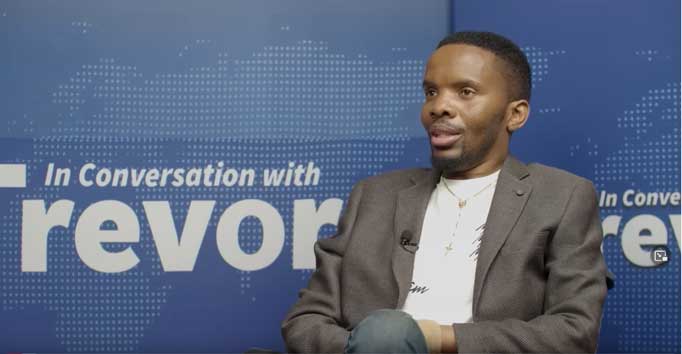 Top Harare lawyer Archford Rutanhira has spoken of how a road accident, which left him partially paralysed, changed his life.
Rutanhira (AR), a partner at Scalen & Holdernesss Legal Practioners, appeared on the platform In Conversation with Trevor hosted by Alpha Media Holdings chairman Trevor Ncube (TN) where he spoke at length about the 2012 accident.
Below are excerpts from the interview.
TN: Archford Rutanhira, welcome to In Conversation With Trevor.
AR: Thank you Trevor.
TN: What a pleasure.
I am delighted that you are here, and as you were getting out of the car you reminded me that you were one of my lawyers when I was fighting for my citizenship, but we will talk about that later on.
Archford, talk to us about how you got involved in this accident that left you in this condition that you are in now?
AR: It was a normal day. I remember vividly, it was on the 26th of December 2012.
Just to give you a background; I had gone for about six years without visiting my parents in the rural areas, that is Nembudziya area in Gokwe.
So it so happened that I had just been made a partner in 2011, so just like any young man, the first thing that you would focus on purchasing or buying was a nice car.
I managed to buy a Toyota Hilux, but the idea behind buying the Toyota Hilux was to also be able to negotiate the terrain of the roads to my rural areas, and it was an opportunity for me to be able to visit my parents from time to time.
So that was the first time after six years to visit my parents…
TN: Right.
AR: …and it was around the Christmas period.
So I went there with my family, that is my wife and my daughter who was still between two to three years old.
TN: Anashe.
AR: Anashe Natasha Rutanhira.
Then we had a wonderful Christmas and my parents were happy, you know, seeing their son for the first time in the rural areas.
TN: You are the first born in the family?
AR: No I am the second born, but I am the first boy.
TN: Ah right.
AR: Yes the first born is a girl. Then comes myself, then the last born is my brother.
He is the one who is staying at the family home in Kuwadzana where I grew up.
So it was me, my family and my brother and my sister's daughter whom I was taking care of.
She was schooling here in Harare.
So we went there and we had a wonderful time, but it so happened, you know these things are, I would say they are written somewhere, maybe in the stars.
If something is to happen it will happen.
TN: Absolutely.
AR: Maybe call it fate or destiny.
It so happened that we had not planned to come back on the 26th of December, but I think because of the loads of meat that we had eaten on the 25th my wife complained in the morning that she was not feeling well.
You know she was having problems with her stomach. That did not move me, but when my daughter started complaining also.
You know the Gokwe area is a terrible area when it comes to malaria.
So the first thing that came to my mind when I heard my daughter complain and I thought probably it could be malaria.
Due to the lack of very good health facilities there I said no I cannot take a risk, let us pack up, let us hit the road and let us go back to Harare and we will pass through Kadoma and we will consult some doctors.
All our plans had changed.
We then set on the road back to Harare, but I will tell you Trevor I was very calm because I am the one who was driving.
I was very calm, but the road that we were using it was what one would call a strip road.
TN: Right. What time of the day is this?
AR: If I remember well, I think we left my parents' homestead around 10:30hrs to 11.00hrs.
TN: So it was morning time?
AR: Yes it was morning time, but because of the roads you are travelling around 40 to 50 kilometres per hour.
TN: You're driving slow?
AR: Yes. Slow. We managed to negotiate I think most of the bad parts of the road.
I think about five  or so kilometres, less than 10 kilometres away from the nice tarred road.
You know if you have been to the Birchway area, just near Birchway shops if I may put it that way because there are some little shops at Birchway.
So 5km away from that, that is when disaster struck, but if you are to ask me what happened, I think because of the trauma and everything that took place, I cannot remember.
All I remember is seeing the car getting out of the road and I was looking at a tree and that was it, lights out, only to be able to be a bit conscious as people were trying to get me out of the car because the car had…
From what eyewitnesses then said later on, the car had hit the tree but the tree resisted being brought down by the car, and the car spun I think they said three times you know in the air and it landed on its back.
So my daughter who was being held by my brother on his lap was thrown out of the car together with my brother.
Luckily enough the car landed in a field, so it was not much of a hard ground as it were.
So my daughter sustained injuries in both legs, she couldn't walk. Then there were three gentlemen who were seated, because it was a double cab…
TN: Yeah.
AR: …it did not have a canopy so they were seated at the back. But because the car had spun in the air three times you can imagine what became of them.
They unfortunately passed on at the scene.
Then my wife lucky enough for her she managed to walk out unscathed.
As for me, I was stuck in the driver's seat with my seatbelt on.
Without necessarily blaming the people who came to my rescue, I think the idea was just to get me out of the car, but I suspect that is when the injustice came about, because it was a case of the door being jammed so they were just trying to pull me out of the car and that is when I snapped my spinal cord right up near the neck area.
TN: So at the moment you can only use from your neck upwards? Downwards you have no movement?
AR: There is movement but it is not as strong, there is no strength.
It is like with my hand, I can move it but I cannot function using it.
I cannot write, I can pretend to greet you with my hand but I cannot grab your hand.
TN: And your daughter? She is okay?
AR: You know she was young.
TN: Yeah.
AR: The doctor just had to put…What do you call them?
TN: Plaster?
AR: Plasters yes. In no time, I think in a month or two she was running.
She is actually at the moment at school where she is in the hockey team, she does athletics, she used to be in the swimming team.
TN: So it couldn't  have been easy for you?
AR: Yes.
TN: Having had full control of your body, your limbs, to get up, rather one morning you are in bed and this is what has happened to you.
Talk to us as succinctly as you can what goes through your mind as you realise you cannot move your legs?
You cannot move your hands? What goes through your mind?
AR: Fun enough I would say I think life in a way had prepared me for that moment but without me knowing.
Why am I saying so Trevor?
This was not the first time I had lost mobility if I could put it that way.
The first time I think I was still in the rural areas, that is in Nyazvidzi, a small scale farming area where my grandfather, my father's dad had a farm, a small scale farm.
That is where I did my primary from Grade 1 to Grade 4.
So I was short distance runner, as was my sister.
We were very good at it. I would like to say we had just won the district competitions and rumour has it, that is from my mum, if you ask my mum, that African science was at play.
So one day we just woke up, me and my sister, it was a school day, and we couldn't walk.
TN: Both of you?
AR: Yes. It is a true story Trevor. We had won the previous day.
You know during those days you wouldn't win money or things like that, you would win plates, you would win teapots, you would win cups, and these were things that you would win for your mum for her to display in her rural kitchen and things like that because my mum was a stay at home rural woman whilst my dad was here in Harare…
TN: Your father is a tailor?
AR: Yes, he was a tailor. Maybe we will talk about that a little later?
TN: Yes sure.
AR: So we woke up, and my grandad, that is my father's father, my paternal grandfather was still alive. So we just woke up, and I couldn't move my legs, I couldn't do anything.
TN: How long did this last for?
AR: It was a day.
TN: The whole day both of you could not walk?
AR: Yes both of us could not walk. You know in the rural areas the old man, that is my paternal grandfather I think realised what was happening and that was my first experience to visit a traditional healer, and if I remember well I was in Grade 3, my sister was in Grade 5 and we visited a traditional healer in the morning.
I think it was around 10am or 11am. When we got there we were given some porridge mixed with some traditional medicine.
I remember it caused us to sleep. I slept and I woke up I think around 3pm.
TN: At which point you could walk now?
AR: Yes. You know when we went to this traditional healer's place my mum was carrying my sister on her back, then the old man carried me on his back and it was distance of about roughly 7km or so.
TN: So you put it down to African science?
AR: Yes.
TN: Can you explain that to me? What do you think happened?
AR: I got into a theory that it was because of the successes that we were having, both in sports and we were also good even in school.
TN: Do you then also put down, explain the accident, do you think something of that sort was involved? African science was involved?
Because I am surprised you were doing 40km per hour on a terrible road and the car spins  three times? Is that how you explain it?
AR: When we come to the accident, as much as I was doing 40km/h -50km/h, my theory is if African science was involved it was involved to a certain extent such that when the accident was about to happen I think there was something that caused me to panic and I think I hit hard in the accelerator.
"In Conversation With Trevor" is a weekly show broadcast on YouTube.com//InConversationWithTrevor. The conversations are to you by Heart and Soul Broadcasting Services
Related Topics