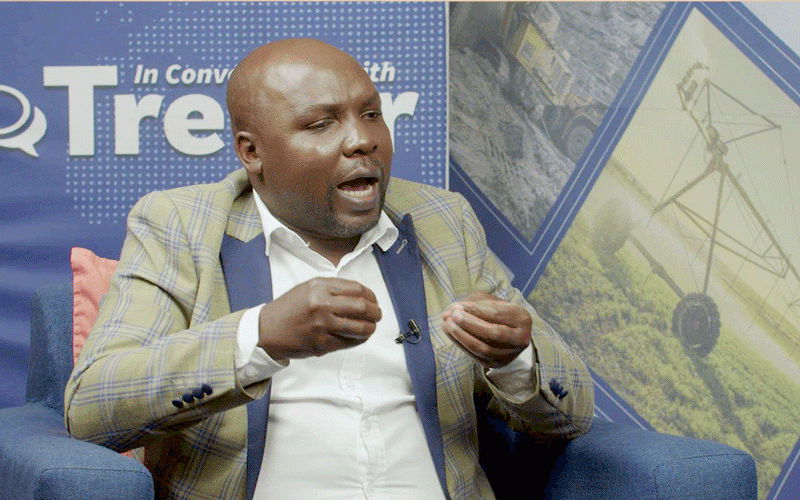 Former Zanu PF youth leader Godfrey Tsenengamu says he supported President Emmerson Mnangagwa to take over power because he believed the former vice president had learnt the ropes after serving under the late Robert Mugabe for many years.
Tsenengamu (GT), who is the founder of the Front for Economic Emancipation of Zimbabwe, told Alpha Media Holdings chairman Trevor Ncube (TN) on the platform In Conversation with Trevor that Mnangagwa has failed to live up to expectations.
Below are excerpts from the interview.
TN: Godfrey Tsenengamu, welcome to In Conversation With Trevor my brother.
GT: Thank you my brother, how are you?
TN: I am very well. I mean it is a great honour to be sitting with you Godfrey.
I have been watching you, and fascinated by the fights that you have been having with the elders in Zanu PF.
So, in 2014 you got suspended by the Joice Mujuru faction from Zanu PF.
In 2015 you got suspended by the G40 faction.
In 2020 you got suspended and then expelled by the Emmerson Mnangagwa faction.
Why are you getting into all these problems with your Zanu PF colleagues?
GT: Okay. Thank you so much Mukoma Trevor for this opportunity. I have been longing to be on this show.
TN: Oh thank you.
GT: Because I have been following it for some time, and I really enjoy the show.
TN: Thank you.
GT: Now coming back to your question as to why I have always been at loggers with the madalas in Zanu PF, I think basically you know I was a youth in the party, and youths naturally are not politicians they are activists. They try to push boundaries.
Youths are adventurous, and you do certain things that madalas cannot do, you say certain things that madalas cannot say, and sometimes you come up with these imaginations on certain things that madalas cannot understand.
About my 2014 suspension by the Mujuru faction; they said they were charging me with insubordination, basically because I had not gone to attend Mai Mujuru's rally in Shamva.
I had opted to go for a youth mobilisation and empowerment meeting in Guruve because I was a youth leader.
So, I said why should I go and attend Mai Mujuru's rally with women when I am youth leader?
So I just went to do my work, and they said it was insubordination.
So, they called me for a disciplinary hearing, I went there, they could not have it and they suspended me unprocedurally.
That is what happened in 2014. So that was for six months.
TN: Before you go there. Mai Mujuru then said you should have come to the rally rather than go to the youth mobilisation platform?
Is that what they were saying?
GT: No this is what they said was the case, that as a subordinate I should have gone because she was a senior.
But I said no this was a women's programme, why should I as a youth leader be going with women?
I was doing my work as a youth leader and they said no that's insubordination.
Well, this was just one of their reasons because they had been looking to suspend me.
TN: Why were they longing to suspend you?
GT: Because I was very open that I was not in support of Mai Mujuru's presidential ambitions.
I told the guys then that I do not see Mai Mujuru becoming the president, and I gave them my reasons why I thought she was not going to make it...
TN: What were those reasons Godfrey?
GT: I had problems with her style of leadership. I would not want to hit someone who is already on the ground...
TN: Absolutely.
GT: But I would want to say I had some issues with how she managed her leadership roles nationally, and more so in the province where she was a senior member of the party.
TN: Okay. So I respect that. Then the G40 suspension and expulsion?
GT: Yeah the G40 suspension came after the fall of Mai Mujuru in 2014.
TN: Before you go there; let us define in your understanding who is the G40 at that particular moment?
GT: At that particular moment it was a team of young leaders within Zanu PF.
TN: Shall we name them? Saviour Kasukuwere, Jonathan Moyo, Patrick Zhuwao.
GT: We would look at Walter Mzembi, though he was not really in there.
But you would say okay as a young leader maybe he fits in there.
So basically, those were some of the leaders that we thought were Generation 40 members.
My understanding was that this term was coined by Professor Jonathan Moyo, so these were the guys who were opposed to the ascendancy of the then vice president Mnangagwa to become president.
I was clear from the time Mai Mujuru went down to say I think the one who is going to be president is Emmerson Mnangagwa, and it was a taboo then to say that.
More so when I was coming from Mashonaland Central, there were a lot of tribal fights that were going on within Zanu PF.
The Zezuru against the Karanga. So naturally I was expected to be siding with the Zezuru...
TN: Because you are Zezuru yourself?
GT: I am not Zezuru myself, I come from the Korekore.
TN: Okay.
GT: For me, when I am looking at you Mukoma Ncube I do not see a Ndebele person, because Ndebele is a language.
I must not discriminate against you on the basis of your language.
Why should we say this one is Korekore, this one is a Manyika, because of what they speak?
If you have not spoken a word no one can be able to say from which tribe you come from.
So when I was looking at Emmerson Mnangagwa, I was not seeing a Karanga, I was seeing somebody with the potential of becoming a national leader.
So I did not subscribe to this notion of tribal supremacy as it was happening in Zanu PF.
I got myself suspended because I had used the church platform, because by then I was going to Johanne Masowe to bring Mnangagwa into Mashonaland Central Province.
By then the provincial gurus had said Mnangagwa will not come into Mashonaland Central.
I said okay fine so how do I go about it?
So we had to use the church platform to bring him to Gora, that was in 2015.
From then I got suspended. Within a week or so I got expelled, and after my suspension that is when I had my first press conference, where I spoke strongly against the G40 machinations then as was being fronted by former first lady Mai Grace Mugabe after her Mazowe rally.
I spoke strongly and this did not go down well with the leadership and then they decided to suspend me without bringing me before a disciplinary committee, and without also taking me through the necessary procedures.
They also then expelled me from Zanu PF. That was around October 2015.
TN: Help us understand why you decided to be different from the G40?
Who were they siding with? The first lady was it? Let me rephrase it.
Why did you think that Emerson Mnangagwa ought to be the one that you should be supporting? Why?
GT: It was not something personal. I had no personal problems with my brothers and sisters in G40.
Like in any family setup you do not always agree on everything.
For me, I thought Mnangagwa deserved to be given a chance to prove...because he was saying he can be a better leader, so I thought that maybe he deserved to be given that chance.
I was looking at him as somebody who was very loyal for some time to (late former) president (Robert) Mugabe, and I thought that he had learned a number of things from how president Mugabe did his things.
What he did right, and what he did wrong, and I thought that maybe he was going to be the bridge between the madalas and the young people and come in as a transitional leader.
I thought that would happen if president Mugabe was going to step down and ED comes in.
After Mnangagwa I had two options for me, and those two options were Saviour Kasukuwere or Walter Mzembi.
I was very clear, even with Saviour Kasukuwere, I told him I think you just have to support this mdara.
Let him come in maybe for a term, you have your time, you still have age on your side.
TN: What was Saviour Kasukuwere's push back on that?
GT: He had his own views. Obviously, he would say no we are supporting president Mugabe, we do not want this, we do not want that.
But I told him, I said no look bro we cannot continue to pretend, president Mugabe can no longer pull, he deserves to be given a rest, he must rest, he has done his part.
We could not afford to have him stand as a presidential candidate in 2018, but these guys were saying no he has to stand.
Then I then said oh okay fine.
TN: Was that a genuine campaign to say president Mugabe was going to stand?
Or there was something else behind that? What was your reading of that?
GT: From my reading these comrades were not sincere with each other.
President Mugabe wanted Sidney Sekeramayi to take over, but at some point, he would say to Tyson (Kasukuwere) you are my Obama, you can be a good leader, that was president Mugabe.
That is how he would always handle his people within the party, the factional groupings.
How he would manage those people he would see like being ambitious.
But then also there was another clique which wanted Mai Mugabe to take over as a weaker candidate so that maybe at some point they would also deal with her and get her out of the way.
What I knew was, even my brother Saviour Kasukuwere had these ambitions and I think he had the right to have such ambitions.
Why would someone get involved in politics if you do not have ambitions?
This is what I was getting out of it. Rallying behind president Mugabe when there were issues between Lacoste and G40 was basically a way of trying to help out Emmerson Mnangagwa so that maybe these comrades may bring in somebody weaker whom they could deal with at a convenient time.
TN: So, you then your preferred candidate Emmerson Mnangagwa comes in.
You have smuggled him into Mashonaland Central was it?
GT: Yes, Mashonaland Central.
TN: Using the church. So he comes in, but you then get into trouble with him? What happens there?
Why do you then get in 2020 suspended and then expelled?
GT: I think I realised that the Emmerson Mnangagwa that we fought for to be the president and the one who came in are two different people.
TN: Wow. So you and I were fooled? Because I am one of those people who stood up when after the coup and said let us give Emmerson Mnangagwa a chance, because I was convinced that this man had sat next to Robert Mugabe, and had seen all the mistakes that Robert Mugabe had done, and that he would come in and correct those mistakes, particularly Gukurahundi.
I concede now I was absolutely fooled. So you were fooled like me?
GT: I think I would say it is because you and me are not politicians.
Terrible. Including myself, I am not a politician.
TN: So you and I are not politicians. We got fooled?
GT: We are genuine, politicians are not genuine. Politicians are fake. Politicians are deceitful, they are cunning, they are good schemers.
They make you believe that this blue is red, and then they will convince you to say it is red.
Then they go on. They play games. For them it is a game, they play with people's minds, they play with people's emotions...
TN: And then play with people's lives?
GT: Exactly.
Related Topics