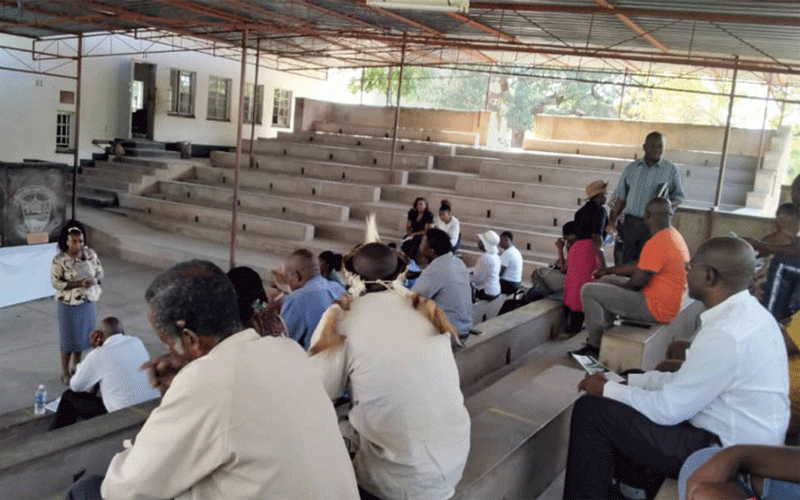 BEITBRIDGE residents have expressed mixed feelings over whether or not the country should retain the death penalty on its statutes
The residents gave their views during one of the many public hearings on the death penalty being held throughout the country by the Justice, Legal and Parliamentary Affairs ministry.
Capital punishment is still in full force in Zimbabwe although no executions have taken place since 2002. Notorious robbers Edgar Masendeke and Stephen Chidhumo were the last people on the country's death row to be hanged at Chikurubi Maximum Security Prison on May 31, 2002.
During a public hearing at Vhembe Secondary School in Beitbridge yesterday, some residents felt that capital punishment is inhumane, and that death sentences should be commuted to life imprisonment with hard labour.
Other residents said the biblical eye for an eye Old Testament teachingshould come into play.
"Imprisonment has not been deterrent enough, and people should be hanged when they take other people's lives. Commuting their sentences to life imprisonment adds a burden to the taxpayer who has to feed them," Lawrence Tshili, a Beitbridge Residents' Association official said.
A female student from Vhembe Secondary School said a person who murders another deserves no mercy.
"Why should a person who has killed another person be allowed to live? They have no respect for human life and may not even deserve their own life," the student said.
Town clerk Loud Ramagkapola, a lawyer by profession, suggested that the death sentence should be abolished because if offenders are killed, they will not feel any pain for their crimes.
"The offender must serve a life sentence coupled with hard labour to feel the pain. Taking their lives is not punishment enough," Ramagkapola said. His views were supported by mostly religious leaders.
A female contributor to the debate suggested that men should not be sentenced to death penalty because the country has fewer men than women.
"It would result in a shortage of men as our 2022 census shows there are fewer men than women in the country," she said on a lighter note bringing the arena to stitches.
Chris Lunga, a Beitbridge resident said since women advocate for equal rights they should also be hanged if they take other people's lives.
The country's Constitution stipulates that women cannot be sent to the gallows. It also spares men under 21 years and those above 69 years.
During his youth, President Emmerson Mnangagwa was spared the death penalty and banished from the then Rhodesia after he was convicted of treason.
He has been the main advocate for the abolishment of the death penalty in the country. Currently, 69 people are on death row.
Related Topics