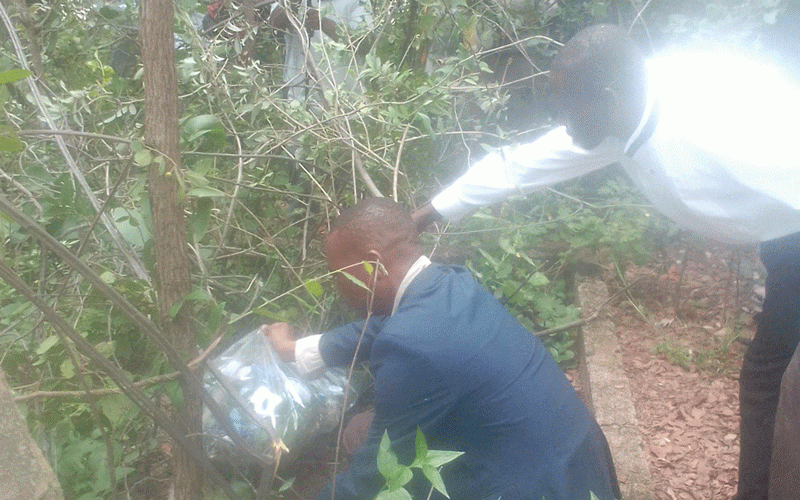 A SOMBRE atmosphere prevailed on Thursday when villagers gathered at a site in Emkhonyeni Village, Tsholotsho district where 21 women and one man were burnt into ashes in a hut on March 16, 1983.
A memorial service was being held to remember the victims of the Fifth Brigade that swept through the area, terrorising villagers on the day.
The memorial was organised by Ibhetshu Likazulu in partnership with church organisations.
During the event, a model gender strategy on addressing the killings was launched.
Survivors of the gruesome killings who were orphaned by the massacres narrated their heartrending stories that left many in attendance, including some chiefs, in tears.
The victims, most of them who are now in their 40s, told stories of growing up without parents since that day.
Danisile Sibanda, now over 40 years old who witnessed his parents being killed and burnt could not hold his emotions when he narrated his ordeal.
He said his father Sifo Sibanda was among the 11 men who were rounded up by the soldiers and killed.
"The day started well with us not even imagining that by later on the day we would be orphans," Sibanda said.
"Early that day, my father Sifo and 10 other men were taken by soldiers who killed them near Mudzimu Dam. While we were still shocked over our fathers' death, the soldiers took us with our mothers to Emkhonyeni," Sibanda said.
"They took all mothers, including my mother into a hut which they set alight. We heard piercing screams as the hut was burning. Some women broke the door and tried to run away, but they were shot dead and thrown back into the burning hut."
Sibanda says he still has nightmares about the killings.
"I do not have peace. I don't have identity particulars and the same with my children, they are stateless."
Thuthu Dlamini, Thabani Dlamini and their sister Patricia Dlamini also narrated how their life was turned upside down after their parents were killed by the army.
She said the screams and the billowing smoke that came from the hut where their relatives were burnt is still fresh in their mind 40 years after the incident.
Philip Ndlovu, a former Zipra cadre who was in the Zimbabwe National Army at the time, said he resigned after learning that his parents had been killed.
Chief Siphoso said there are several places in his area of jurisdiction that suffered the same fate where villagers often come together to conduct memorials to remember the victims.
Follow Silas on Twitter @silasnkala
Related Topics