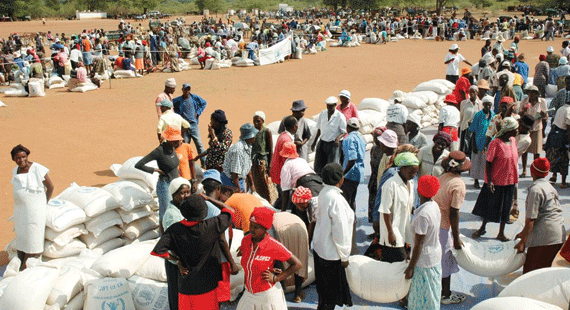 THE Grain Millers Association (GMAZ) has pleaded with political players not to politicise food aid in the face of hunger as the country heads towards harmonised elections later this year.
At least four million Zimbabweans are said to be food insecure, according to food monitoring agencies.
Human rights watchdogs have warned that political players mainly from the ruling Zanu PF were tying food aid to recipients' political affiliation.
The problem is said to be especially acute in rural areas where people who do not belong to the ruling party are being denied the means to survive.
GMAZ chairman Tafadzwa Musarara said it was their hope that food was not politicised by political parties and aspiring candidates as he revealed that they were importing over 50 000 metric tonnes per month to alleviate any shortages.
"Our commitment is that we don't want food to be used to interfere with politics," Musarara told The Standard in an interview.
"It must not be part of the political narrative.
"Politics should not interfere with people's right to food. It must be available everywhere at the right prices."
Zanu PF has been cited as the main culprit where its party officials have been accused of falsifying records to deny suspected opposition supporters food from the government.
Human rights groups say access to food and humanitarian assistance are being denied through well-coordinated webs of partisan structures such as ward coordinators, volunteers, village heads, chiefs and councillors.
Beneficiaries are also required to produce party membership cards and to regularly attend political meetings.
But Zanu PF has denied abusing food aid and said reports by human rights groups accusing it of denying food to opponents were fabrications meant to tarnish the party's image.
The ruling party has instead accused the opposition of working with NGOs to politicise food aid.
Musarara, however, said NGOs would play a small role in influencing voting patterns especially in rural areas.
"Pfumvudza has solved two problems, availability of maize at individual household level and excess of that is now traded so that industry can buy to make staple food mealie meal, livestock feed, beer and so forth," Musarara said.
"Pfumvudza eliminated a number of NGO free-food support schemes that have been going around.
"In areas where Pfumvudza has happened, NGO's are no longer going there."
Related Topics