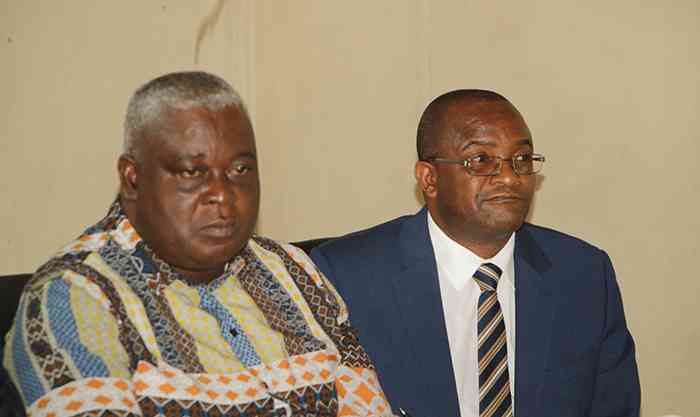 The Douglas Mwonzora-led MDC-T is headed for another split after its deputy leader Elias Mudzuri said he would resist attempts to expel him from the party as part of intensifying power struggles.
Mudzuri, Norest Marara, Mashonaland West province chairperson Gift Konjana, Masvingo province chairperson John Nyika, US province chairperson Den Moyo, secretary for Education, Edwin Dzambara and national executive member Edwin Kakora were slapped with suspensions last week.
The former Harare mayor poured his heart out on Twitter and revealed that an MDC-T national council meeting held yesterday in Harare was meant to expel him from the party.
"I am reliably informed that today the illegitimate MDC national council will expel me from the party," he said.
"How can a founder member be expelled for insisting that leaders must always be chosen by the base structures and not the elite and for merely chatting with customers at Duriro Bar."
Mudzuri owns Duriro Bar in Harare. He told The Standard in an interview yesterday that he could not be chased away from a party he "founded".
"They may expel me on paper, but I will remain MDC," he said.
"I believe in MDC principles. You should be asking Mwonzora why they have abandoned the MDC tradition.
"They should have consulted the people. No one is bigger than an institution.
"The council has taken its powers too far.
"The council has no power to override the congress and a congress must start from the ward. If I am the one who is wrong the people should judge. It is the masses who should judge."
Mwonzora's spokesperson Lloyd Damba dismissed Mudzuri's claims that he was a founding member of the MDC.
Damba said Mudzuri was afraid of the outcome of the council before it was proclaimed because he knew he was guilty.
"As for now he is on suspension pending investigations and until then let's wait for the national council to deliberate and resolve then we take it from there," he said.
"Remember it was Mudzuri and his team who wrote to the national council last week. How can he now stop the national council to deliberate on the issues he wrote to them about? Today he attacks the same body by calling it illegitimate, totally undermining it again," Damba said.
"I cannot give a response to his expulsion before it happens but as always the guilty are always afraid.
"Mudzuri has been lying to the world that he is a founder member of the MDC, but this is not true.
"He joined the party in 2002 after he was co-opted as deputy ward chairperson for Budiriro where he was operating his night club.
"His first party card was facilitated in the same year by Alois Masepe."
Mwonzora wrestled control of MDC-T from Thokozani Khupe in 2020 after seizing the then led Nelson Chamisa MDC Alliance through court battles. He parted ways with Khupe in 2021 after a controversial congress.
Related Topics