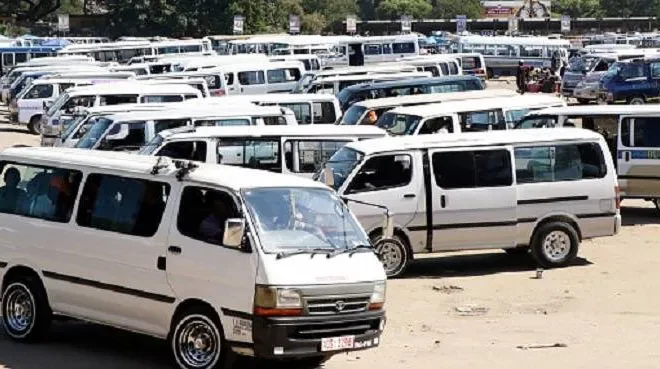 ATLAS Moyo, a Bulawayo kombi operator, says his life was turned upside down following a ban on private commuter omnibus operations at the height of the Covid-19 lockdowns in 2020.
"We were no longer able to send our children to school let alone to feed our families following the ban," Moyo, who is the Tshova Mubaiwa Transport Corporation chairperson, said.
The association was established in 1983 in Bulawayo, and only operates in the country's second city.
It was founded by the late Samson Mabunda who died in 2017.
Mabunda was one of the founding members of the private taxi association named Zimbabwe Emergency Taxis.
He rose through the ranks until he formed Tshova Mubaiwa.
The cooperative was formed as an empowerment project in the face of high unemployment.
However, a 2020 ban on private-public transport left many in the business with serious debts with some also facing threats of having their properties attached over loans.
Government had issued an order directing that private commuter operators join the Zimbabwe United Passengers Company (Zupco) franchise to be allowed back on the road.
As they remained grounded after the ban, Moyo said they faced challenges in paying rates to the Bulawayo City Council for their offices and depot located at the Belmont area in Bulawayo.
"It was a long struggle," Moyo said.
"Some of us had bought the kombis using loans that we got from the banks and they were threatening to repossess the kombis to settle the loans.
"We resorted to playing hide and seek with the police to make ends meet because most of us felt joining the Zupco franchise was a futile exercise.
"They (government) wanted to use us and we gained nothing out of the whole project and ended up losing our vehicles due to the wear and tear factor with little returns."
Last year, kombi operators under Tshova Mubaiwa had to file a High Court application seeking an order nullifying the government's decision to ban their operations.
In the application, Tshova-Mubaiwa cited Vice-President and Health and Child Care minister Constantino Chiwenga, commissioner-general of the Zimbabwe Republic Police Godwin Matanga, Local Government minister July Moyo and President Emmerson Mnangagwa as respondents.
Moyo once threatened to unleash the army on kombi operators.
Last month, High Court Judge Justice Evangelista Kabasa ruled in favour of Tshova Mubaiwa saying the government decree on private public transport operators was unlawful, irregular and invalid.
The ruling came after private-public transport operators had resumed operations after government gave them the greenlight , but on condition they formalised their operations by forming representative associations.
Moyo said they feel government took the drastic step to push them out of business on political grounds after they were suspected of supporting previous stay-aways and protests before the Covid-19 era.
On planned days of protests, public transport tended to be a challenge as operators withdrew their fleet, leaving commuters stranded.
"We do not fear competition; Zupco has failed and has surrendered business back to us.
"They (Zupco bosses) told us to come back and occupy our Hyper terminus so that we assist the few Zupco kombis remaining," Moyo said.
"Only six of our kombis remain under the Zupco franchise.
"We are now back in business although it is still too low, but we are still charging US$50 cents per person per trip or US$1 for two just like before.
"We are still compiling the data to find out how many of our kombis have come back.
"We had 2800 kombis before the Covid-19-induced ban, others are still coming back, some are now serving rural routes."
Moyo added: "We value our customers…We discipline our kombi crews.
"The only challenge that we have is that of touting. We are still trying to find a way of getting rid of them."
Zupco was accused of failing to cope with demand, leaving commuters, including schoolchildren who rely on shuttle services to and from home provided by private commuter operators stranded.
Zupco does not provide shuttle services.
As the debate on the Zupco monopoly raged on, police also left many seething with anger impounding even staff and school buses for not registering under Zupco.
Police only backtracked after widespread condemnation from various stakeholders.
Bulawayo United Public Transporters' Association supervisor Hloniphani Mkandla said they were now back in business, but admitted that the ban had driven them into deep poverty.
"The government has advised us to have fitness tests, customers are now happy that they are now getting enough transport," Mkandla said.
"There are about 1000 kombis that are now on the roads. The ban affected us a lot.
"Our hearts are bubbling with anger but what can we do? We think it is time for it, we need to forge ahead and start a new page."
Related Topics