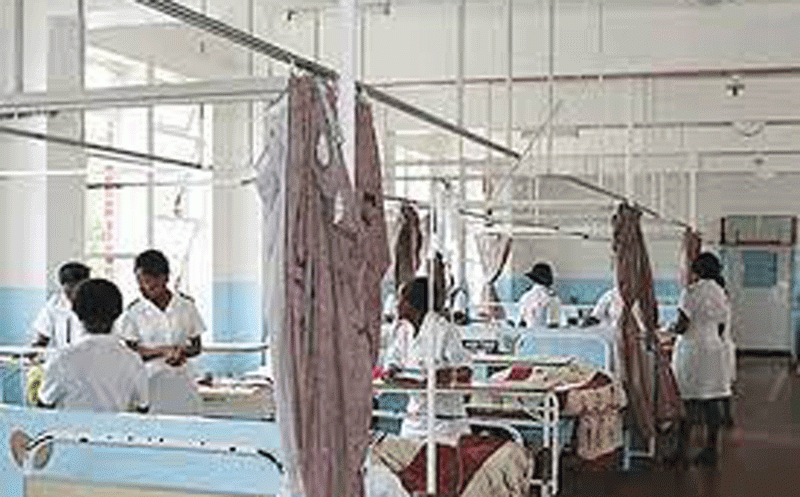 "The worst was seeing a new-born baby dying, and I couldn't do anything because we didn't have any source of power," David Masara, nurse-in-charge at Budiriro Polyclinic in Harare, said.
His account is a tip of an iceberg on the impact of the country's rolling power cuts on the health sector.
The perennial electricity power shortages have seriously affected the health delivery system countrywide.
Key service areas including surgical operations, life support systems, drug storages, scans, X-rays/ medical tests and examinations as well as in-patient and out- patient units have been affected.
In some institutions, expecting women have been made to bring their own lighting before admission.
However, the challenge is being averted by the recent Solar For Health initiative that has seen over 1 000 health facilities across the country being equipped with solar units as back-up in case of power cuts.
"The issue of lack of power is no longer an issue at all. Pregnant women can deliver their babies in stable conditions after the installation of the solar system," said Masara.
In some instances, especially in rural areas, the solar systems have come in as sole power supply system.
The Solar For Health programme is being implemented by the Health and Child Care ministry in partnership with the United Nations Development Programme (UNDP).
The project is largely funded through the Global Fund.
According to the UNDP, several thousands of Zimbabweans are now enjoying reliable health services as a result of the programme.
Global Fund project manager, Emmanuel Boadi, said power is of great importance in the health sector and they would continue assisting the government to ensure that institutions have uninterrupted supply.
"Since 2017, we have installed 1 044 systems in health facilities with 19 ongoing installations," Boadi said.
"We will continue to mobilise resources to ensure all health facilities have solar power connectivity.
"We also want to assist the Ministry of Health and Child Care in the short and long-term, to have a sustainability plan."
Addressing journalists during a recent tour of Chivi district, local medical officer Onward Tendaupenyu, said the solar intervention had made it possible to attend some cases at their hospital, minimising referrals.
"Before the Solar For Health intervention, we had no back-up and we would refer patients in labour to Masvingo General Hospital. We are now able to do caesarean sections (C-sections) here (Chivi District Hospital), so we have had an improvement, Tendaupenyu said.
He said the intervention has been helpful in reducing challenges on maternal health.
"On average we do about 10 C-sections per week. We normally had problems with emergencies during the night. We are now saving on what we would have used in referring patients," he said.
"We are now saving on 100 litres of fuel and over $100 for staff allowances per week. We are also doing evacuation of retained products after miscarriage, and appendicitis operations among other things requiring uninterrupted power service."
Acting Matabeleland South provincial medical director, Andrew Muza, said the intervention has been a great help in health service delivery.
"We have 117 of our health facilities on solar back-up through UNDP and partners. There has been improved patient care in terms of quality. We now have 24/7 service provision and other systems depending on power like the expanded programme on immunisation and the electronic health record system have also been connected making it easier to do our duties," he said.
Bulawayo City Council's health department director, Edwin Sibanda, said the programme had eased the burden on service delivery as most of their services rely on power.
Towards the end of last year, the country was exposed to further challenges as the power crisis worsened, leading to more lengthy and untimely power cuts.
Intermittent or unreliable power sources put most patients' lives at risk and made health service delivery a nightmare.
The Solar for Health initiative also contributes to extended hours of operation, and better retention and recruitment of healthcare workers in remote settings, ensuring effective, safe healthcare.
At Mhandamabwe rural health centre, attending to patients during the night was risky as they did not have electricity.
Acting nurse-in-charge at the clinic, Petunia Tshuma, said the challenges lessened when the clinic was initiated into the programme where they now have uninterrupted power supply from the installed solar system.
"Prior to the intervention, we relied on solar lamps and torches in the event that we ran out of the normal back-up. Our challenges have lessened as we are no longer having problems in storing our medicines and we no longer meet obstacles in doing our duties during the night," she said.
Community Working Group on Health executive director Itai Rusike said solar energy is more efficient for the rural health centres and the hard-to-reach communities.
He said solar energy assists with vaccine cold chain management and cold storage facilities to maintain vaccine integrity and avoid vaccine wastage.
"Solar energy can also assist in the reduction of maternal mortality that remains high in Zimbabwe and it can also be a motivation factor for the health workers and their families with electrical gadgets such as television sets, refrigerators, mobile phones, electrical irons etc," Rusike said.
"The government should partner with the development partners, NGOs and the private sector to strengthen the health delivery services and improve the quality of care by investing in solar energy in clinics."
Follow us on Twitter @NewsDayZimbabwe
Related Topics