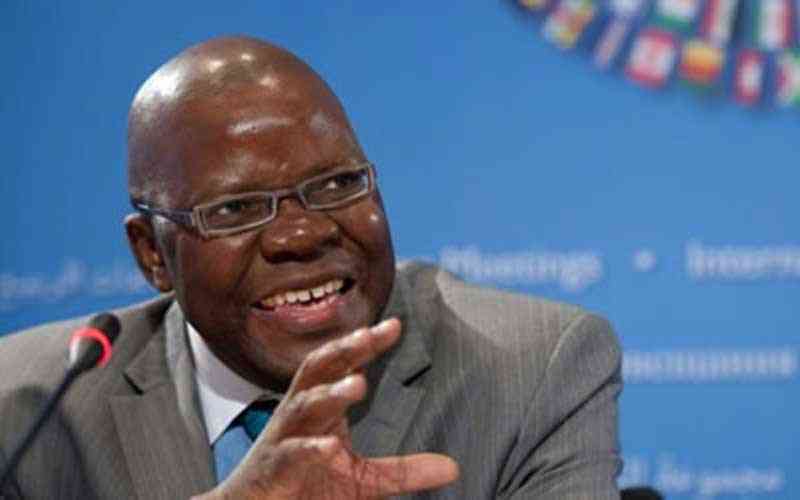 CITIZENS Coalition for Change (CCC) leader Nelson Chamisa is reportedly fighting to contain the fallout in his party after some party leaders, including his deputy Tendai Biti reportedly lost in the candidate selection process.
The party announced top three "preferred candidates" in some constituencies, a move which observers said was a ploy to mask the losses of some bigwigs and prevent fissures in the party before the nomination courts sit on Wednesday this week.
Speaking to journalists yesterday, Chamisa said: "Those who want to be independent are free. In fact, being independent is the simplest thing. But those who want to be CCC are already on the party ticket and they will register as party nominated candidates.
"Why should we announce candidates in the context where we have Zanu PF literally pursuing our candidates one by one? Why should we give you the list now so that we are advertising targets and victims?"
Party co-vice-president Biti of Harare East reportedly lost to Allan Markham, while Highfield legislator Eric Murai also reportedly fell by the wayside.
At the Press conference yesterday, Chamisa said: "Wait for Wednesday, it's just two nights. You will see the candidates. Good things come to those who wait. You have been given the list of winners. Those announced are the people who won in terms of the citizens' hearts and preferences.
"We don't lose in CCC. We just have preferred candidates and those are the preferred candidates. What we have not done is to say this is the one who is going to file the nomination, but they are there. If you are given ABC, you are given the answer. You have to choose the best."
He added: "We are ready to win. In fact, we have already won and we are ready to seal our victory come August 2023. It's a done deal. As for the presidency, we made it. Parliament we have the majority.
"As for local authorities, we are collecting all the urban councils and, of course, we will have the majority in rural district councils. That is our aim and we have no doubt that we are the next government in this country."
Chamisa said the selection, administered by what he called the Candidate Independent Selection Process, had produced wonderful and amazing results.
"We are happy with the outcomes. You will see the calibre of the candidates when we file our nominations," he said.
When asked to explain what would happen to Biti or Markham, who currently represents Harare North, if one of them fails to represent the party in the parliamentary elections, Chamisa said bigwigs who lost during the selection exercise would be deployed to serve in various portfolios in the party.
In Chitungwiza, incarcerated Zengeza West legislator Job Sikhala's son, Job Jnr, was named in the top three, but is said to have lost to Innocent Zvaipa, said to be the late MDC founding leader Morgan Tsvangirai's uncle, and ward 12 councillor Darlington Musonza.
In St Mary's, sitting legislator Unganai Tarusenga was not even announced among the top three of Brighton Mazhindu, Hillary Gwata and lawyer Freddy Masarirevhu.
In Gweru's Mkoba North, Amos Chibaya was nominated without any challengers, while another top party leader Settlement Chikwinya's name was announced along with Corban Madzivanyika in Mbizo constituency.
In Matabeleland North, Prince Dubelo Sibanda will represent CCC in Binga North, while former minister in the Government of National Unity, Gabbuza Joel Gabuza has Fanuel Ngomadzana and Alfonso Tshuma in the top three for the Binga South constituency.
In Goromonzi West, former Tsvangirai spokesperson Luke Tamborinyoka was nominated alongside Tineyi Munetsi and Joram Murape.
Caston Matewu, the current legislator for Marondera Central, has Francis Badzarigere and Misheck Manyere in the top three.
In Manicaland, Prosper Mutseyami has Boniface Gwere in the fight for the right to represent the party in Dangamvura constituency, while former mayor Brian James will represent the party in Mutare Central after being nominated without any challenger.
Innocent Gonese is the current Mutare Central MP and is not standing in the August 23 elections.
In Mashonaland West, incumbent Chinhoyi MP Peter Mataruse was nominated together with Mukudzeyi Chigumbura and Leslie Mhangwa.
In Bulawayo province, former MDC vice-president Thokozani Khupe, who was a presidential candidate in 2018, was nominated together with Colette Ndlovu and Thabani Moyo to represent the party in Cowdray Park, where the winner will face-off against Finance minister and Zanu PF candidate, Mthuli Ncube.
Promise Mkwananzi was nominated to represent the party in Lobengula/Magwegwe constituency, and his name was announced alongside Tendai Nyathi and Eric Gono.
CCC deputy spokesperson Gift "Ostallos" Siziba was nominated along with Ernest Rafamoyo to represent the party in the Pelandaba/Tshabalala constituency.
However, observers yesterday described the selection process as confusing and chaotic.
Political analyst and director of local think-tank Sapes Trust, Ibbo Mandaza, said failure to announce the candidates was "very puzzling".
He did not elaborate.
Alexander Rusero, a lecturer at Africa University and research fellow at the Institute for Pan African Thought and Conversation, said the CCC selection process simply showed the political dynamics in the opposition party.
"I think everything in CCC zeroes in on Chamisa. The Chamisa preference carries the day. This is a dangerous precedent for a movement that is posturing as an alternative to Zanu PF because what we actually now have is the antithesis of democracy," he told NewsDay yesterday.
"Yes, we know the allegations of infiltration and they are real, you cannot downplay them, but I don't think that is how you project yourself in the 21st century as a democratic alternative to an authoritarian establishment."
He said it was now becoming clear that CCC was a single-handed project run by Chamisa.
"Whatever is going to prevail is of Chamisa's making and not necessarily the democratic preference or aspirations of the people.
"Whether it is effective or not, August 23 will settle that. For now, whatever is happening in CCC is a Chamisa show. August 23 is not far, it will give us a correct judgement," Rusero said.
He said so far, CCC had shown that there was no democracy in the party.
"It is the consent of the leader. His aspirations and wishes are prevailing," Rusero noted.
In a CCC WhatsApp group, CCC deputy spokesperson Felix Mafa waded in on Biti's loss to Markham saying: "No one is indispensable. Hon T Biti is a seasoned leader/politician and a lawyer who may be the Speaker of the National Assembly or Senate president after the elections."
He later told NewsDay that his comment was not an official party position.
"The people are the winners. My comment is, therefore, not official. I don't write for newspapers. It has no authenticity, relevancy or truth.
"Those are social media discourse not for publicity. It's a matter of socialisation. We are going to get our results on the nomination day. We have only announced three possible potentials, number 1, 2, 3 per each constituency.
"Currently, there is no winner and the president (Chamisa) has reasons for that. He said he is protecting his candidates from Zanu PF marauding hyenas. So, the authentic list will be published on the day of nomination," he said.
Political analyst Rejoice Ngwenya said Chamisa's strategy was "great, but could divide the party".
"To enhance the surprise element, he will request four people to submit their nomination papers. On Wednesday morning, the party will simply present one name signed for," he said.
"It will be too late to double sign, but unfortunately, two things will happen: The other three or two may enter their own names as 'independent' and the party may submit favoured names instead of preferred ones. Ultimately, this will divide votes.
"However, let's not dismiss the idea that those names are political banter and decoy. The true candidates know themselves."
Related Topics