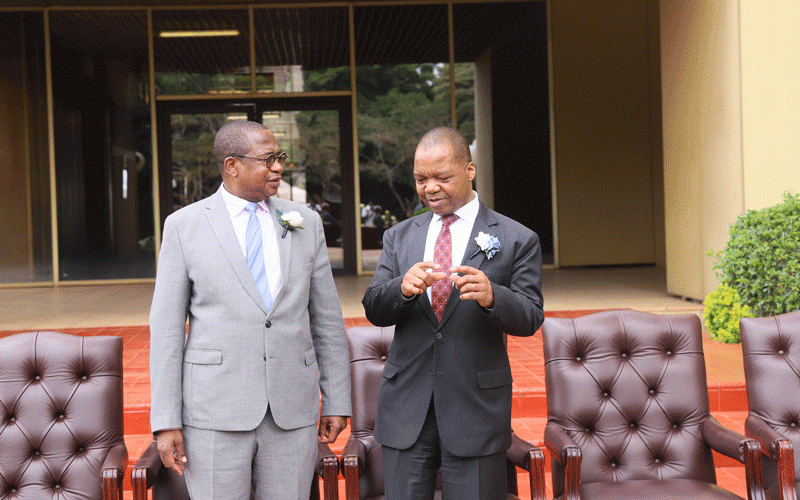 ECONOMIC analysts have said Finance minister Mthuli Ncube's new measures introduced on Monday have very little chance of saving the Zimbabwe dollar from collapse.
They instead advised Ncube to dump the local currency and redollarise because everyone in the country is more comfortable using United States dollar (US$).
Economist Vince Musewe told NewsDay that it is only fair for everyone to be paid in US$ since government officials, chief executives of private companies and board members were preferring the greenback.
Musewe said Ncube's policy measures, which include lifting restrictions on importation of basic goods, promotion of use of domestic currency by government agencies and others, would not address the fact that Zimbabweans prefer the US$.
"That policy cannot address a psychological phenomenon where citizens for any reason prefer the US$. As long as we have a multi-currency regime, people will naturally migrate to what they deem has more value," Musewe said.
"Even our politicians prefer the US$. These (Ncube's measures) can only hopefully slow down the rate, but it is not permanent. Economic policy is not led by principle, but by expediency. It is never a permanent solution. There should be a principle of fair wages, and it requires US$ salaries for all," he said.
Another economist Prosper Chitambara said while there were some positives in Ncube's policy statement, there was need to liberalise the foreign exchange market, and deal with government spending leading to continued money supply growth.
"Reforms of parastatals remain outstanding so that government does not lose money through loss-making entities. We also need to crowd in private sector long-term financing especially around infrastructure. This will help to release pressure on the government," Chitambara said.
Recently, legislators from across the political divide said the local currency was no longer sustainable and called for redollarisation.
They said their $21 million Constituency Development Fund allocations had since been eroded by inflation now at 324,63%.
The Zimdollar was reincarnated in 2019 after it was rendered useless by a record 500 billion percent hyperinflation in 2008, leading to it being demonetised.
Meanwhile, in Parliament on Tuesday, an opposition legislator said the foreign exchange trading system was fuelling inflation as companies were obtaining United States dollars from the Reserve Bank of Zimbabwe (RBZ) auction system and trading them on the black market.
The foreign exchange (forex) auction is a monetary policy instrument through which the RBZ sells or buys foreign currency.
While raising a matter of national interest in the National Assembly, MDC Alliance MP for Gweru Urban Brian Dube said the forex system had opened up opportunities for businesspeople to get US$ at cheaper rates.
"The RBZ has been selling US dollars on the auction market to perceived businesspeople for purposes of importing goods to make sure that there is increased production through the availability of cheap foreign currency to those people. They then syphon it through using false invoices for purposes of fake imports, thereby fuelling the parallel market rates by selling the US dollars through the parallel market, instead of using that foreign currency to benefit the nation," Dube said.
He said companies were supposed to use the forex auction funds to beef up production in the country.
The Zimbabwe dollar this week dropped by 36,5%. It is trading at $2 577 against the greenback at the official rate, while it is selling at $4 000 on the parallel market. Last week, it was trading at $1 888 at the official rate.
Related Topics