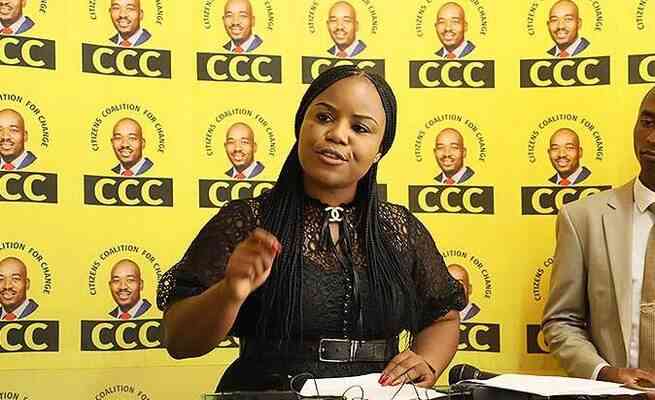 AMNESTY International says (AI) the conviction of Citizens Coalition for Change spokesperson Fadzayi Mahere for "publishing falsehoods" is part of a wider plot by government to silence critical voices.
Mahere was accused of publishing falsehoods in a case involving a woman whose child was erroneously reported to have been struck to death by a baton-wielding Harare police officer while he was enforcing COVID-19 lockdown regulations in 2020.
Video footage of the incident went viral on social media platforms in 2020, showing the distraught mother of the child wailing, while holding onto a police officer who had "allegedly assaulted her baby to death".
Mahere was fined US$500 or three months imprisonment.
AI's deputy director for east and southern Africa, Flavia Mwangovya, said Mahere's conviction had a chilling effect on other critical voices.
"The conviction of Mahere is a travesty of justice as it is based on a law that is no longer existent in Zimbabwe and applied to silence dissent," Mwangovya.
In 2021, High Court judge Justice Jester Helana Charewa, however, ruled that "there is no offence called publishing or communicating statements prejudicial to the State under Zimbabwean law".
"The legal provision that was used to convict Mahere was declared void by the Constitutional Court in 2014. The High Court confirmed this in another case in 2021. The Magistrate Court in this case should have taken note of the decisions of the upper courts and acquitted Mahere," Mwangovya said.
"The conviction and sentencing demonstrate the extent to which authorities are willing to muzzle critical voices and suppress the right to freedom of expression.
"The authorities are sending a clear message that there is no space for exercising the right to freedom of expression in Zimbabwe."
Mwangovya added: "Zimbabwean authorities must quash the sentence and stop using the courts to target and harass individuals exercising their right to freedom of expression both online and offline."
Information minister Monica Mutsvangwa and her deputy Kindness Paradza were not reachable for comments, despite repeated efforts.
Critics and the opposition have been expressing concern over the shrinking democratic space in the country.
Zanu PF has, meanwhile, been railroading controversial laws such as the Private Voluntary Amendment Bill which seeks to regulate the operations of non-governmental organisations and civic society organisations.
Related Topics