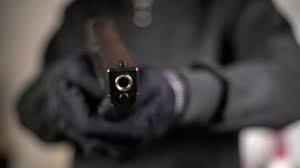 SIX Zimbabweans, all suspected armed robbers, yesterday escaped from a South African police custody after their helpers engaged in a shootout with South African police to free them in an incident which occurred outside Louis Trichardt some 120km south of Beitbridge.
The six were identified as Forward Shumba (26), Shingirai Nyandome (32), Brilliant Sibanda (26), Erick Sithole (35), Moses Zambara (32) and Alex Nkomo (35).
They were all prisoners awaiting trial and were being transported by the police when they escaped.
A gang driving a grey Mercedes-Benz vehicle and a white Toyota pick-up truck whisked away the suspects after overpowering police in a shootout that ensued during the escape, the South African Police Services (SAPS) said in a statement.
"The police in Makhado have launched a massive manhunt for a group of heavily armed suspects who attacked and shot at police members transporting six awaiting trial prisoners and managed to free them this morning, Monday 13 (yesterday). The suspects thereafter took the six prisoners and sped off in a grey Mercedes-Benz and a white Toyota bakkie.
"The incident happened along the Vivo road next to the first Schoemansdal turn-off outside Louis Trichardt. The prisoners managed to escape during the attack," Limpopo province police spokesman Brigadier Motlafela Mojapelo said, adding that all escapees were Zimbabwean nationals.
"The first five were arrested for aggravated robbery, three counts of attempted murder and unlawful possession of firearms and ammunition. The last one was arrested for theft of cables.
"The Provincial Commissioner of Police in Limpopo, Lieutenant General Thembi Hadebe has ordered the mobilisation of the necessary police resources, including the airwing to hunt down the escapees and the suspects."
Saps advised the public not to approach the suspects under any circumstances because they are considered dangerous, but should instead call the police.
"Anyone with information may contact Colonel Nyelisani Mabatha +2782 565 8171, the Crime stop number 0860010111 or may send the message via MySAPSApp," Mojapelo said.
Related Topics