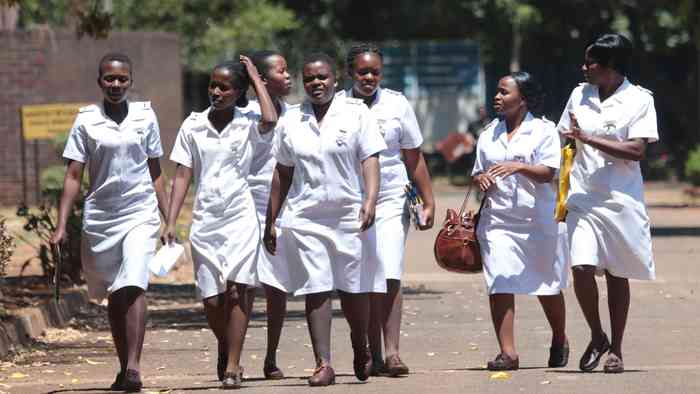 A WAVE of brain-drain roiling Zimbabwe's crumbling health system has forced government to increase salaries for nurses to limit the damage, a cabinet minister told the Zimbabwe Independent this week.
Although Public Service, Labour and Social Welfare minister Paul Mavima did not disclose how much nurses were now earning, he said following the exodus precipitated by opportunities created in the United Kingdom, a crucial decision was reached to persuade nurses to stay home.
Mavima said the same pay hikes would be extended to other civil servants.
However, the Independent understands that there has been discontentment across the civil service over the salary increase.
Mavima said the health service was 'unique', and required immediate attention.
"There has been brain drain in the health sector and because of its uniqueness there has been a raise," he said, noting that "others shouldn't complain".
"We are here to improve the welfare of civil servants and these changes will be effected to other sectors as well. We saw it fit to protect the sector," the minister added.
Zimbabwe Nurses Association leaders declined to comment about the pay hike.
Official statistics indicate that over 4 000 nurses and doctors have left Zimbabwe since February 2021, with nearly 1 800 leaving last year. Most of these have settled in the UK, joining over three million other Zimbabweans who have left the country since 2000, seeking better opportunities worldwide.
The 1 800 represents about 10% of all nurses working in public hospitals.
The UK is the destination of choice for health sector professionals.
British Home Office data shows that Zimbabwe is now in the top-five skilled worker visa recipient countries.
According to the Zimbabwe Medical Association, the country only has 3 500 doctors to serve a population of 15 million.
According to the World Bank, access to nurses in Zimbabwe stood at 2,6 per every 1 000 people as of 2017.
A Zimbabwe Statistics Agency's report produced last year showed that most workers were earning an equivalent of US$120 a month.
However, wages have been outpaced by skyrocketing inflation, including in US dollar terms, and exchange rate volatilities.
In government, some officials say the UK must compensate Zimbabwe for luring its healthcare workers with better pay.
Following mass resignations in the country's public hospitals, the government last year doubled application fees for nurses' confirmation letters and certificates from US$150 to US$300 to stop migration, which has increased since the Covid–19 pandemic.
Related Topics