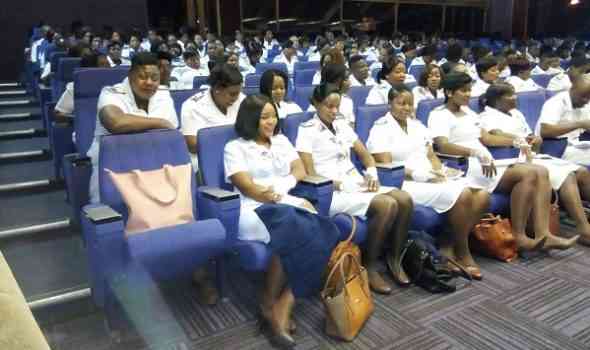 She lay on the ground facing the sky, hoping for a miracle to happen.
Different hymns could be heard in her mind and heart, as she tried to get answers on this particular "curse."
"Why do my dreams keep being shattered? An interior monologue was asking numerous questions, as she silently shed tears, seeing a bleak future for her and her siblings who celebrated after she passed 'O' Level Mathematics. Passing Mathematics is regarded as an achievement and a gate-pass to a better life.
Patricia Manji (33) (not real name) has always wanted to be a nurse ever since her mum died due to the non-availability of medical attention.
"I have always wanted to help vulnerable people in unexpected moments. Caregiving is a calling to me. My passion is driven by the fact that our health institutions are understaffed and this has led to unnecessary loss of lives. I want to inspire girls from my village," said Manji.
She was left to head the family at the age of 13, having dropped out of school more than four times because she had to fend for her four siblings.
Having sweated in menial jobs in the surrounding farms just to afford a meal, she is grateful to their neighbour, Advocate Martin Tsindi who "adopted" them.
It was not so long before the Good Samaritan succumbed to cancer, catapulting them back to square one.
After writing her 'O' Levels twice, passing with flying colours, her hope was to enrol at a nursing school. From Chadereka village in Muzarabani, Mashonaland Central Province, with no means to get information on the processes, she had to beg a stranger who stayed 8km from her village for the vacancies page after she saw him waving a newspaper.
Manji could not believe her eyes, gleaning on an advert she so wanted. But her fortunes suddenly changed after reading the call for application for registered general nurse training intake.
"Must be between the ages of 17 and 30 years on the date of commencement of training. Applications must be submitted not later than 17 April 2022 using the MoHCC Electronic Platform," the advert read in part.
"I feel like my dreams have been shattered because of my age. I wish I was born in a better family, by now I could have completed my nurse training. Poverty has denied me access to my passion and dreams. My wish is for this to be revised," Manji said, mumbling incoherent things and choking on her sobs with bloodshot and puffy eyes.
Concern has been raised over age discrimination with most women from disadvantaged backgrounds saying they are being left out yet they are passionate about the nursing profession.
Statistics show that the female-to-male nurse ratio is almost 80% to 20%.
Institute for Young Women Development (IYWD) director, Glanis Changachirere says age cut off on training of any nature is discriminatory, especially to women. She said evidence has shown that women progress slowly compared to men in as far as training and employment opportunities are concerned.
Changachirere said through her experience working with women from marginalised backgrounds and communities in IYWD's empowerment programmes, she has discovered that a lot of women actually think of training and employment opportunities way after turning 30 because of various circumstances.
"Policies that put age cuts are policies that draw from the capitalist discriminatory practice. We work with women from marginalised communities and when we do empowerment programmes, most of them come to realise they can go back to school and fulfil their dreams and be somebody else. Unfortunately, when they want to do what they believe in, there is an age limit, creating double marginalisation," she said.
Added Changachirere: "Women usually go up the ladder at a later stage and the uptake of technology is minimal to rural people. Thus women suffer multiple forms of discrimination when it comes to recruitment including geographical, age, and digital.
"Revising our laws and making sure that our laws are responsive to the needs of the population is imperative. Application for training and opportunities should be cognisant of different levels of access to technology, so that people who are willing to apply are not denied access. A hybrid form of application can be adopted."
Shamwari Yemwanasikana development manager Lisa Bonongwe says in as much as age discrimination carries disadvantages, it also avails opportunities and support for young girls.
"Putting an age limit to certain career opportunities is the same as putting gender specifications because as women we are already at a disadvantage, there is already inequity because of where you come from and a lot of other things, and to add age to the factor that's something hindering a lot of women who are already disadvantaged. We are living in an era where youth participation is encouraged and during that age there is a lot of focus given to this age group. We are seeing a lot of girls getting the support system for them to move forward," she said.
However, Parliamentary Portfolio Committee on Health and Child Care chairperson Ruth Labode said it was impossible for a person not to make the right decision after completing secondary school, adding that the government cannot invest resources in someone who is likely to retire early.
"The country cannot invest in somebody who is already getting old. It doesn't work that way. Nursing is free training done by the government; you cannot take government money or public funds and fund somebody who retires quickly. What would be a person be doing from 18 years until 35?," Labode said.
On online applications, she said the issue has been raised in Parliament and the government is looking into making changes for convenience.
"The issue of online applications is a legitimate complaint which was raised in Parliament and the ministry is looking into it," she said.
Women's Action Group executive director Edinah Masiyiwa said accepting online only applications is a misnomer which needs redressing.
"There is a discrepancy in the demand for online only application, there is inequality and everyone should be able to apply, those who do not have internet should be allowed to hand post," she said.
Human resources experts agree that there is no relationship between age and performance when it comes to training and employment.
Human resources consultant Memory Nguwi, however, said in some roles older people can actually give value even after they are past retirement age.
"There is no relation between job performance and age. Even for some roles even after retirement people can continue to give value. The reason why some people think they can get an advantage out of the younger people is that they just want them to work more, if you invest in training in an older person, it means the return in terms of your training maybe received in a shorter period, that is normally why people put age limit, it has nothing to do with job performance," he said.
Another human capital and strategy consultant, Emmanuel Zvada concurred with Nguwi adding that age gap creates a disadvantage for the country as some people who are passionate about nursing have actually gone to study outside the country and some have excelled to the extent of occupying prominent positions in hospitals in the diaspora.
"Age doesn't compromise performance. And occupations that are driven by passion cannot have an age limit on that. There is a need for the age limit to be removed because the older you are the more you are aware of what you really want. There is need for revision because a lot of Zimbabweans are leaving to study nursing outside Zimbabwe, meaning the country is losing people who could have been employed locally and add value," Zvada said.
In 2017, researchers, Magnus Carlsson and Stefan Eriksson concluded: "The existence of age discrimination in the labour market could have serious consequences for both society as a whole and the individuals affected. Another consequence of discrimination could be lower occupational mobility."
Related Topics