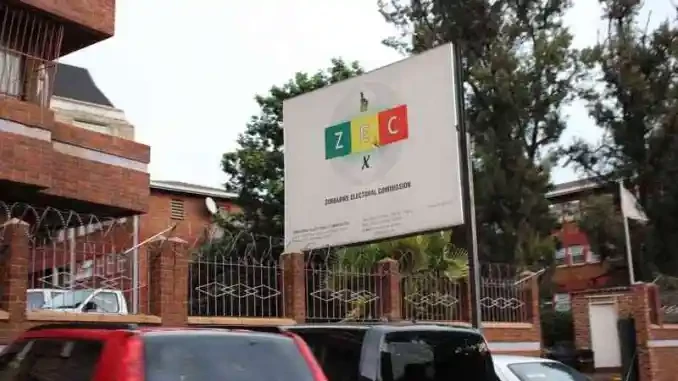 NEW headaches emerged yesterday for the Zimbabwe Electoral Commission (Zec) after former Cabinet minister Elton Mangoma added his voice to mounting criticism of the electoral body's preliminary delimitation report tabled in Parliament last Friday.
The former Economic Planning and Investment Promotion minister in the 2009-2013 Government of National Unity and one of those involved in crafting the current national Constitution says Zec used a wrong formula to determine how constituency boundaries would be redrawn.
According to Justice Legal and Parliamentary Affairs minister Ziyambi Ziyambi, the total number of registered voters was divided by 210 constituencies resulting in a national average of 27 640 voters per constituency.
Ziyambi said they used the formula to determine voter population thresholds permissible in line with section 161(6) of the Constitution.
A 20% variance from the national average was then determined using a maximum registered voter threshold of 33 169 and a minimum of 22 112 voters.
In his letter of complaint directed to the Zec chairperson Priscilla Chigumba and speaker of Parliament Jacob Mudenda, Mangoma said: "Note 4.1 in the draft delimitation report on page (xii), Zec worked with a guidance of 33 169 as the highest and 22 122 as the lowest number of voters per constituency. The difference between these is 11 047.
"This difference is 50% of the lowest number and 33% of the highest number, which is clearly above 20% dictated by the Constitution. Zec has used these wrong parameters and consequently the resultant draft delimitation report falls foul of the Constitution."
Mangoma, who is also the opposition Renewal Democrats of Zimbabwe leader, said Zec misinterpreted section 161(3) and 161(6) of the Constitution, making the draft delimitation report unconstitutional.
"The aim of delimitation as in section 161(3) is to get all the voters fair representation across the 210 constituencies. Without section 161(6), this would be a simple mathematical exercise of dividing the registered voters by 210 constituencies. Section 161(6) provides guidance in the operationalisation of the equality of voters into the constituencies, and more importantly gives a 20% difference between the highest and the lowest," Mangoma said.
"The average number of votes obtained by dividing the total number of registered voters of 5 804 376 by 210 constituencies is 27 640. To work with a difference of not more than 20% between the highest and the lowest voters per constituency, the lowest number of voters should be 25 150 and highest is 30 130.
"The difference between these numbers is 4 980 voters. The difference of 4 980 voters gives a difference of 20% as required by section 161(6) of the Constitution."
Election Resource Centre programmes manager Solomon Bobosibunu said the delimitation report was questionable.
"Political representation is important, thus striking a balance between registered voters, population growth and many other factors would need to be put all together to help determine how the wards and constituencies will be made up," Bobosibunu said.
"The question would be what does Zimbabwe gain by having more MPs in one side of the country versus others? The assertions are very correct, but on a balance of scale where the constituency is already meeting the set criteria of +/-20% what would have happened?"
Zimbabwe Election Advocacy Trust director Ignatius Sadziwa said: "If you do a nuanced statistical analysis you will agree with Mr Mangoma and gerrymandering cannot be ruled out. Over and above, the reality is that voter registration was relatively very low across the country. Harare and Bulawayo were supposed to leverage on their population densities and increase voter registration."
Related Topics