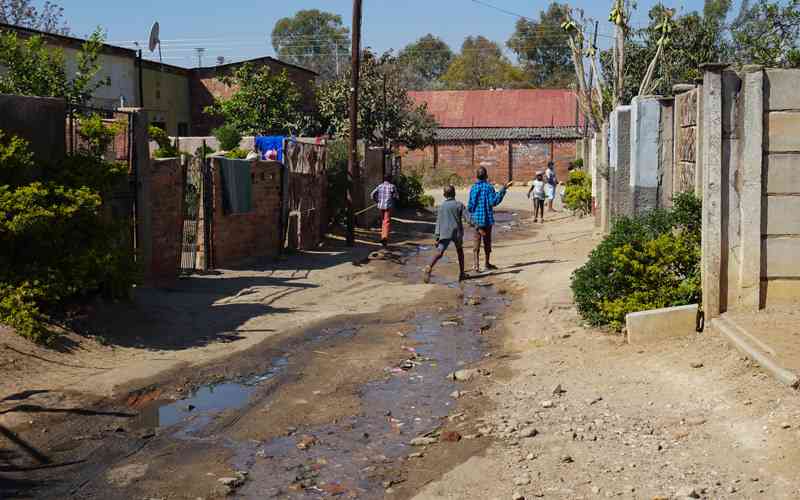 RAW sewage spilling for the past two months out of toilets at more than 15 houses and from manholes in Beitbridge border town's Mashakada area is posing a serious health hazard.
Given the mobility of Beitbridge residents, the situation is threatening the entire town of more than 60 000 people. Residents say Beitbridge municipality officials have not attended to the sewer bursts despite reports having been made.
Last week, residents approached Beitbridge East legislator Albert Nguluvhe raising concerns over the potential health hazard.
"We are appealing to Beitbridge mayor (councillor Munyaradzi Chitsunge), ward 5 councillor (Granger Nyoni), town clerk (Loud Ramakgapola) and town engineer (Douglas Siphuma) to solve the sewage problem. People living in that section are in terrible conditions due to the blocked sewer system. There is a possibility of a cholera outbreak if the situation is not attended to," Nguluvhe said during an appeal on a social media group which includes Beitbridge district heads of department.
Ramakgapola said: "We are working on a long-term solution to replace the pipes. We have noticed that the pipes are full of sand hence the need to replace them."
An official from the Beitbridge municipality engineering department told Southern Eye that the sewer system was being affected by sediments that were causing recurrent blockages.
"The sewer line has suffered extensive sediment deposition and requires to be replaced, unfortunately there were no materials till of late and it's now receiving attention. The town also suffered infrastructural damage from the latest flash floods, as well as manhole lid thefts. With limited resources, we are slowly attending to the predicament. It's our prayer that the community avoids (throwing) solids into the liquid waste system," the official said.
Environmental Management Agency (Ema) manager for Matabeleland South, Decent Ndlovu said: "This is an unacceptable situation whereby sewage is allowed to flow into houses.
"The local authority should ensure that these sewer bursts are contained and come up with a lasting solution. This is very unhealthy and will result in serious challenges as far as health issues are concerned. As Ema, we will not allow such situations to happen. We encourage the local authority to take responsibility and not allow such discharges."
One of the residents, Stella Jumbe said: "This is despite their daily demands for rates and service charges that we have religiously paid.
"It is difficult living here, the stench, the inconveniences and the fear of diseases has gripped my family and the neighbourhood. Municipal officials told us to use the bush and it's disheartening. I no longer have any appetite for food, we sneeze, we cough and we fear for our lives."
Her neighbour Linnette Nguluvhe told a similar tale of distress living daily with flowing sewage for the past two months.
Follow us on Twitter @NewsDayZimbabwe
Related Topics