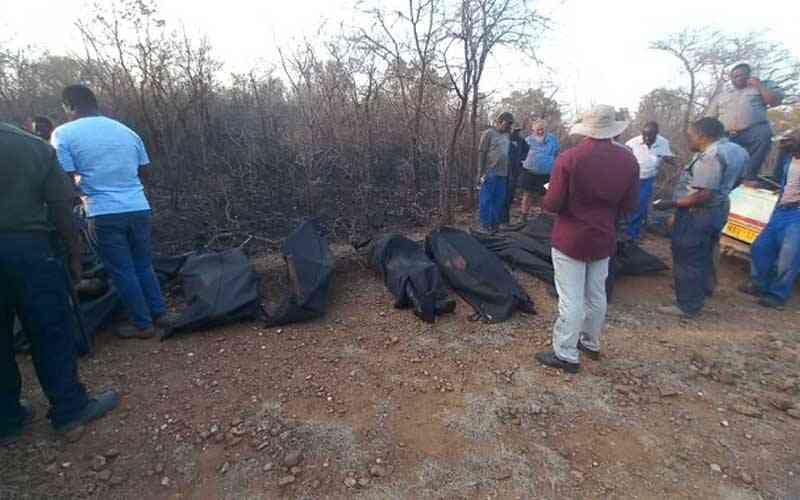 THE government has been challenged to probe the Esigodini fire incident that claimed the lives of 10 villagers last week.
The 10 died while trying to extinguish a fire that had broken out at the Red Rose Farm Lot 43 in Esigodini on Monday last week. The victims were accorded State-assisted burials on Friday. Civic groups have called for an investigation of the fire incident to avoid a repeat. Zimbabwe Diamond and Allied Mineral Workers Union (ZDAMWU) secretary-general Justice Chinhema said the police should probe the incident as a matter of urgency.
"We are calling for a thorough investigation into this tragedy. We believe there was a massive cover-up of the incident. We discovered that out of the 10 people who died, not all of them were farm workers.
"ZDAMWU would like to dispel the deliberate misrepresentation by authorities that the 10 who died are all farm workers. Six of those who died are in fact mine workers, and of those four are ZDAMWU members working for Asirous Private Limited owned by one Trivas, while two are farm workers and the remaining two are security guys who manned both the farm and the mine," Chinhema said.
He said they were worried that authorities rushed to declare all the victims farm workers. Matabeleland Institute for Human Rights (MIHR) co-ordinator Khumbulani Maphosa said more needed to be done on this environmental matter.
"The sad and unfortunate catastrophe where 10 men died at Esigodini's Rodrose Farm trying to extinguish a veld fire is a painful call for the country to act quickly and decisively to protect environmental activists and to curb environmental crimes like veld fires. "As MIHR we are deeply saddened by the disaster and we join the affected families in mourning these 10 local environmental heroes who unfortunately died in the line of duty defending their environment. We pass our sincere condolences to the affected families and wish a speedy recovery to those who sustained injuries," Maphosa said.
Related Topics