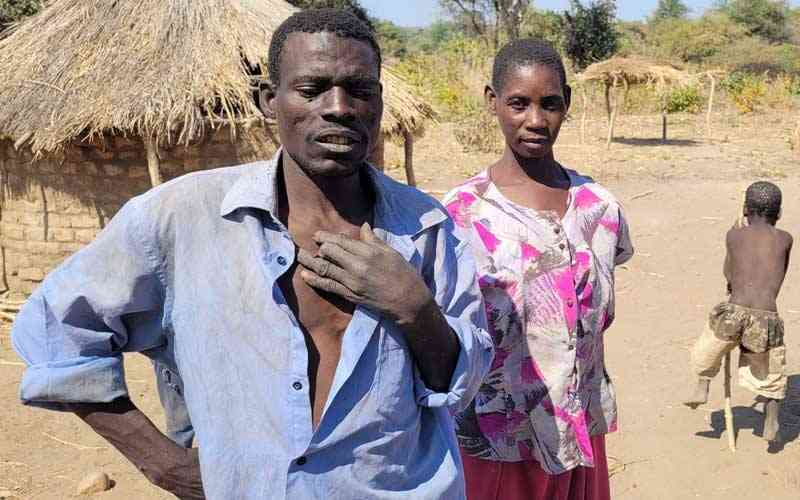 One moonlit March night, 36 years ago, in Mariga community, located in the depth of the Kanyemba area, near the north-west border of Zimbabwe with Zambia, the Chiyambo family of the Doma tribe was gifted with a baby boy.
For whatever reason, they decided to name him Romance.
Growing up in Mariga, Romance and his elder brother Muwanikwa had to endure constant hunger, the fear of wild animals that roamed free in the area, and lack of access to education, health and other basic social services.
For the Doma people, isolation from civilisation was something they had to live with and crossing the Mwazamutanda River to the nearest school at Chapoto, seven kilometres away, was such a brave act considering that one had to pass through a jungle infested with predators.
So, right from the beginning, Romance's dreams of being a health professional were dim.
Now 36 years old, Romance recalls sad episodes of misfortune and failed opportunities.
Donning a blue shirt and grey shorts, both which clearly have not seen a wash in a long time, and puffing a cigarette, Romance sits under a tree. As he watches his wife knitting together the grass to be used on their tiny bedroom's new roof, he starts telling his story.
So, from the beginning, Romance recalls, he had ambition, and the first step, according to him, was to get an education.
"I dropped out of school at Grade 4 and by that time my parents had died, and generally life was difficult," he says.
Without an education, Romance, up to this day, has remained unable to interact with any literature.
For example, he has no idea how old he or his children are, and he has to show registration documents to anyone who asks.
"So, I hoped to be a nurse or something better, but without an education, that has not been possible," he said.
Basic high school education would have gotten him out of the poverty trap of the forgotten Mariga, to a college and perhaps a career as a health practitioner.
Stuck in the trap of poverty and hopelessness, Romance's first chance out of Mariga was in the form of misfortune.
He had decided to find a life partner in the form of a wife, but little did he know he was committing a crime.
"I was arrested after being told that I had married a minor, and the police took me to Bindura, where I was convicted and I served for a number of years before being pardoned and having a few years taken off my sentence" he said.
Romance has no idea how many years he served, or how many were taken off his sentence, a very sad portrayal of a man whose life is determined by the rising and setting of the sun.
To this day, he still believes his prosecution and imprisonment were unjustified.
"All I had wanted was to have a family," said Romance
Upon return from prison, Romance was to learn of the passing of his brother, Muwanikwa.
"My brother died after being bitten by a dog infected with rabies, and he left behind a wife and two children."
A new romance of convenience sparked between Romance and his late brother's widow.
Before long, the two settled down, and gave birth to twin boys in 2016.
Today, they are settled on a patch in the sandy soils of Mariga, surviving on the traditional masawu fruit, or the sorghum they earn from working for others on the other side of Mwazamutanda.
His children are yet to attend school.
"I realise that the only way to empower my children is to get them into school, but as you can see, I have not been able to afford food, clothes or shoes for them, let alone the fees, and this complicates the situation."
Interestingly, Romance's story is typical of the hundreds of the Doma people who have had to endure a life of abandonment.
They have no access to any social services, and their economic activities are limited to hunting and gathering.
They are often hungry and poorly clothed, and this heightens their discrimination by the nearby tribe, the Chikunda.
While some organisations like the Centre for Community Development in Zimbabwe have worked towards enhancing the quality of life for the Doma people, government, which has the primary responsibility for the welfare of all citizens of Zimbabwe, has largely neglected this minority group.
This is because despite a school having been built with support from the Seventh Day Adventist church in Mariga, not all Doma pupils can afford to attend because, among other issues, they do not afford the token fees, and the children do not have proper clothing, adequate nutrition and stationery.
Other organisations have started nutrition projects by providing a garden and borehole and giving out goats.
But this is hardly enough, as according to one of the village heads in Mariga, the garden caters for 40 families, while the whole area has about 400 households.
The situation is made worse by the area's climatic conditions. During most of the year, Kanyemba is dry and the only available food is the traditional masawu fruit.
The rain season is short, and because the area is situated about 20 kilometres away from the Zambezi River, the local rivers flood and quickly dry up as they spew water into Zambezi.
With government intervention, the Doma people could draw water from the Zambezi to water their fields, but first they have to deal with the wild animals that are a threat to their lives and gardens.
This wildlife-human conflict requires government to undertake the cost of either relocating the Doma, or fencing off their community away from wild animals.
Government has not shown political will to undertake such an initiative.
*ZEEM TV, found on Twitter @zeem_tv and on Facebook fb.com/zeemtvONLINETV, on Friday published a documentary on the story of Romance
Related Topics