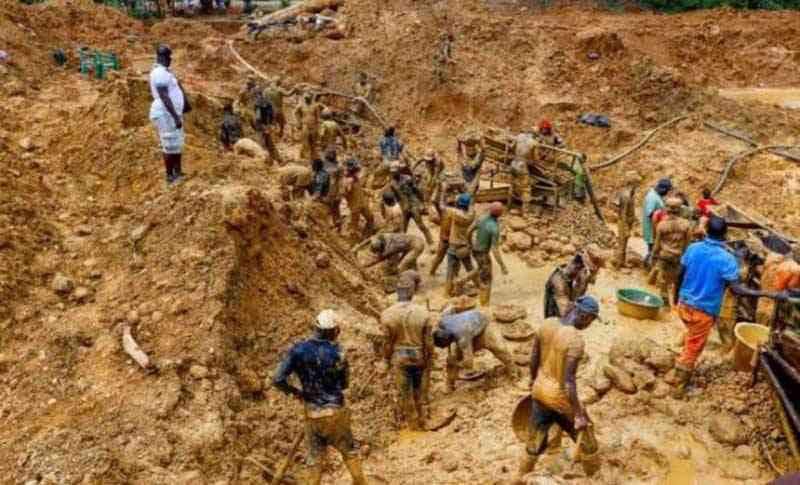 After completing secondary school, Terrence Nyoni joined the job-seeking band wagon and never got an opportunity to be employed formally.
He hopped from one informal job to another, and his efforts to be employed by his "dream" mining company, Unki Mine in Shurugwi, never materialised.
Despite having attained 5 O' Levels, though after years of trying, Nyoni never found joy in getting a job, even something clerical, which he desired to do.
After a decade of toiling from one workplace to another, with interludes of joblessness, Nyoni gave in to the realities of life and joined the artisanal mining bandwagon.
He was forced to relinquish his trademark bald head and clean beard shave for dreadlocks and long beard that earned him the moniker Ras Tee in the gold-foraging jungles of Boterekwa in Shurugwi.
Using his big frame, Nyoni would torment fellow artisanal miners, deceive them or forcefully take their gold loot, and in some instances, he would force himself on any woman he set his eyes on.
He was about to be inducted into the "Makorokoza Hall of Infamy" and earn the title Bhuru or MuShurugwi, but that was not to be, as Nyoni got sick.
Several visits to the local district hospital, popularly known as KwaMakarima, yielded nothing as his health kept deteriorating.
After screening for silicosis and TB courtesy of the Zimbabwe's Kunda-Nqob' iTB project, funded through the United States Agency for International Development (USAID)'s TB Local Organisation Network funding mechanism, Nyoni was diagnosed with TB.
A total 7 317 new TB cases were detected in hard to reach population groups since 2019 through the Kunda-Nqob' iTB project, which is being implemented by the Union Zimbabwe Trust (UZT) through its local consortium partners, Baines Occupational Health (BOCH), Jointed Hands Welfare Organisation (JHWO) and HOSPAZ.
The project is targeting artisanal and small-scale miners in the Midlands, and Matabeleland South provinces, targeting districts such as Gweru, Kwekwe, Shurugwi Zvishavane, Insiza and Gwanda, which have high artisanal mining activities, as well as Mwenezi in Masvingo province.
Zimbabwe has an estimated population of more than 500 000 artisanal and small-scale miners, with over 1 500 000 people depending on artisanal and small-scale mining.
"I am on the road to recovery," said Nyoni, from his Ironsides home in Shurugwi.
"I was lucky that I got treatment on time thanks to this programme that is targeting gold panners."
Artisanal and small-scale mining is characterised by excessive exposure to occupational hazards such as mercury- and silica-containing dust.
According to the International Agency for Research on Cancer, silica dust has been classified as a group one carcinogen and is associated with lung cancer.
"KN-TB has contributed to the detection of 7 317 TB cases since 2019," UZT technical director Sithabiso Dube.
"In the districts where we are, these are the numbers that have come out.
"We do not work as a silo, we are supporting the Ministry of Health and Child Care and the projects districts contributed 16% of the national TB notification.
"The project is being implemented in the districts that were not doing well before and we are really seeing the improvement."
Nyoni said his duties as an artisanal miner exposed him to dust where there was poor ventilation and he worked without adequate personal protective equipment.
"When I became a mukorokoza I used to work in overcrowded and poorly ventilated shafts," he said.
"Sometimes I would not go back home after work but join fellow miners in the overcrowded compounds.
"We would go into the makeshift overcrowded bars at night."
Dube said artisanal miners were among groups being left out on a number of intervention programmes due to a number of factors.
"Artisanal miners have poor health-seeking behaviour and live in overcrowded and poor shelters," she said.
"Overcrowding and poorly ventilated shafts predispose them to both silicosis and TB.
"Artisanal miners' highly nomadic life complicates the provision of comprehensive health services.
"It may be difficult for them to adhere to TB treatment since they must attend scheduled clinic visits for a number of months."
The Kunda-Nqob' iTB project, according to Dube seeks to have TB services reach out to artisanal and small-scale miners.
"We wanted to make sure that we can reach them and also screen them," she said.
"We found that using this target population screening, our yields have improved and we are now finding more and more of those missing cases using both the outreach and clinical approach.
"Plans are under way to expand the KN-TB programme to other four districts namely Shamva, Chegutu, Sanyati and Mazowe to make them 12 even though the proposal is yet to be approved by the USAid."
She said the expanded footprint will increase population reach from 1 629 728 to 2 645 654 and contribute to finding an additional 4 534 TB cases over two years (subject to concurrence withrespective new districts).
Mxolisi Ngwenya from the Ministry of Health and Child Care's Aids and TB Unit said the new approach has seen them killing two birds with one stone.
"We have adopted what is known as integrated TB and HIV care where we do TB screening and at the same time test for HIV," Ngwenya said.
"You will notice when you get to a clinic. Whatever clinic, think of any clinic you have been to.
"When we also suspect that you have HIV, we screen you for TB because these two diseases move side-by-side.
"This has been so successful because we now know the HIV status of 99,9% of people with TB in Zimbabwe."
Zimbabwe is one of the countries heavily burdened by TB, TB/HIV and multi-drug resistant TB. Just over 11,58% of the country's adults are living with HIV and the TB estimated incidence was 193/100 000 people in 2020.
TB is also primarily an HIV-driven epidemic with TB/HIV co-infection rate in Zimbabwe estimated to be 54% in 2020.
Nyoni believes he will soon recover and vowed not to go back to the shafts.
"If I recover, I will not go back to the trenches unless there are proper safety measures including personal protection equipment," he said.
Related Topics