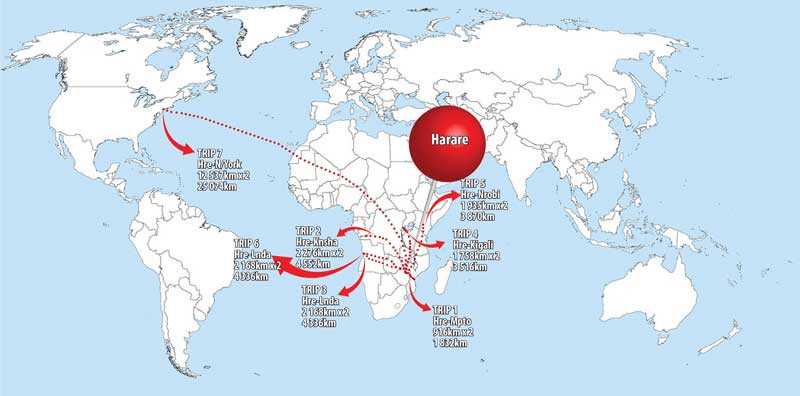 IN June 2017, the late former president Robert Mugabe attracted an angry backlash following his trip to a United Nations (UN) conference in Mexico on oceans even though the country is a landlocked state.
Mugabe, who had earned the moniker "visiting leader" and "non-resident president" for globe-trotting, had visited no less than 10 countries since January that year at the time.
He had visited Dubai, China, Singapore, Mexico, Ethiopia, Swaziland, South Africa, Ghana, Mauritius and Mali before travelling for the oceans summit in Mexico.
A year earlier, Mugabe was again a subject of ugly critiques for burning jet fuel and spending huge amounts of state money in allowances for himself and his entourage on an aborted Indian junket to attend a low-key World Culture Festival.
Then Indian prime minister Pranab Mukherjee had boycotted the event in which other nations had sent ministers and low key delegates for the festival.
Mugabe flew to New Delhi only to stay away from the event when he was already in that country.
In a statement then, presidential spokesperson George Charamba said: "The cancellation follows communication from organisers of the festival acknowledging substantial inadequacies in protocol and security arrangements around the event."
Mugabe, despite his ill health, maintained a heavy schedule during his reign.
Former minister of Finance Tendai Biti repeatedly claimed that, during his time in government, Mugabe took at least US$4 million in hard cash for every trip to fund the presidential entourage.
In November 2017, his deputy Emmerson Mnangagwa took over after the military assisted coup.
Upon assuming office, Mnangagwa made a basket of promises indicating a break from Mugabe's past, including endless foreign jaunts.
As if to prove his sincerity, Mnangagwa has spent his annual leave within the country's borders unlike Mugabe who used to fly to the Far East with his family for holidays.
His love for travel has, however, surfaced now, especially in the recent months where has visited not less than 10 countries inside two months.
Like Mugabe, Mnangagwa travels with a huge entourage drawing millions from state coffers in hard cash while Zimbabweans wallow in poverty.
Mnangagwa left the country six days ago to go to New York where he addressed the UN General Assembly's 77th session before heading to Cuba yesterday for a state visit.
Other presidents such as his Zambian counterpart Haikande Hichilema flew back home straight after addressing the summit, but Mnangagwa remained behind ahead of his Cuba trip.
South African President Cyril Ramaphosa last week cut short his international travels, to attend to his country's electricity crisis.
Before his return to Zambia, Hichilema had charmed SpaceX billionaire Elon Musk in New York whoese company Starlink satellite broadband service then announced that it would launch services in the neighbouring country.
"Our president's engagement with the team from SpaceX and their Starlink initiative will escalate Zambia's position in the digital economy and enable universal access to the internet and other technologies.
"Grateful for this initiative from visionary entrepreneur Elon Musk," Jito Kayumba, the special assistant to the president tweeted on Monday.
On the other hand, Mnangagwa has been travelling around the globe on trips that observers say have brought no tangible benefits to the country's ailing economy.
The Standard tracked down trips made by Mnangagwa in the last two months and found that the president has made eight trips outside the country since August.
The flight distance and time were calculated by travelmath.com using an estimate of an average flight speed for a commercial airliner of 500 mph, which is equivalent to 805 km/h or 434 knots.
It also adds an extra 30 minutes for take-off and landing.
August
On August 4, Mnangagwa travelled to Mozambique with Air Zimbabwe to join Southern African Development Community (Sadc) leaders for a high-profile meeting, and promised to use the trip to negotiate contracts to import electricity from Mozambique.
Mnangagwa spent at least two days in that country.
The flight distance from Zimbabwe to Mozambique is 916km with a flight distance of 1 hour, and 38 minutes.
On August 16, Mnangagwa also left the country for the Democratic Republic of Congo (DRC) to attend the 42nd Sadc summit.
He used Air Zimbabwe and returned two days later.
The flight duration from Harare, to Kinshasa, DR Congo is 3 hours, 20 minutes with an estimated flight distance of 2 276km.
In less than seven days of his return on August 27, Mnangagwa was in the air once again, on board Air Zimbabwe and heading to Angola to attend the funeral service of that county's former president Jose Eduardo dos Santos.
He came back the following day.
The estimated flight distance is 2 168km with an estimated flight distance of 3 hours, and 12 minutes.
September
Mnangagwa left for Rwanda on September 5 using Air Zimbabwe for the Africa Green Revolution Forum Summit whose agenda was to drive agriculture and security in the region.
Mnangagwa spent three days in that country.
The total flight duration from Harare, Zimbabwe to Kigali, Rwanda is 2 hours, 41 minutes with an estimated flight distance of 1 758km.
A few days later, Mnangagwa was in the air again, this time to Kenya to attend President William Ruto's inauguration ceremony.
He left on September 12 and returned the following day.
The total flight duration from Harare, Zimbabwe to Nairobi, Kenya is 2 hours, 54 minutes with an estimated flight distance of 1 935km.
A day later on September 14, Mnangagwa was already warming up the seats for Air Zimbabwe, revisiting Angola but this time to attend the inauguration ceremony of Angola's re-elected president João Lourenço.
He came back the next day.
On September 20, Mnangagwa was seen off at the airport by his cabinet ministers as he headed for New York.
The total straight-line flight distance from Harare, Zimbabwe to New York is 12 537 km and an estimated time flight of 16 hours, 5 minutes.
Mnangagwa used a private jet which costs US$30 000 per trip, and this was not the first time he was using one to fly across the seas.
He used the luxury jet P4-CLA, a Boeing 767-2DX(ER) which he previously used to travel to Davos, Switzerland.
Previous reports show that Mnangagwa was hiring a Dubai jet Airbus A318-112 (Elite), REG A6-CAS, even for local trips.
In November 2021, he used the luxuriously-fitted Airbus A319-115 (CJ) which costs an average US$415,000 to hire for a one-way trip from Harare to Glasgow, Scotland.
Party supporters were seen in Scotland pushing trolleys of booze to welcome Mnangagwa.
Political analysts said the trips have largely been ceremonial, and have had no tangible benefits to the troubled country.
"This is a sign of spiteful disrespect for citizens that borders on arrogance," political analyst Rejoice Ngwenya said.
"When Mnangagwa returns from abroad, he addresses Zanu PF women and goes on and on about how he told whoever cared to listen about sanctions.
"He doesn't even submit himself to parliamentary interrogation for the value add of his foreign travel.
"There is virtually no accountability and auditing system on foreign travels, whereas Hichilema is always in the public domain discussing his achievements.
"Mnangagwa's radio jingles and PR statements on 'achievements' are nothing but pre-electoral propaganda."
Bulawayo based political analyst Effie Ncube said the money used for the endless travels must be directed at changing the material conditions for millions of Zimbabweans who live in abject poverty, hunger and unemployment.
"What will bring investments and reintegration into the international community and open lines of credit is not travelling, but fixing the state of human rights, democracy, governance, and rule of law at home as well as eradicating corruption, policy uncertainty and political risk factors that are driving away investors and isolating the country globally," Ncube said.
Harare-based political analyst Maxwell Saungweme said: "The long and short of it is that Mnangagwa's tenure so far is a mere adjunct to Mugabe's four calamitous decades at the helm.
"An apple falls not far from the tree.
"The multitudinous, purposeless but profligate and cataclysmic foreign excursions are directly drawn out from Mugabe's handbook of bad governance, plunder, extravagance and frivolity."
But another analyst Methuseli Moyo said the trips were necessary as part of a wider diplomatic offensive.
"The country needs to maintain warm relations with the world.
"All presidents travel to other countries to create and maintain rapport with other leaders," Moyo said.
"Compared to Mugabe, Mnangagwa has done really better in terms of travelling, and seems to be on the brink of making breakthroughs on key fronts."
Related Topics