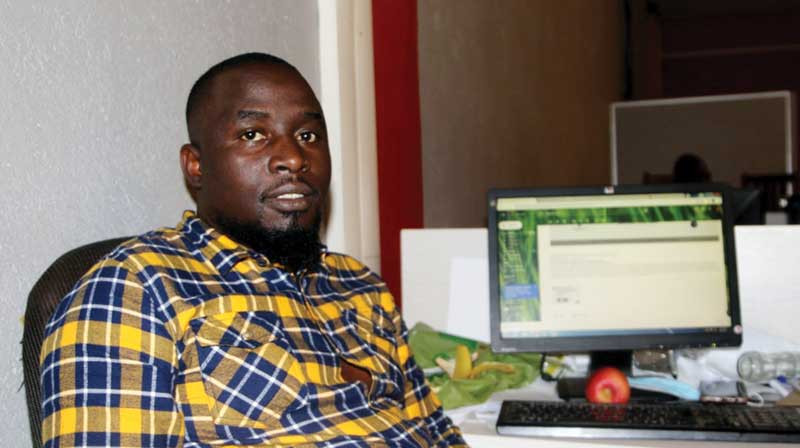 UNITED STATES-BASED Maxwell Shumba (MS), a former chief adviser to the late MDC leader and former Prime Minister Morgan Tsvangirai has decided to form his own party, Zimbabwe People First (ZimFirst), and fight for the presidency in the 2023 elections.
From being an advisor somewhere in the back office, now he takes the front seat to implement his ideas.
NewsDay (ND) senior reporter Taurai Mangudhla interviewed Shumba on his movement which he says has strong spiritual aspects, his deliberate strategy to woo war veterans as well as his relationship with Tsvangirai and other opposition leaders who belonged to the MDC.
Below are excerpts from the interview.
ND: From a chief adviser to the late MDC leader Morgan Tsvangirai to forming and leading a party of your own, what inspired this transition?
MS: I think it is a calling. I have always been pulled by the forces of the universe to serve the people selflessly and ZimFirst put paid to that calling. I have transformative ideas that will make Zimbabwe compete economically with other developed nations. I have the global experience and expertise the country needs.
ND: One would have expected you worked with the Citizens Coalition for Change (CCC) or MDC-Alliance. Why go it alone?
MS: I am not a politician, but a simple Zimbabwean who was called by the forces of the universe to serve. This does not augur well with many of the people who I once worked with who take politics as a job to make an income. Many of the prominent leaders in the parties you mentioned stole from MDC but came back and now occupy senior positions. No questions were ever asked to hold them accountable. Some during rallies chant slogans denouncing corrupt Zanu PF politicians and poof next time we hear they are representing the same corrupt politicians in court cases where they are accused of corruption. I do not want to work with tainted people. I value integrity and Zimbabwe is where it is because of moral decadence. As a journalist I challenge you to investigate how most of my former colleagues amassed the wealth they have when the profession they have been in most of their lives in politics.
ND: Your time as chief adviser to the late MDC leader Morgan Tsvangirai must have taught you a lot. What would you say is the greatest lesson from him?
MS: The selflessness and tenacity he displayed against adversity. Humbleness.
ND: As an adviser, you did not have the final say. What two things do you wish Tsvangirai should have done differently and do you have any advice that you later regretted giving him?
MS: Abandoning rallies as the main thrust of our campaign tools. I advised him to launch a Silent Revolution (Chimhukutira) to build a truly revolutionary movement that would be free from infiltration. Never happened because he did not accept the idea.
Focus on the real needs of rural areas (birth certificates, IDs). During the Government of National Unity key leaders disengaged with rural folk. Need for data driven analytics to assess preparedness.
I don't regret giving Morgan Tsvangirai any advice. The vision I had, we still carry it with ZimFirst. If Morgan had taken the advice I was giving him, he would have died as the Second Republic President.
ND: What's your assessment of Zimbabwe's political environment right now as we go towards elections. Is it conducive for free and fair elections and why?
MS: Zanu PF is a militarised party and as such it does everything to stay in power. We are building a critical mass movement that will exert force on Zanu PF to implement reforms that will guarantee a free and fair election because without those reforms there will be no free and fair elections. The political environment is toxic because Zanu PF has politicised all institutions and has a very big budget for spies (CIO) who are deployed at home and abroad to make sure Zimbabwe does not work on initiatives that can transform their lives.
Unfortunately, in trying to deal with this Zanu PF-induced scenario some opposition members have adopted the same tactic and are so abusive against those who oppose their party to levels that are even beyond Zanu PF. Zimbabwe will be liberated by Zimbabweans, therefore, those who profess to be proponents of democratic change need to understand the concept of democracy goes beyond fighting Zanu PF. It starts by recognising the right for other opposition parties to exist.
ND: Being an academic, the temptation is to often be sophisticated to a point you can be disconnected from the average person. How do you package your message to appeal to everyone? What's your strategy to appeal to people from across all social and economic groups?
MS: My personal experience growing up as a young person without money and then working hard to make it in the tough corporate world has made me adapt to engaging with all the people from across the societal spectrum. Despite my academic achievements, I still consider myself an average Joe and interact very well with people at the grassroots. Our vision to conquer poverty is easy to communicate. I do not need to be verbose to communicate the simple fact that we are fighting for prosperity and in simplified way to be able to communicate how we can do it. Action speaks louder than words. When choosing the leadership that can walk with me in the battle against poverty, I do not solely look at how degreed a person is, but I look at their passion to selflessly serve. I believe wisdom is not acquired in a classroom only but through social experience.
ND: How are you managing to run things back home from the US?
MS: The world has become a global village and technology is the primary tool I use to co-ordinate party activities. After the 2018 elections, which came when we were still a baby dealing with teething problems, we drew a roadmap towards 2023 elections. The road map has phases which are distinct. The Chimhukutira phase allows me to run things from here in the US but there is a phase when I will need to be on the ground. In addition, the party has a solid foundation of leaders on the ground who are executing the needs of the party during the Chimhukutira (Umtshethsa phanzi) phase. These leaders from national level down to grassroots are a mixture of the young because of their innovativeness and the old who bring a lot of wisdom to the fore.
ND: We understand that you have attracted a significant constituency of war veterans. What's your secret and how material is this to your long-term plans?
MS: Our values are the same as those that founded the ideals of the liberation struggle. War veterans do not belong to Zanu PF but are national treasures that have to be respected by all parties because they did not fight for Zanu PF. The war veterans (Zanla and Zipra) are the vanguards of our independence and as such deserve the highest honour for the land. This is where they see my leadership as appealing. Although war veterans as an association cannot belong to ZimFirst but in their individuality they can do because they have the right to join a party of their choice but at this point as a leader of a party that will contest in next year's elections I am very encouraged that war veterans are openly taking a stance that they are non-partisan.
Related Topics