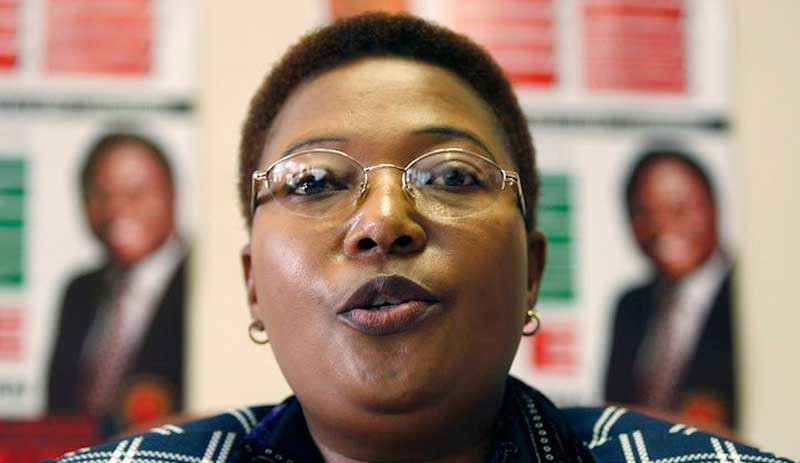 FIFTEEN members of the opposition Citizens Coalition for Change (CCC) party, who were part of Thokozani Khupe's campaign team in Bulilima district of Matabeleland South province, were on Monday briefly detained by Plumtree police and released without charge.
There were social media claims that Khupe was also arrested, but the CCC and police dismissed the reports as false.
Police only confirmed that they impounded a vehicle belonging to Khupe's campaign team, while CCC confirmed that 15 of its members were arrested and released.
CCC Matabeleland South chairperson Solani Moyo said the arrest of the 15 happened after one of their members based in South Africa used a South Africa-registered vehicle to ferry CCC supporters for campaigns ahead of the September 3 by-elections for Bulilima wards 1, 14 and 16.
"About 15 members were arrested yesterday (Monday), but they were then released without charge. What happened was that there was someone who used his car with SA registration numbers to transport our team doing campaigns. The vehicle with SA number plates was impounded. Efforts are being made to get the vehicle released from police custody," Moyo said.
"Khupe was not arrested, but the CCC campaign team was arrested. We are concerned by violence in the district as the by-election gets closer. Indications show that the situation will get worse as we approach the 2023 polls."
Khupe's spokesperson Ntando Ndlovu said one of the vehicles in Khupe's campaign convoy was impounded by the police in Plumtree.
"This happened at around 5.30pm after we had a very successful blitz in ward 1. They are claiming that the vehicle did not enter the country legally, but that is not true. All the paperwork is available; it is only that we were not carrying it when the vehicle was impounded. It's clearly political and it's linked to the weekend by-election in Bulilima ward 1."
National police spokesperson Assistant Commissioner Paul Nyathi said: "Khupe was never arrested, the Zimbabwe Republic Police, in actual fact impounded a South African registered Toyota Hilux registration number JW15PT GP belonging to Joubert Maplanka (64) for failure to produce a valid temporary import permit at the 98km peg along Bulawayo- Plumtree Road."
Meanwhile, as the contest for the rural vote heats up between the ruling Zanu PF party and the opposition, a week ago, Zanu PF claimed that more than 30 CCC members defected to the ruling party in Gwanda.
Zanu PF Matabeleland South provincial chairperson Nqobizitha Mangaliso Ndlovu reportedly welcomed the defectors saying the ruling party was open to everyone.
But Moyo dismissed the claims saying the defectors were never in CCC structures.
Follow Silas on Twitter @silasnkala
Related Topics