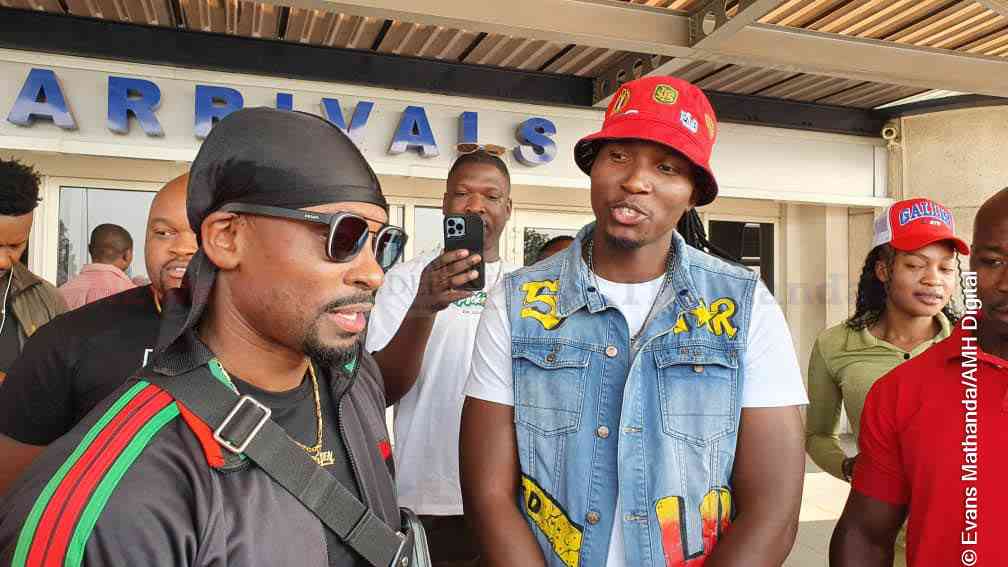 VISITING Jamaican dancehall star Christopher Martin is set to tour some of Harare's high-density suburbs like Dzivarasekwa and Mbare to meet, mix and mingle with his fans in those areas.
The Cheaters Prayer hitmaker touched down at Robert Gabriel Mugabe International Airport yesterday to grace local dancehall singer Freeman's album launch set for tomorrow at Alex Sports Club in the capital.
Chris Martin, who has a huge following in the country, makes a return to Zimbabwe as a guest artiste, about four years after his maiden performance at the Glamis Arena, Harare.
On Freeman's 13-track album titled David & Goliath, Chris Martin is featured on the track Zimbabwean Queen.
Several ghetto youths and dancehall fans who may fail to attend the album launch will at least have the opportunity to meet their idol in their suburbs.
Speaking to NewsDay Life & Style at the airport, Freeman, also known as the HKD Boss, said they decided to fly in Chris Martin two days before the album launch so that he gets time to tour Zimbabwe.
"Tomorrow (today), we are going to take Chris Martin to Dzivarasekwa and Mbare because we are from the ghetto and he needs to see the ghetto side of Zimbabwe. We would have wanted to take him to other ghetto areas as far as Chitungwiza, but he needs to have time to rest," Freeman noted.
The Joina City hitmaker said local artistes were talented, but lacked support that would see the them getting paid by international artistes for collaborations.
"Zimbabwe has few numbers, so for us to get that recognition to an extent that foreign artistes can pay us to perform or collaborate with them is difficult. It's not that we don't have the talent, but we lack the support and this forces us to then go for internationally-recognised artistes for us to be recognised as well," he highlighted.
"Getting these foreign artistes to work with us is, however, expensive because you can't just work with them for free. So sometimes we are limited by financial problems, but the goal is to work with more international artistes so that we put Zimbabwean music on the map."
Freeman said he will not be offended if the visiting Jamaican dancehall artiste steals the limelight.
"I don't really mind if it turns out to be a Chris Martin show, so long he came here under my name. It would not have been possible for him to come to Zimbabwe if it was not for me and my album. The important thing is he is here and I managed to deliver as a brand," he noted.
Freeman said he will try to utilise the presence of Chris Martin to shoot the visuals for their duet.
Other songs on the album are title track David & Goliath, Komborera, Ndibvunzewo, Mukuru, Mjolo, Distance featuring dancehall singer Poptain, Chitsike, Vakomana VeDrip, Maruva, Nizabwela featuring Towela, Wakadyiswa featuring Nyasha David and Yeah Yeah.
Apart from Chris Martin, local artistes expected to perform at the album launch are hip-hop singer Saintflow, dancehall chanter Poptain, Leo Magozz, urban groover Trevor Dongo, Kikky Badass and Jiti singer Baba Harare.
Related Topics