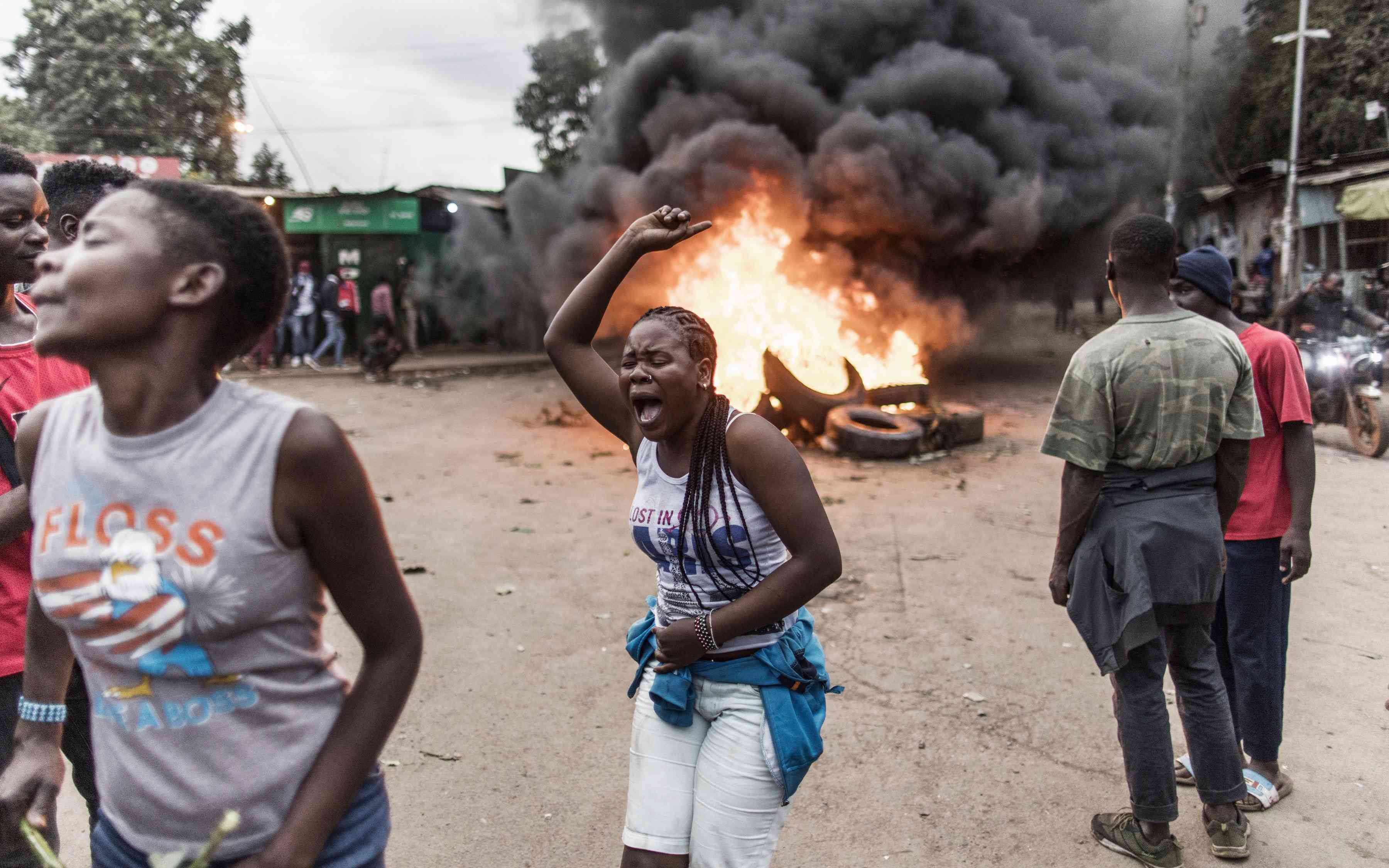 At least one person has been shot dead as police crack down on demonstrators in Kenya's capital, Nairobi.
Thousands have heeded the call for nationwide protests by opposition leader Raila Odinga, who claims that Kenya's last election was stolen.
Mr Odinga, who has run for president five times, also accuses the government of failing to help Kenyans tackle the "skyrocketing" cost of living.
There are reports police fired tear gas at Mr Odinga's convoy on Monday.
Roads leading to key government buildings in the capital have been blocked and the president's official residence sealed off.
Some of the fiercest scenes have been in the Kibera settlement in Nairobi - a poor neighbourhood with a strong history of supporting the opposition.
The BBC witnessed demonstrators setting up barricades and throwing stones at the police. Several arrests have been made.
"We came here peacefully, but they tear gassed us," 21-year-old Charles Oduor told the AFP news agency in another district of Nairobi.
"They lie to us everyday. Where is the cheap maize flour they promised? Where are the jobs for the youth they promised? All they do is hire their friends."
Riot police have also confronted protesters in the western town of Kisumu, where Mr Odinga draws a fanatical following.
Footage shared by Kenya's Standard newspaper earlier on Monday appears to show local bus operators fleeing their transport hub in central Nairobi.
Meanwhile, an opposition party in South Africa, the Economic Freedom Fighters (EFF), has also organised anti-government protests, demanding that the president step down over the worsening economy, power cuts, and widespread corruption.
Similar demonstrations have been planned in Senegal and Tunisia, marking growing dissatisfaction with sitting presidents.
Related Topics