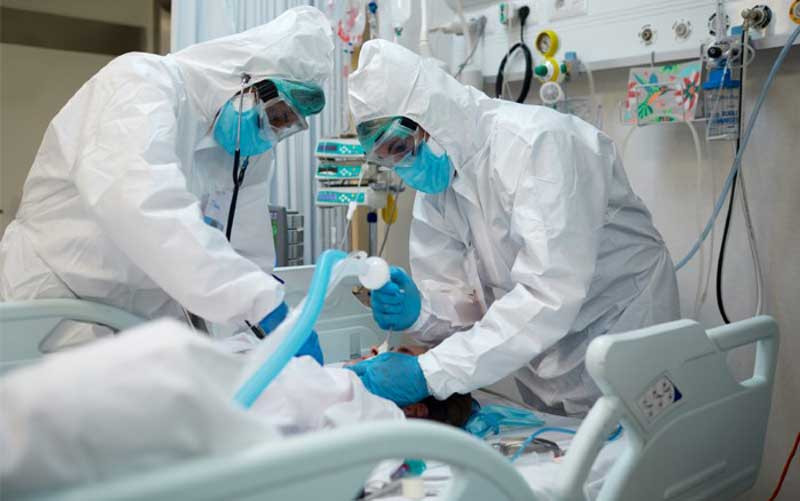 ON March 20, 2020, Zimbabwe recorded its first COVID-19 positive case, sending panic waves across the country as the pandemic wrecked livelihoods worldwide.
The disease that was declared a global pandemic had been in existence since December 2019 when it was first detected in China.
For Kudzai Madziire, a journalist who tested positive to the novel coronavirus in the early days, the first thing to cross his mind was that he was going to die.
Madziire says he was seriously affected by the prospect of death, especially knowing that the disease was new with limited antidotes.
"I was scared and terrified. It was exactly two weeks after we had lost Perrance Shiri (late Agriculture minister) to the disease when I contracted the disease," Madziire recalled.
Shiri died on July 28, 2020.
It is believed that the minister succumbed to COVID-19 after being hospitalised two days earlier.
"Another thing that scared me again was my medical condition as I am diabetic and with the information that we heard, people with chronic conditions like myself had less chances of surviving the severe effects of COVID-19.
"It was hard to accept that I had contracted COVID-19 considering it was a new virus. The number of deaths then was high and there was not much information about managing the condition."
Madziire was not spared from discrimination.
"When people heard I had contracted COVID-19, my family members faced stigma at their workplaces and I also faced the same when I had recovered. No one wanted to be physically close to me because they feared I could still infect others.
"When I contracted COVID-19, I was still staying in Budiriro. When my health deteriorated, I had to be taken to hospital by ambulance. When the ambulance came to get me, scores of people gathered at my house taking videos and pictures with their phones as I was being taken into the ambulance."
To him, that was not the worst of his experiences as the treatment he encountered while in hospital added to his woes.
Many victims of the pandemic suffered depression and other mentally-related challenges.
"I was taken to Parirenyatwa Hospital. Then they did not have capacity to take in COVID-19 patients," Madziire said.
"I had to be assisted by a family member who is a doctor to be admitted to hospital. But there was no medicine and the COVID-19 ward was understaffed with only two nurses. I witnessed fellow patients dying in hospital and this greatly affected me psychologically."
Saul Sakudya, another early victim of COVID-19 said he panicked after receiving the news that he had tested positive.
"Everyone was afraid of associating with me, I really felt the pain of rejection by relatives and discrimination," Sakudya said.
"No one wanted to come near me even after I tested negative. I remember calling one of my relatives, I wanted something from him. It was raining but he said I could not get into his car.
"He said I should follow him to his office on foot and that I was not to enter his office. I felt really saddened by this clear show of discrimination."
His experience at the hospital was not encouraging, but he understood that it was because of the misconceptions surrounding the disease.
"Doctors were visibly in fear but they did their best. My family was very supportive and they gave me hope," he said.
"I thank God for the chance to live. My experience strengthened me and I have been helping people in similar circumstances since then."
Zimbabwe encountered four waves and around five variants with the December 2020 to February 2021 wave registering the highest fatalities.
In January 2021, there were 19 763 new cases, the highest ever recorded in a month since the onset.
To date, the country has recorded a total of 257 000 cases, and 5 596 deaths.
COVID-19 Taskforce chief co-ordinator, Agnes Mahomva said the pandemic was a wake-up call for the Health and Child Care ministry.
"We went through a hard time with COVID-19. Like many countries, we were not prepared but I am so happy to say the government stepped up immediately and ensured that there was a very clear plan in place before we even recorded the first case," Mahomva said.
"That allowed us to prepare. We did strategic planning. We had robust, strong COVID-19 measures which then guided our inter-sectorial operational plans which we reviewed every quarter."
She said success of the response to the pandemic was because of co-operation between the government and citizens.
"Where we are now, we have gone through major pandemic waves.
"The last one which had the largest number of cases demonstrated that we are not hard done, because even though we had a large number of cases, we had the smallest number of deaths," she said.
"We still have cases here and there but the number of people who are dying has gone down. We have moved from the acute phase of the pandemic to the normal chronic phase. We are very proud of the response."
Government has lifted a number of restrictions such as social distancing though wearing of face masks in public places is still mandatory for those not fully vacinated.
In February 2021, government embarked on an ambitious vaccination campaign, where it expected to have reached herd immunity (at least 10 million vaccines) by December last year, a feat that could not be achieved.
As of Friday, the total number of those vaccinated with the first dose was 6 463 636, nearly four million away from the target.
Follow us on Twitter @NewsDayZimbabwe
Related Topics