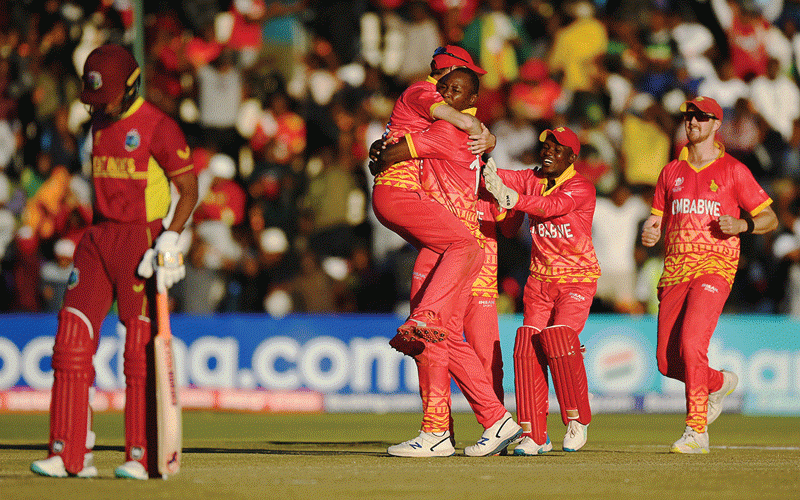 IT might be too early to pop champagne bottles, but the Zimbabwe national cricket team is everyone's favourite sports team at the moment.
The Chevrons are in a quest to make it to the International Cricket Council World Cup finals that will be staged in India, having missed out on the last global showcase in heartbreaking fashion after their shock defeat to minnows United Arab Emirates.
With Thursday's 14-run win over Oman, their fourth in as many matches so far in this tournament, they are on the cusp of clinching a ticket to India.
They actually have one foot in the finals, barring a catastrophe.
They arrived at this tournament as the third best team among the competitors, but now they are favourites to be in the July 9 final at the Harare Sports Club, which would be enough to take them to India and a seat at the top table of cricket-playing nations.
What has been pleasing the most is how this team has managed to entertain its hard-core admirers, while also attracting new fans in hordes.
Everyone is talking about cricket now and for the first time in the game's history in the country, authorities had to create an overflow venue at the rugby ground at Harare Sports Club after a full house to watch the match against the West Indies, which the Chevrons won in thrilling fashion.
We would like to commend the team for its efforts and we reserve so much praise for coach Dave Houghton who has transformed this team from also rans to fierce competitors in the nine months that he has been in charge.
Appointing Houghton was a masterstroke by Zimbabwe Cricket (ZC) as the team was heading nowhere under Lalchand Rajput, who was stashing a big loot in India every month with no tangible results on the ground.
Recently, Sikandar Raza said Zimbabwe would not have made it to the T20 world Cup in India had ZC not appointed Houghton and we agree with him.
Houghton is a Zimbabwean and understands just how much this game means to locals. And fans are showing their appreciation.
This appointment is the best thing that the current ZC management and board have done in their entire tenure.
Cricket is now the people's game and all other sporting disciplines can only watch, admire and learn from them.
It is important for sporting organisations to get the right people into key positions. We have coaches that come in from other countries to claim huge salaries and allowances and are allowed to go scot free with no improvement in terms of performance or groundwork.
Houghton has his country at heart and what he has done is instil belief in the team that they are as good as anyone and now the team is a juggernaut, especially in home conditions.
We urge the team to carry the momentum in its last two Super Six stage matches and even go on to lift the trophy and qualify in style.
Go Chevrons go!
Related Topics