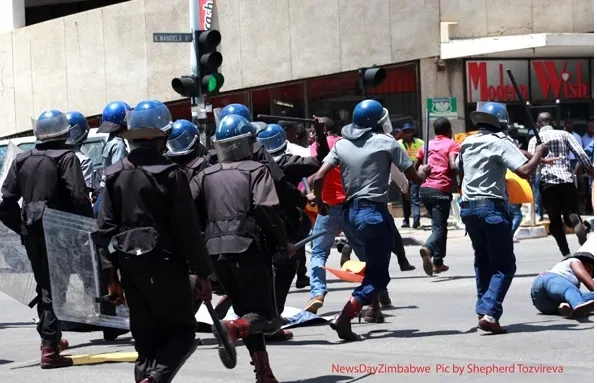 A COURT in Victoria Falls has ordered Home Affairs minister Kazembe Kazembe and police commissioner-general Godwin Matanga to pay $1,7 million dollars in damages to poet Obert Dube who was assaulted by some police officers in January 2021 for allegedly violating a COVID-19 lockdown curfew in the resort city.
Dube sustained injuries on his left limb, chest and back after five police officers reportedly handcuffed him and took turns to slap, kick and beat him up.
This is just one isolated case among dozens of reported and unreported cases of police brutality on civilians who then would have accused of committing crimes; and as many people become aware that they can actually sue the police if they are assaulted, the police force could soon file for bankruptcy if more people continue to approach the courts.
Although Dube was fortunate enough to win his court case against the country's law enforcement agents, whether or not he will be given the compensation is anyone's guess given the police's known past resistance to pay victims of police rough treatment.
Nonetheless, it is quite unfortunate that cases of police brutality have become prevalent in Zimbabwe, a nation that had earned global trust to the extent that the United Nations (UN) has been depending on the country's police officers to assist in UN missions in strife-torn regions.
From the look of things, it seems the police force has a sizeable number of very bad apples who are tarnishing the very good image the police force had nurtured over the years and the Home Affairs minister and commissioner-general should not continue to tolerance this barbaric behaviour in the law enforcement sector because this is seriously threatening the reputation of an otherwise respectable police force.
Police officers need to be reminded that enforcing the law does not mean taking the law into their own hands. Assaulting purported law breakers by law enforcements is medieval thuggery which should never be allowed to proliferate in Zimbabwe.
It is very disturbing that we continue to have rogue police officers with a penchant to beat up alleged law breakers despite undergoing six months of intense training on how to enforce the law; and at the end of their training they are deployed to police stations where the Police Client Service Charter is visibly displayed to remind every officer of their mandate to the communities they serve.
And nowhere in the charter is it mentioned that the police shall beat up alleged law breakers for whatever reason because such conduct is an indictment to the force's sworn values of professionalism, transparency, accountability and integrity as highlighted in the charter.
In fact, the police charter, which still pledges "to be the leading police service provider in the world by the year 2020", should be revised as a matter of urgency to include a clause stating that any police officer who assaults alleged law breakers will be dismissed immediately from the establishment.
There should never be any second chances for officers who behave this primitive. After being dismissed such officers should be blacklisted from working in any security establishment.
Related Topics