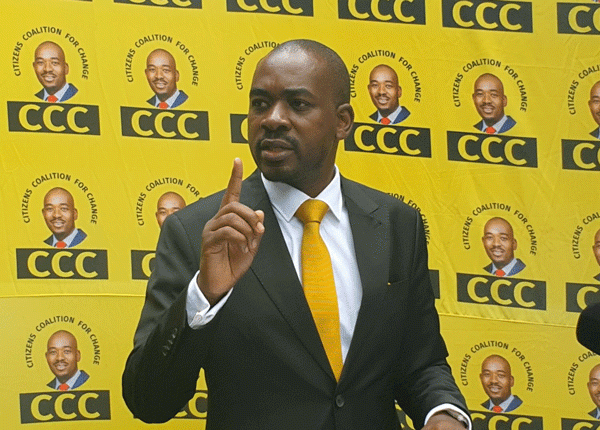 Elsewhere in this edition we have Citizens Coalition for Change (CCC) leader Nelson Chamisa oozing with confidence about his ability to kick President Emmerson Mnangagwa out of State House, come elections this year.
So confident is Chamisa that he declares: "It's all over!
"The time is now. I am so excited about 2023. I am just so excited. I feel the energy, the change in the air. It's all over. It was delayed in 2018," Chamisa said in an interview with The Standard this week.
Chamisa claims his party CCC "stands stronger and firmer" than it was in 2018 when he gave Mnangagwa a good run for his money.
"We did it but this time we are going to do it more and better. In 2018 we were under the (Morgan) Tsvangirai jacket. Now we have perfected our art," he says.
Unless Chamisa is hiding some ingenious tactics and cunning tricks from everyone including his own lieutenants, his claims to victory cannot be taken seriously and in fact, may anger his already disillusioned followers.
There is no doubt that Mnangagwa and Zanu PF are determined to hold onto power and are going for broke to achieve this. They are doing everything, fair and foul, to retain power. They are buying votes in broad daylight using state resources including agricultural inputs, minerals, farms and government money.
Mnangagwa and Zanu PF are using state apparatus such as the police and other state security resources to threaten opposition out of action and even openly bar them from political activity. They have also deployed their influence on the judiciary to thwart and punish all opposition threat with impunity.
Chamisa has failed, where he has tried, to do anything about this blatant electoral criminality. And Zanu PF has not taken seriously the opposition's attempts at achieving an even electoral playing field. Glaring example is Job Sikhala, the CCC workhorse and deputy chairperson who is rotting in prison without trial while Chamisa watches and does nothing.
Meanwhile Chamisa himself, in self-contradictory utterances, concedes in the same interview that taking power from Mnangagwa is more difficult than it is for the biblical camel to pass through the hole of a needle.
He raises concerns over political intimidation, physical attacks and arbitrary arrests of his supporters and officials, but he provides no solution to these huge impediments except to say he is strategising behind the scenes to achieve a level playing field. He also declares that his party will not boycott elections, but says elections cannot be held without an electronic voters' roll which his party has over the years failed to get.
What Chamisa needs to understand is that the legions of opposition supporters out there are looking up to serious leadership that can deliver the change that CCC is promising.
Chamisa needs to stand up and be seen to act with the urgency of a leader who is aware that elections are by the corner. He needs to understand that dabbling in unproductive semantics is itself a dead end; and that verbal acrobatics alone cannot bring change.
Related Topics