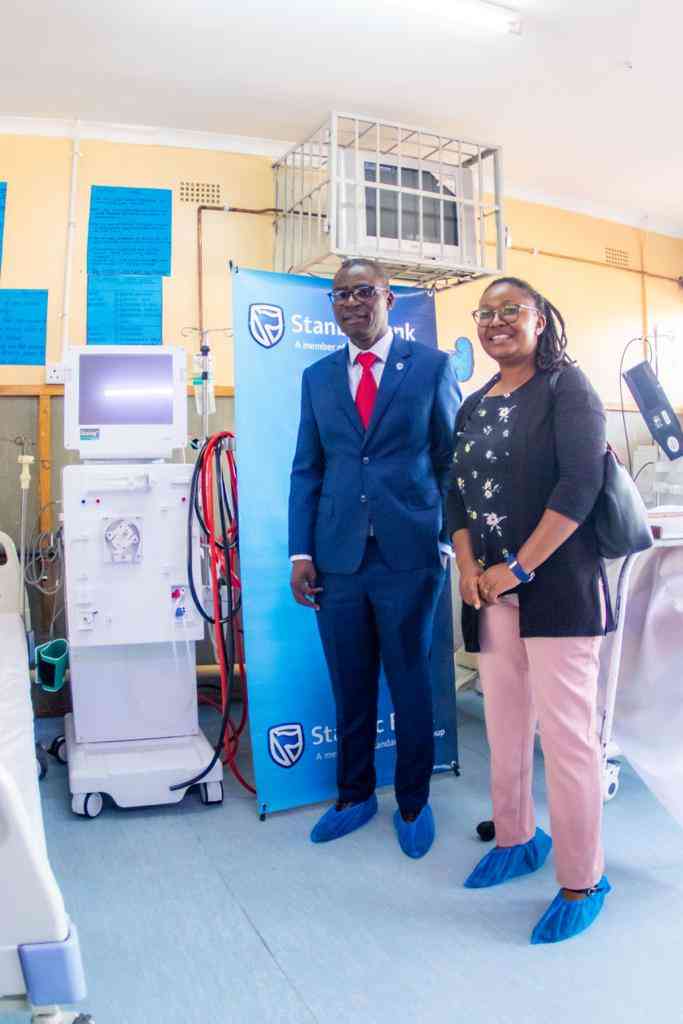 STANBIC Bank has donated two haemodialysis machines worth US$50 000 to Marondera Hospital, in Mashonaland East Province, easing the burden faced by renal patients within the area.
During the handover ceremony on Tuesday, the bank emphasized its commitment to improving healthcare access across the country.
The machines are advanced medical equipment used for blood purification in patients with kidney problems and are set to make a lasting impact on the hospital's ability to provide life-saving treatments.
The haemodialysis machines will not only improve the quality of life of patients but will see the number of patients receiving treatment increase significantly.
Stanbic Bank chief executive (CE) Solomon Nyanhongo said the leading financial services institution was pleased to play its part in relieving patients and their families from the logistical and financial strains associated with seeking treatment in far-flung areas.
He said the decision to donate haemodialysis machines came about after a visit by the bank's officials in September last year to assess the needs of the hospital.
"Our needs assessment coupled with the passion to serve patients shown by the Marondera Hospital team during the visit in September last year left a lasting impression on us," he said.
"There was a consensus that we needed to contribute through life changing equipment, and this saw us settle on buying the haemodialysis machines."
He said the donation was born out of a commitment by the Standard Bank Group subsidiary's quest to drive Zimbabwe and Africa's growth through a combination of top-level banking offerings and comprehensive corporate social investment (CSI) initiatives.
Nyanhongo said the CSI initiatives span education, the environment and health and sanitation with particular focus on equipment for public health institutions.
"We are not only committed to offer the best banking products and services, but we are fully absorbed in contributing to the well-being of the societies in which we operate.
That commitment saw us launch Ruyamuro-Usizo through which we put our shoulder to the wheel towards supporting national efforts to improve health delivery in the country," he said.
The Stanbic CE said through Ruyamuro-Usizo, the bank in 2021 resuscitated a maternity operating theatre at Sally Mugabe Hospital as well as refurbished the recovery room at a cost of US$67 000.
"In 2021, the first recipient of a Haemodialysis machine worth US$15 000 was Gwanda Hospital, in Matabeleland South, as the bank saw it fit to alleviate the plight of patients who faced kidney failure.
"Just last year we handed over a Solar Powered Borehole to Mt St Mary's Hospital in Hwedza as we continue to support the growth and sustainable development of public health services in Zimbabwe through Ruyamuro-Usizo," he said.
Mashonaland East acting provincial medical director Michelle Gadzayi applauded Stanbic Bank for its gesture saying it would improve the quality of life for renal patients in the province.
Gadzayi said the hospital had two functional renal machines and the addition of two more would enable them to attend to more patients from every corner of the province and beyond.
She said currently the hospital attends to 14 patients per week with each patient receiving treatment twice a week and 10 more patients can now be added to the roster.
"We attend to six patients per day but now the number is going to increase to 10 per day," Gadzayi said.
Marondera Hospital has been in operation since 1939, catering for nine districts such as Uzumba Maramba Pfungwe, Nyamapanda, Chivhu and has a bed capacity of 300 beds.
The event was attended by hospital staff and representatives from Stanbic Bank Zimbabwe.
Related Topics