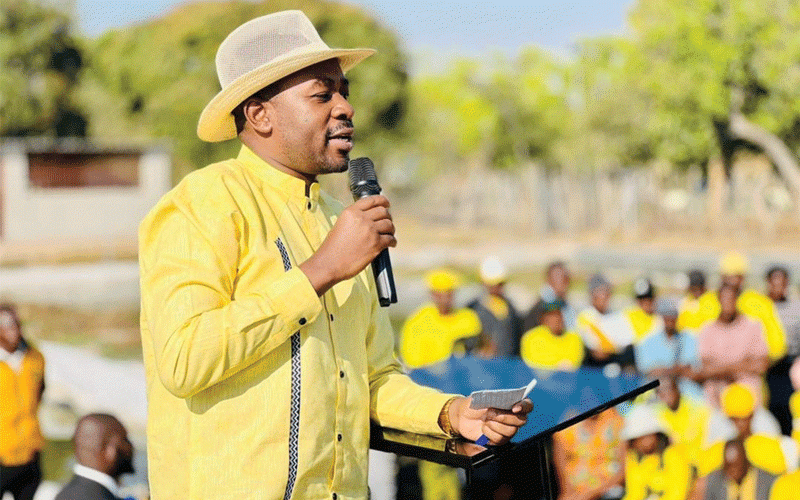 Let me start by saying that I consider the political field to be a serious workplace that should shape the rest of the workplace.
My column is a neutral one that seeks to contribute to the making of my country of origin and in particular the workplace, and I consider the political space to be a big workplace.
Just last week I addressed the Finance minister Mthuli Ncube and took him through a journey of reflecting on his run for MP in Bulawayo.
You might want to start by reading my installment for last week. This is what Prof Mthuli had to say in response.
Dear Ndlovu
Greetings.
I read your article/letter in The Standard this weekend with interest.
I can assure that I will not abandon Cowdray Park. I grew up next door in Luveve.
This week I will be installing Wi-Fi in one of the secondary schools and completing a nutritional garden with a solar borehole for a group of widows.
I have also adopted one of the football teams from Cowdray Park and I have been sponsoring it for the last six months.
I am also pleased to hear that you are doing your PhD at Wits. You should persevere and complete it.
Wishing you all the best.
Prof Mthuli Ncube
I have seen you come forward and present yourself as a participant in opposition politics, which I must say I prefer to call participation politics. I do not understand why we cling to opposition which naturally comes with negative energy. Most people appreciate that of you and wish you well.
When politics, however, becomes a hotchpotch or pot-pourii of attempts to lead, then we have a huge problem because we need to come to this space experienced and with a clear CV to lead.
I will be very direct with you and say right from the outset that you now appear to me and anyone who is serious about Zimbabwe's future as a threat to that future. I think you are a threat to posterity because you are young and will most likely be in the future unlike the many geriatrics whose problems will soon be taken care of by natural attrition. You are here and young, yet your actions and style of management are unbelievably archaic.
Let us talk for example, about the confusion we see in Bulawayo Advocate Chamisa. Look at it this way, you have adults in Bulawayo, with a full beard and some already old and full of wisdom and aware of what they want.
I am not saying that what people want is always the best, but we have principles that govern us as human beings allowing us to make choices and make mistakes in the process and learn from them and get better as human beings.
Zimbabwe is a democracy and political positions are voted for by the people.
Look at the biggest contradiction of our lifetime; On the one hand Chamisa is crying foul to the whole world about elections that were not credible, fair, and free and yet on the other hand he is giving instructions to adults with a beard and grey hair, to vote for a mayor of his choice and not theirs.
That is clear rigging sir. Why do you do that? Everyone should stop practicing choice and leave only you to do that?
Is it difficult to allow people to make decisions about things that affect them daily sir, or you are just enjoying flexing your muscles to show power?
Look now, you are showing everyone how powerful you are and at the same time how undemocratic you are. Twenty adults being given instructions to vote for a certain man is out of order.
What is the difference, if I may ask, between the alleged forcing of uniformed forces to vote for the ruling party and your forcing councilors in Bulawayo to vote for David Coltart? Do not get me wrong, I have no qualms with David becoming mayor for Bulawayo, but I believe he was old enough to campaign for himself and allow everyone else to campaign for themselves.
I am concerned though that he started in such a partisan manner by calling the Bulawayo council a CCC council unlike his deputy who sounded wiser by saying this is about the people of Bulawayo and not the CCC.
I have a lot of praise for him. Do you think such a wise person would have failed to present his campaign and win?
We have a problem in Zimbabwe, which is the denial of a proper democracy to run, and we have a young man whose biggest strength has been his age, violating principles of democracy.
It is not cute at all sir, to be forcing your will on other human beings whose biggest cry right now is not being allowed to practice choice.
You are telling the world that the people's court is the decider but still go ahead and subvert it. I am scared. I am really concerned that if you land power, you will be a dictator. In fact, not that you will be a dictator but that you are one now.
I have a lot of questions also around your religious values and your standing there and making such statements as our God this and our God that.
You are aware that when it comes to human rights, religion has been a contentious issue and that millions have died because of religion.
I do not understand where you expect those of your supporters who are not religious that way to stand when you declare your faith and declare it as if everyone subscribes to it.
Your tagline, God is in it is your right to run by but at what point are you going to make it clear that this is your God who might not be some of your countrymen's God?
I think it is your dictatorial tendencies at play Chamisa, with you thinking in a monotheistic way religiously as if everyone must bow to your God. It is scary this, and as I said I am sacred.
If things continue as they are, my wish is that you consider embracing transformation for yourself.
I am sure right now you are stressed with things looking gloomy for you and your chances of ever becoming president waning.
I will advise you to think outside the box and read about transformation, consider mental fitness exercises and some grounding practices. You seem lost right now and quiet. Your supporters still believe you have something up your sleeves.
I know of a good mental fitness coach I have learnt from, Shirzad Chamine. Please read his book, Positive Intelligence. It is not just about positive thinking which does not always help, but actual positive intelligence that can transform your life and you can go places with it.
May all be well in the rest of your endeavors.
Bhekilizwe Bernard Ndlovu's training is in human resources training, development and transformation, behavioural change, applied drama, personal mastery, and mental fitness. He works for a Zimbabwean company as human capital executive, while also doing a PhD with Wits University where he looks at violent strikes in the South African workplace as a researcher. Ndlovu worked as a human resources manager for several blue-chip companies in Zimbabwe and still takes keen interest in the affairs of people and performance management. He can be contacted on [email protected]
Related Topics