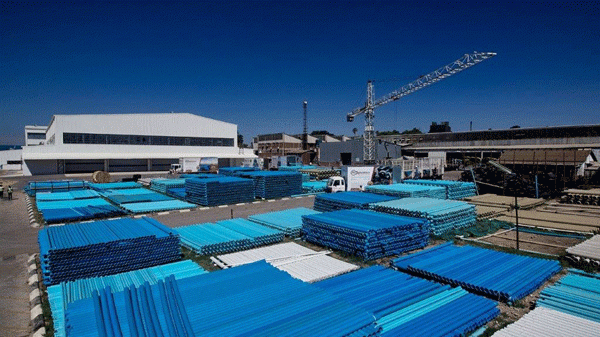 BY FREEMAN MAKOPA
ZIMBABWE's biggest piping products producer, Proplastics Limited, says it been forced to shut down its factory several times due to an intensifying power crisis.
The Zimbabwe Stock Exchange listed outfit said a total of 19 days of production time was lost during the half year ended June 30, 2022 due to rolling blackouts.
Power cuts of up to 12 hours per day have returned to haunt Zimbabwe's industries, which have already battered by a long running economic crisis.
On Friday industrialists said production stoppages had escalated since rolling blackouts hit South Africa in the past month, affecting its ability to export to Zimbabwe.
"The supply of electricity was unstable during the period, causing massive interruptions to production with the business having to shut the factory on several occasions," Proplastics said.
"It is estimated that business lost approximately 19 days of production due to power supply interruptions during the period.
"Given the above stated challenges, the business went into a value preservation mode and resultantly the financial performance was subdued."
The firm said it navigated through disruptions from supply chain gridlocks stemming from the Russia/Ukraine conflict and the post Covid -19 logistics crisis to secure raw materials.
Inflation adjusted turnover grew by 21% to $3,1 billion during the review period, from $2,6 billion in prior comparable period in 2021.
The firm posted a $264 million loss during the review period compared to $165 million profit at the same time in 2021.
Volumes retreated 2% compared to similar period last year while exports contributed 8% to total revenue in the period under review which is just under a target of 10%.
The firm reported a $255 million exchange losses for the period under review, compared to $29 million during the prior period, mainly due to a massive movement in the exchange rate.
Blackouts of up to 12 hours a day have rock industries and domestic consumers, in one of the toughest load shedding phases since 2013.
Authorities hope that blackouts would be curtailed once the first 300MW from a US$1,5 billion facelift at the Hwange 7 and 8 facilities are brought on line in November.
Industrialists said elevated blackout levels were 'spill over effects' of problems confronting South Africa.
"These could be spill over effects because Eskom is in trouble," Christopher Mugaga, chief executive officer (CEO) at the Zimbabwe National Chamber of Commerce (ZNCC), told the Zimbabwe Independent.
"It is compromising the quantity of power to Zimbabwe.
"And even if Hwange 7 and 8 are brought on line, we will still feel the impact of power shortages in South Africa because this will have an impact on the cost of importing power from the entire region. Zimbabwe will pay more, we remain vulnerable.
Confederation of Zimbabwe Industries (CZI) president Kurai Matsheza was worried over the implications of blackouts on trade.
"Zimbabwe imports a lot of finished and intermediate goods from South Africa," Matsheza said.
"With the (SA) productive sector suffering rolling power cuts, the impact may spill over to Zimbabwe.
"But importation of finished/processed goods may be curtailed and spur Zimbabwe manufacturers."
Related Topics