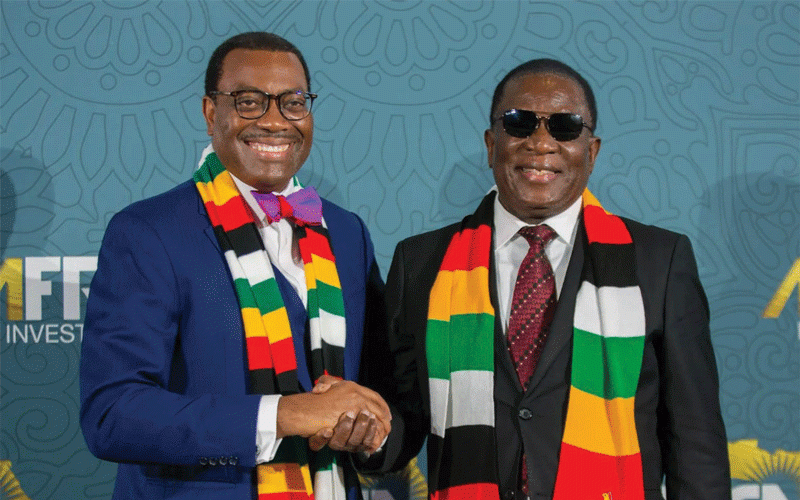 THE Zimbabwe debt clearance plan being pursued by the African Development Bank (AfDB) falls short of meeting benchmarks required to pacify angry creditors and excluding the general public, a coalition of civic groups warned his week, slamming the roadmap as "elitist" and "cosmetic".
The Crisis in Zimbabwe Coalition, which spoke after President Emmerson Mnangagwa flew back from AfDB's Egypt annual general meeting in Egypt last week, said the lender's strategy was tilted towards "appeasing" creditors.
It said while AfDB had made headway in its initial engagements, the lender failed to line up a plan that tackles underlying causes behind the debt crisis.
At the end of last year, Zimbabwe's combined public debt was estimated at US$17,5 billion, with US$14 billion owed to foreign creditors. The amount translates to about half of the country's gross domestic product (GDP), and is seen as one of the biggest hurdles frustrating Zimbabwe's efforts to rebuilt its fragile economy.
"We are concerned that the AfDB's structured dialogue platform, in its current format, and given the current state of play in the country, may not be sufficient to address the underlying issues that have gotten Zimbabwe into the current 'crisis' in the first place," Peter Mutasa, chairperson at Crisis in Zimbabwe, said. "We humbly submit that the current process is exclusionary, elitist and seems a 'cosmetic' appeasement of international creditors, rather than a genuine process to extricate the country and its citizens out of the current state of economic decay, stalling development and authoritarian entrenchment. The dialogue is likely to go the way of previous elitist pacts and settlements, which have failed to sustainably address the underlying causes of the 'crisis in Zimbabwe'."
Mnangagwa last year appointed AfDB president Akinwumi Adesina and Joaquim Chissano, the former Mozambican head of state, to lead the structured dialogue platform.
It is the latest such attempt at finding a solution since 2015, when another plan designed in Lima, Peru, flopped.
Adesina has indicated that Zimbabwe will not make progress in economic recovery until the debt burden is resolved.
"Zimbabwe cannot run up the hill of economic recovery carrying a backpack of debt on its back," Adesina said three weeks ago.
Crisis in Zimbabwe acknowledged his efforts, but said he had to press authorities to make important concessions.
"It is also commendable that Dr Adesina does concede that extricating Zimbabwe out of its current economic challenges will require more than just concessions on debt, but must … 'also involve governance, rule of law, human rights, freedom of speech, political level playing field, electoral reforms that will assure free and fair elections; as well as fairness, equity and justice for the commercial farmers and other businesses who were dispossessed of their lands, for which there is a clear need for restitution and compensation'," Mutasa said.
"Part of the AfDB's immediate plan … is coming up with innovative financial instruments and structures that can be used to front-load the mobilisation of the US$3,5 billion for compensation to white farmers who had their farms expropriated without compensation in the wake of the Fast-Track Land Reform Programme. We want to emphasise (that) dialogue remains key to address the underlying governance crisis … Zimbabwe suffers from a 'crisis of governance'," Mutasa added.
The Zimbabwe Independent reported two weeks ago that a union representing the white commercial farmers had turned down a government offer to compensate them through Treasury Bills.
The deal, known as the Global Compensation Deed, was inked between government and the Commercial Farmers Union of Zimbabwe (CFU) in July 2020.
It presented a glimmer of hope for a country that was trying to reform from a controversial past highlighted by compensation battles, which at one point spilled into regional courts.
"Since May 4, we have met with the European Union ambassador, the Swiss ambassador (who is also the co-chair of the land pillar in the three pillars process), the German ambassador, and senior officials in the South African embassy," the CFU said. "We have conveyed the message that the farmers have rejected the government of Zimbabwe's latest offer for payment of compensation. We will continue to encourage them to assist us in getting a better deal that will be supported by the majority of title deed holders."
Related Topics