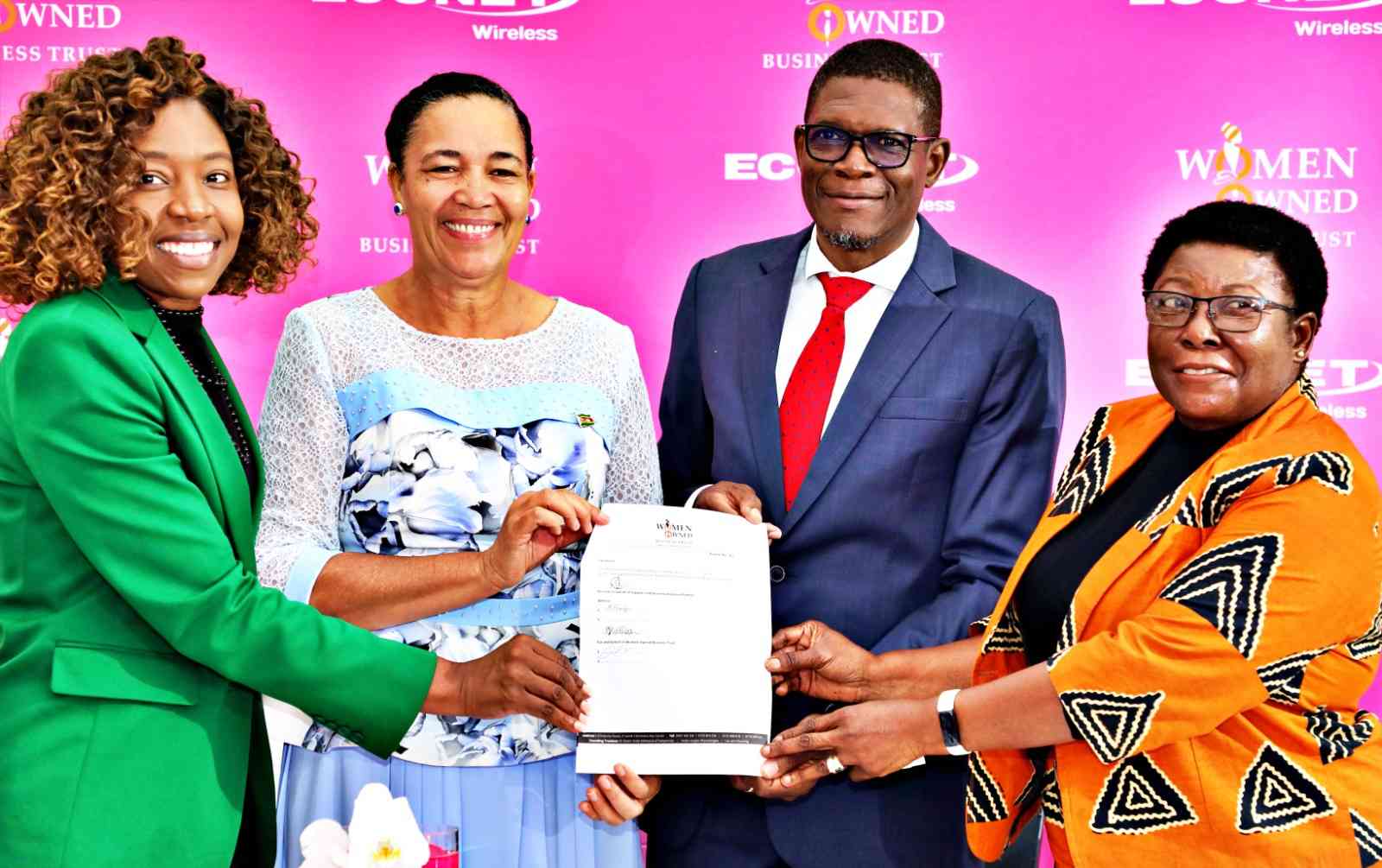 Econet Wireless Zimbabwe has signed a supplier diversity and inclusion (SDI) partnership agreement with the Women Owned Business Trust (WOBT) at a colourful ceremony in Harare.
The agreement will result in Econet, the country's largest telecommunications and technology company, working with the WOBT – a trust dedicated to helping women access markets and scale their businesses – to increase its procurement expenditure on women-owned businesses and female entrepreneurs.
The pact comes at a time best practice among top global companies is shifting towards embracing diversity as a key driver of business sustainability.
Speaking at the signing ceremony, which was attended by the Deputy Minister of Women's Affairs, Community, Small and Medium Enterprise Development Dr Jennifer Mhlanga, government officials, United Nations Women's representatives, senior Econet management and women entrepreneurs among others, WOBT chairperson Dr Divine Ndhlukula said the move by Econet, to commit to doing business with women-led organizations, will help economically empower female entrepreneurs.
"According to the World Food Programme, investing in women builds stronger nations. When females earn income, they reinvest 90% of their incomes in their families and communities, leading to faster local development of communities," she said.
"Women go out of their way to employ women too, (ensuring) safe jobs for women. Indeed, this is a game changing idea for women prosperity."
Dr Ndhlukula, who is also the managing director of Securico Security Services, noted that 30% of businesses are owned by women, mainly at micro and small scale level, but receive less than 1% of large corporate and government spend.
"Also commonly noted is that 90% procurement is biased against women for various reasons. Women Owned Business Trust seeks to create sustainable markets for women-owned enterprises as a practical solution to support scaling of women enterprises," she said.
The consummation of the SDI partnership agreement between Econet and the WOBT came less than a week from the month of March, in which Econet joined the world in celebrating women through a variety of programmes and initiatives around the country among its staff, with its customers as well as its stakeholders, under the theme #SheMatters #Wakakosha #Uqhakatekile.
Speaking at the SDI signing ceremony last week, Econet Chief Operating Officer Engr Kezito Makuni said the Zimbabwe Stock Exchange-listed company was committed to promoting inclusion and diversity, which are driving forces of innovation and creativity.
"As part of our supplier sustainability strategy, we plan to promote social and economic equity by empowering women owned businesses and increasing their participation in our supply chain," he said.
He noted that Sub-Saharan Africa had the world's highest rate of women involved in entrepreneurial activity at 26%, according to the MasterCard Index of Women Entrepreneurs 2021, and Zimbabwe had a higher score of 34% of businesses owned by women.
"However, women entrepreneurs still face significant challenges in accessing financing, training and mentorship networks, as well as access to markets to grow their businesses. These are just a few of the many barriers that women face in the business world," he said, adding that the SDI partnership with WOBT was "not just about meeting quotas or ticking boxes, but about recognising the immense talent and potential of women entrepreneurs and creating an environment in which they can thrive".
"It is indeed an assurance of the sustainability of our supply chain. We know that when we invest in women, we are investing in our collective future. We believe that by creating opportunities for women to succeed in business, we can help to build a more equitable and prosperous society for everyone," said Mr Makuni.
Econet's Chief Supply Chain Officer Mrs Sharon Marufu said the supplier diversity agreement does not only create real opportunities for women's economic development, but also drives greater women participation in the telecommunications industry.
"As a business we believe in doing business sustainably. Empowering women-owned businesses by ensuring increased inclusion within our supply chain is of utmost importance to us as it allows us to play our part in creating economic equity for women and aligns with our drive to be socially responsible in our business activities," she said.
Mrs Marufu, who played a key role in bringing the partnership to fruition, added that women represent a sizeable proportion of Econet's customer base, and so it is only fitting that women owned businesses should also play a meaningful role within the company's supply chain.
"Inclusion of women-owned businesses or suppliers provides us with the opportunity to widen and diversify our supply base thereby strengthening our supply chain. Through a more diverse network of suppliers we can reduce our costs and supply risks as well as increase our innovativeness through tapping into more diverse ideas and supplier capabilities," she said.
Meanwhile, Minister Mhlanga, who was the guest of honour at the event, also commended Econet for moving to create opportunities for women and for enabling them to have access to resources and markets by partnering with the WOBT.
"I would like to applaud Econet for partnering with the Women Owned Business Trust, a decision that can only enhance their business sustainability.
"By empowering women-owned businesses, that best represent the communities where your business operates, you lift up families and communities and open up more opportunities for your business to grow," she said.
Related Topics