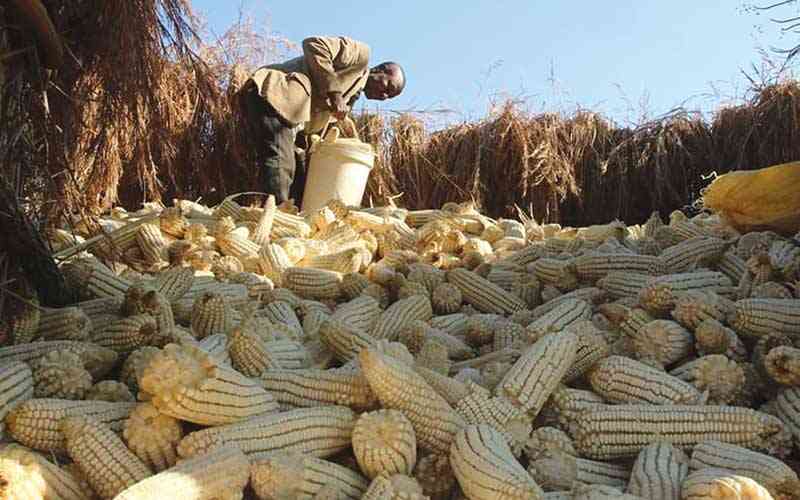 PUBLIC Service Labour and Social Welfare deputy minister Lovemore Matuke has revealed there are some areas of the country which are facing severe shortages of grain.
Owing to a farming season characterised by irregular rainfall, grain output has been significantly low in different parts of the country for the 2021/22 farming season.
Resultantly, according to the United States Agency for International Development (USAid) food security department, staple grain availability at both household and market levels are lower than usual.
USAid reports that the reliance on maize meal purchases is now higher than normal for this time of the year.
"We know we had some problems with quite a number of areas from our different provinces. I am not going to speak as from March, but I will start from now. We could not provide enough as you indicated but based on the ZimVAC [Zimbabwe Vulnerability Assessment Committee] report, they listed some areas which were almost 80% short of grain," Matuke said during a Senate session last week.
"Those areas which were not indicated by ZimVAC, we could not supply food because most of the areas could provide food for themselves up to October. I agree with you that there are some areas which were omitted by error and those are the areas which I am requesting you to forward to our office."
He said the country had 15 000 tonnes of grain to allocate to those areas in need.
Government is distributing the 15 000 metric tonnes to areas that are facing severe drought.
According to the ZimVAC 2022 Rural Livelihoods Assessment Report released earlier last month, most districts had households which reported drought as a shock.
"We never stopped food distribution, but we were targeting areas which were in dire need of the grain. We are so happy to receive that information," Matuke said.
"If you know there is an area in which you feel there is an urgent need to distribute maize, please let us know. We can make arrangements and make sure that we distribute the maize as soon as we can receive that request."
USAid's food security arm reports that seasonal grain deliveries to, and stocks at, the Grain Marketing Board (GMB) are also low, with private sector imports reportedly now beginning to arrive.
"Staple grain supply at markets across the country continues to be atypically low with some markets having little to no maize at all. WFP [World Food Programme]'s Food Security and Markets Monitoring system reports that maize grain was available in July in just 4% and 16% of monitored rural and urban markets, respectively," USAid said, through its food security arm, the Famine Early Warning Systems Network (FEWS NET) in its latest update.
"Small grains, which commonly serve as substitutes for maize in some deficit-producing areas, are also not readily available. Government restrictions on open market grain sales are contributing to poor grain availability.
"As a result, the demand for, and reliance on, maize meal is atypically high for this time of the year. Maize meal is more readily available across most markets."
FEWS NET said deliveries of maize and small grains to GMB depots continue to be below average and well below last year's levels, despite the increase in financial incentives offered to farmers by the government for the sale of their crops.
"In July, the government increased the maize producer price by 33,3% from $75 000 to $100 000 per tonne, and kept the US$90 per tonne incentive in place. However, key informants indicate that, besides a few farmers choosing to withhold grain from the market for speculative reasons, there is not much grain remaining for farmers to be able to deliver to the GMB given well below average harvests last season," FEWS NET said.
"Meanwhile, maize grain imports secured by the private sector from Zambia have reportedly started arriving in the country. This grain is destined for commercial millers and, in smaller amounts, for stock feed production. The Grain Millers Association of Zimbabwe reportedly plans to import a total of 400 000 MT of maize this season. However, the government has announced that it will not import any maize."
Farmers are being encouraged to adopt more climate-change friendly technologies producing grains and plant more drought resistant grains to avoid the low crop output in the upcoming 2022/23 season, expected to start from late October/early November.
Follow us on Twitter @NewsDayZimbabwe
Related Topics