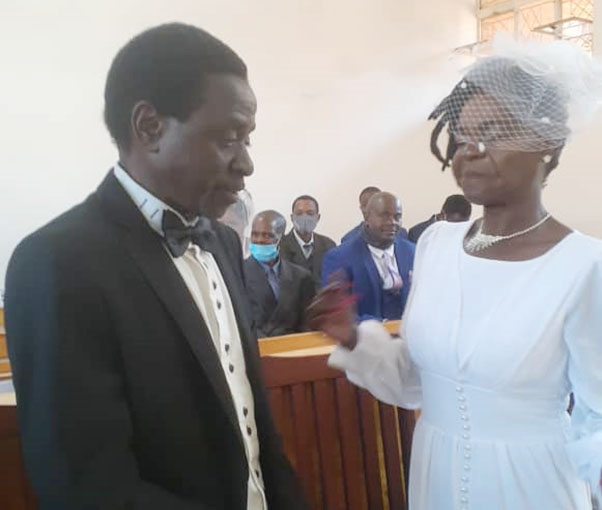 BY SHARON SIBINDI Ebony Sheikh founder George "Phahlane" Ndlovu tied the knot with Siphathisiwe Ncube, Busi Ncube's twin sister after 35 years of their customary law marriage.
The two tied the knot on June 17, at West Commonage Magistrates' Court in Bulawayo.
They have three children together.
Phahlane confirmed the development to Standard Style on Friday.
"We are now officially Mr and Mrs Ndlovu. Phahlane is my stage name," he said.
Phahlane said after tying the knot, they felt younger.
"We have a great feeling of achievement and and love renewal," he said.
"We have three children Thembi, Collen and Sipho together.
"Love, trust and forgiveness has kept us together.
"Not expecting too much from your loved one and accepting each other also kept us going.
"Again, our pillar is the Lord Jehovah, through his son Jesus Christ.
"We learnt not to solve personal issues in public. I encourage others in the industry to take the same path."
Phahlane said in his album released in 2021, one of the tracks was dedicated to his long time "heartthrob"
"I would like you to note that one of the tracks on my 2021 album (Sekunjalo) the song (Bambisandla sami), I specifically wrote it for my sweetheart Siphathisiwe.
"I advise the youngsters to take time to know each other," he said.
"I mean don't do it if you are not ready. Let me say 'It's not who you love but the one who loves you' that's the golden love rule or advice to ontanga, love the one who loves you."
Phahlane is the founder of Ebony Sheikh, which made a lasting impression with the song Celebrate in the 1980s and provided a platform for the establishment of some of the country's legendary musicians such as Don Gumbo, John Maseko, Jealous Sibanda, Herbert Murerwa, Cuthbert Mkhosana, Ernest Sikhosana, Doctor and George Phahlane, Standrad Zaranyika and Siphathisiwe Ncube, Busi Ncube's twin sister.
Related Topics