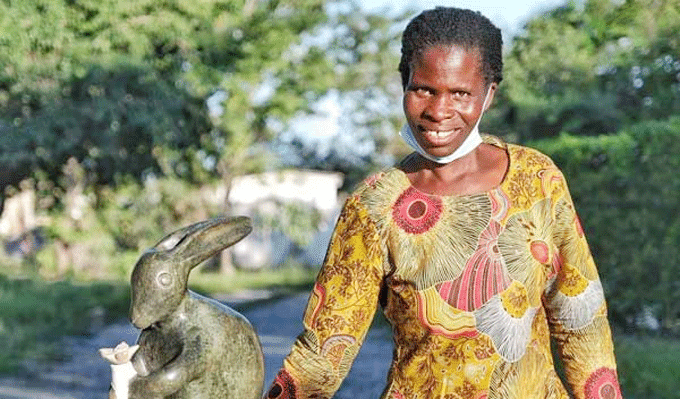 BY MOSES MUGUGUNYEKI
CHITUNGWIZA Arts Centre sculptor Simelokuhle Zibengwa has defied the odds in the male-dominated art world after she was nominated in the Visual Arts Awards category at the National Arts Merit Awards (Nama).
Zibengwa, one of the finest female sculptors to emerge from Chitungwiza Arts Centre, whose piece titled My Music Drum will battle for honours for the Outstanding 3 Dimensional gong against Mutare-based Tatenda Gwarada's piece titled Nhumbu as well as Chitungwiza Arts Centre duo of Blessing Mutukwa and Farai Tandi whose pieces are titled Tears of Happy and Bundle of Joy respectively.
Male sculptors from Chitungwiza Arts Centre have been recipients of many local and international awards since the inception of the centre in 1997.
Zibengwa has carved her way through the male-dominated visual arts industry, earning accolades within and outside the arts centre, thanks to the support she and several other female sculptors have been receiving from their male counterparts.
"I am happy that I was nominated for the award and hopefully I will win it," Zibengwa said.
"It's a dream come true for me. I have always told myself that one day I will stand tall among males in this trade.
"I thank all that have assisted me from my early days and up to today. Keep supporting us and we will do the good things that benefit us all."
Shelton Mubayi, an ambassador of the Chitungwiza Arts Centre and a former recipient of a similar gong in 2019, said Zibengwa had worked hard to get such recognition.
"She deserves the nomination and possibly the award," he said.
"Zibengwa is a beneficiary of a number of affirmative action programmes that we undertook as Chitungwiza Arts Centre so that we develop female sculptors and youths.
"She has gained a lot from collaborations she has done with other sculptors within the arts centre and we are now seeing the fruits of her hard work."
Mubayi was optimistic that the winner would emerge from Chitungwiza.
"I am hopeful that one of the three nominees from Chitungwiza Arts Centre will walk home with the award. It's now a norm that Chitungwiza Arts Centre rules the roost at Nama and many other awards and exhibitions," he said.
Mubayi said they were other female sculptors at Chitungwiza Arts Centre who are doing well both locally and globally.
"We have partners like Pathfinder Ubuntu NPC, who have partnered Chitungwiza Arts Centre and have helped develop the centre by building a gazebo for female sculptors, there is Wi-Fi and solar power back-up as well as a borehole and ablution facilities that are enhancing the participation of women in visual arts," he said.
Zibengwa was among 100 sculptors, who recently benefitted from the Hand-up Stone Art Project, a programme facilitated by Pathfinder Ubuntu NPC, meant to cushion the artistes, more so to ameliorate spaces in which these artistes work from.
The project in its second phase has seen Pathfinder Ubuntu NPC reaching out to scores of sculptors in Guruve, Mvurwi, Harare and Chitungwiza.
At least 10% of the proceeds realised from the Hand-up Stone Art Project, are channelled towards development of women sculptors.
Some of the finest female sculptors to have emerged from Zimbabwe include Agness Nyanhongo and the late Colleen Madamombe who carved a niche for themselves having exhibited at local global exhibitions.
Related Topics