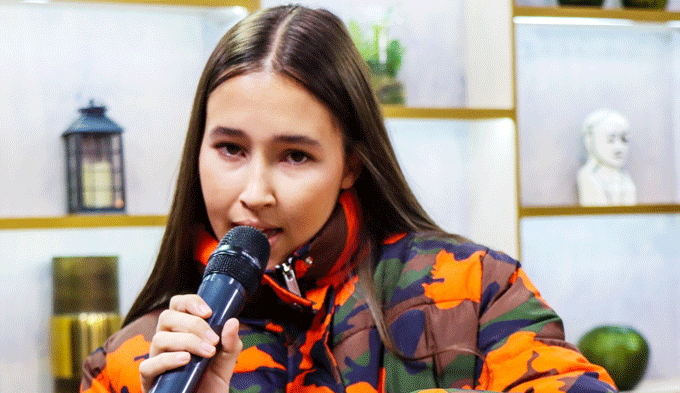 By Grant Moyo
By returning in the eye of prominence after a short-lived hiatus of self-contemplation, which saw her ink a global deal with record label Warner Music South Africa (WMSA), Cape Town alt-pop singer Tyler Page is determined to focus on creating a well-defined enactment and philosophy that wholly steers audiences through her steadfast vocal music and wondrous odes.
Letting loose her absolute natural endowment and power with a diagnostic blistery communicative style, the 19-year-old spring-flowering vocalist who is on the threshold of debuting her first body of work under the vibrant recording company, latterly dropped her brand-new single titled WAGMI — a code for We Are All Gonna Make It.
With a tone, control and range that not so long ago sent shivers down the spine of WMSA record label's creative lead — fashioning a more meaningful and engaging context — before long Page's fresh-cut song is primed to flourish into a distinct sound that will acquire planetary attention.
Judging from the reception WAGMI is getting since its official release, the track is steadily developing into a perfect forerunner for the young musician's much awaited project — sure enough to incorporate a vibrant collection of auditory sensation.
Page was discovered online via the cyberspace, her awe-inspiring gift consisting of chiselled mesmeric vocal and ukulele covers did not go unnoticed. The "Capetonian" teenager signed with alt-pop record label — Bad Future — in mid-2020, and shortly dropped her surreal tantamount atmospheric and comfy debut piece of music called Don't Believe The Aliens. Besides being selected by Fortnite — a video game giant — for their video-game Underground Car Radio Station, the latter musical composition scored numerous playlist inclusions such as Spotify's Radar Africa and New Music Friday South Africa, Apple Music's New Music Daily, New In Alternative and Mzansi Indie, Deezer's New South Africa, Future Hits, Alt Pop, New In Pop, as well as Wildflower.
Not only was Kill All The Heroes — Page's second musical composition — included on Passport Approved, an internationally syndicated taste maker import radio show airing on over 50 radio stations and six continents worldwide, the auditory sensation catapulted its way up and reached number 2 on 5FM's Indie Chart. Online taste maker support has also come from the likes of Record of the Day, Early Rising, Podcart, Going Solo, Conversations About Her, BizCommunity, Texx and the City, to mention but a few.
As Page rode on a crest of wave, joining Warner Music South Africa late last year was yet another giant leap towards permanently stamping a worthy booming career. Being the South African affiliate of Warner Music Group (WMG) — an American multinational entertainment and record label conglomerate headquartered in New York City — Warner Music South Africa is located in Hyde Park, Gauteng. WMG, which is a part of the American film studio Warner Bros, runs through many associates and licensees in more than 50 countries. The recording company is a renowned global leader in music aggregation and home to some of the best-known labels in the recorded music industry. Set for glory in the adjacent phase of her musical career, Page's clean-cut potential banger WAGMI is a pop passion song about a summer love romance.
In the pacifying attention-getting sound, which is a farewell to the summer, the alt pop singer from South Africa has a voice that is mature but still incarnates a playful youthfulness that effortlessly gains control of the feeling behind the auditory communication.
"The song WAGMI (We Are All Gonna Make It) is about a holiday romance that has the potential to become something much more. Believing and hoping that this love will survive once the holiday is over," Page said.
Prior to the official release of her newborn record, Page teased the piece of music on Instagram — an American photo and video sharing social networking service — alongside its artwork shot by conceptual photographer Mishaal Gangaram.
The alt pop gem posed in a pink custom-made Thebe Magugu (contemporary South African fashion brand) suit and light make-up reminiscent of a sunset signifying beginnings, change, and transformation.
"I can't even tell you. I have never felt so much love for a project as I do for this one. I hope you feel what I feel. Anyway I'm so excited and nervous, please take care of this project, it means the world to me," Page said.
Widening her hyping scope, the "Capetonian" musician is embarking on a series of appearances on various media platforms such as DYR (Durban Youth Radio) Top 30 Chart Show with MKay Music, Morning Live on SABC 2, Bush Radio and You FM. With a raw vocal talent attributed to the likes of American singer-songwriter Billie Eilish, New Zealand singer Lorde and Barbadian singer Rihanna, last Wednesday Page put up a stellar performance on SABC 3's feel-good morning show — Expresso — a bilingual lifestyle show that has something for everyone, broadcast live on weekdays from a glamorous penthouse studio.
Sure about herself, it is very normal for Page to keep up with her zeal as an anchor for her vocation largely bucked up to hold firmly to the opportunities rendered by the Warner Music South Africa record deal.
Grant Moyo is a prolific writer, innovative media personality, entrepreneur and a creative artist who is passionate about using his creative mind for the betterment of society. Follow him on Twitter: @TotemGrant
Related Topics