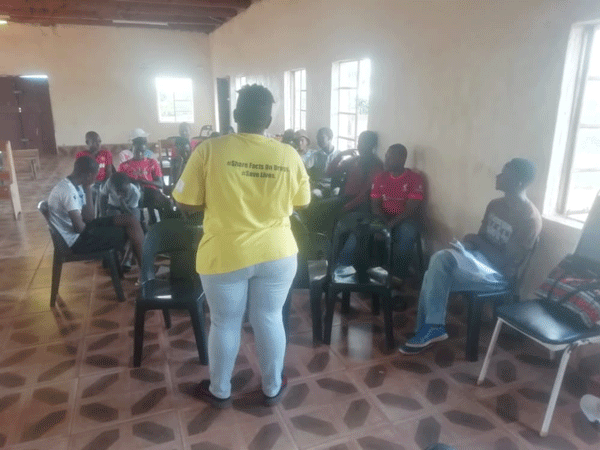 BY NOBUHLE MAPLANKA Most teenagers have fallen into the trap of exploration, eagerness and peer pressure as they engage in risky behaviours such as drug and substance use.
This came to the fore during recent deliberations that the Zimbabwe Civil Liberties and Drug Network (ZCLDN) undertook with the youths.
Peer pressure has been seen as the elephant in the room with regards to drug and substance use in the country.
Youth aged between 10 and 24 years attending a recent National AIDS Council organised Brotha 2 Brotha session in Bulawayo's Sizinda suburb acknowledged that influence from peers was compelling most of them to use drugs and substances.
Brotha 2 Brotha is a mentorship group for adolescent boys aged between 10 and 24 years, who are usually left out on most sexual and reproductive health rights programmes.
The clubs offer sexual and reproductive health rights information through sport-centred intervention.
"One of the take aways from the engagement I had with the group of boys calling themselves The Young Vibrant Boyz was that many end up using drugs due to peer pressure," ZCLDN focal point person for Bulawayo Tania Marumbwa.
"I had been invited by NAC to engage the boys and educate them on harm reduction by sharing information about drugs and their impact on society.
"I took the opportunity to explain to the boys how drugs affect various processes in our bodies, dangers in taking large doses, how long-term use can affect one's physical and mental health."
Marumbwa raised awareness on the risks of combining different drugs and substances enlightening the group on how upper and downer drugs act on the central nervous system when combined.
A member of the Bulawayo drug user support group who attended the meeting also discouraged the boys from taking drugs as this completely changes their lifestyle, causes bad relations with family, friends, workmates and members of the community.
He also advised those that are taking drugs to urgently seek rehabilitation and counselling services.
Some of the participants conceded that they were taking a drug Njengu, which is sold in their neighborhood.
Participants appealed to ZCLDN to come up with a support group for people who use and inject drugs to help curb drug use in Sizinda and surrounding areas.
Meanwhile, ZCLDN programmes officer Knowledge Mupembe engaged adolescents from the Roman Catholic Harare Central Cathedral to conscientise them on drug and substance use.
The engagement was part of the church's edutainment outreach day with its Sunday school pupils where a number of activities took place at the Botanical Gardens in Alexandra Park.
ZCLDN was invited to make a presentation on drug and substance use, peer pressure and mental health issues to a group of Young and Adolescent boys and girls aged 11-16 years.
The presentation was held under the theme Youth against drugs, alcohol, and substance use vis-à-vis peer pressure.
"The objective of the session was to educate young and adolescent boys and girls on drug and substance use, the effects of peer pressure and peer influence, mental health issues as well as what needs to done to prevent the scourge of drug and substance use to the young generation," Mupembe said.
"This special session was essential in the sense that adolescences are a very critical stage for brain development, a transitional period of physical and psychological development between childhood and maturity."
The presentation touched on a number of issues including the difference between pharmacological or medicinal drugs and non-medicinal, illicit or recreational drugs.
Mupembe said production and use of illicit drugs was a criminal offence under the Dangerous Drugs Act and the Criminal Law (Codification Reform) Act.
He also highlighted the commonly used illicit drugs in Zimbabwe, which include marijuana (cannabis/mbanje), cocaine, heroin, glue as well as brews such as musombodhiya and kachasu, among others.
ZCLDN also made a presentation at a Chedenga Foundation convened event dubbed From the Streets to Studio where a former street kid Mycole Biller launched his debut album titled Munzira.
ZCLDN Outreach Administration Officer Tinashe Chiweshe made a presentation at the event which was held at Theatre in the Park in the Harare Gardens.
Chedenga Foundation is an organisation that seeks to inspire hope and contribute to humanitarian well being by providing care and concern to the underprivileged and vulnerable through basic needs provision, education and all entailed nurture.
Chiweshe's presentation was centred on drug use in Zimbabwe and its impact on the well being of the general populace.
Related Topics