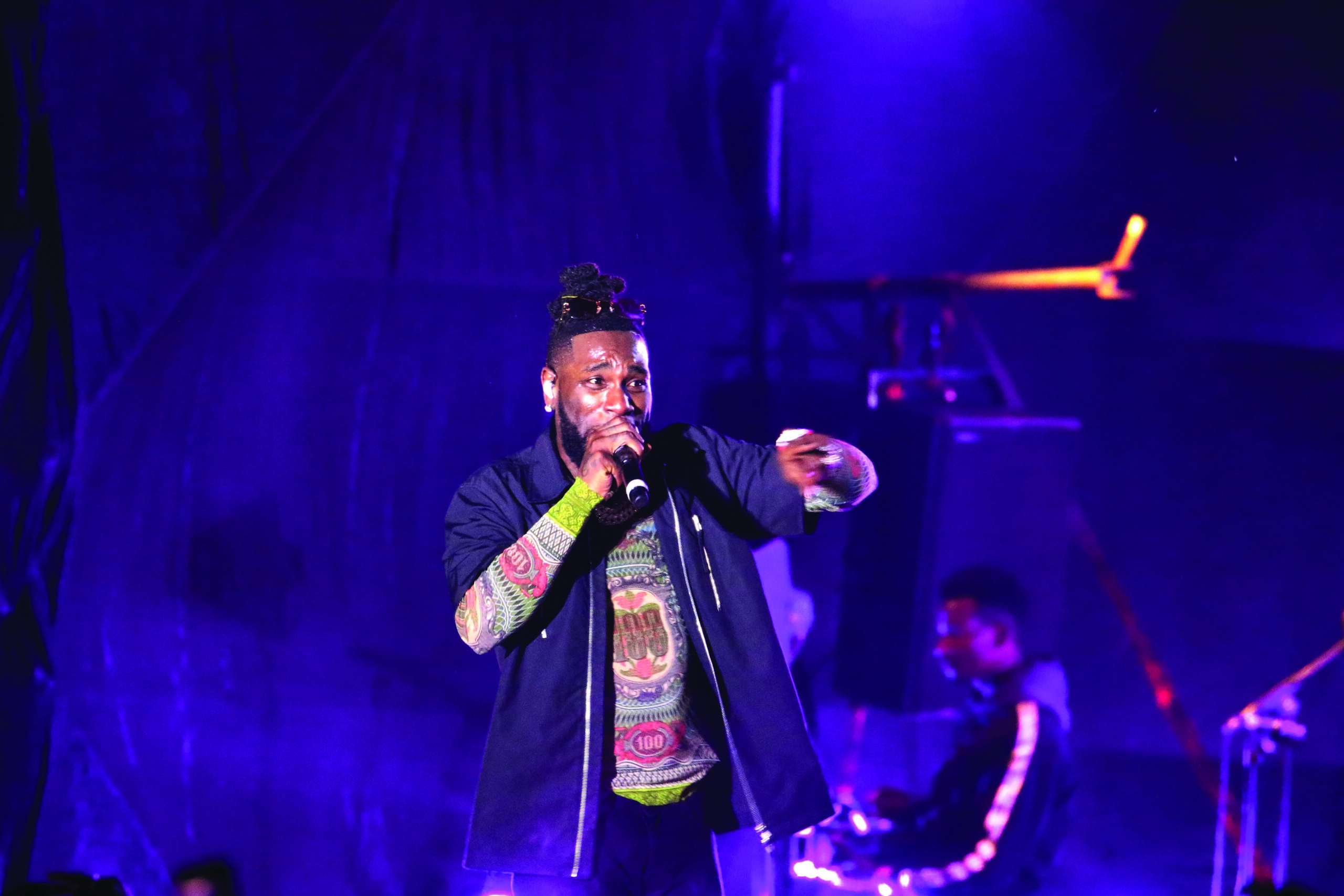 With Fred Zindi He was here a fortnight ago. He came and delivered to everybody's satisfaction. That was Burna Boy (real name Damini Ogulu, aged 30).
The concert which was filled to capacity despite the cold weather was held at Belgravia Sports Club in Harare. Zimbabweans were lucky to enjoy this young man's offering before they could no longer afford him. Although a multi-millionaire already, he is going to be bigger that what he is now.
There is no doubt that Nigerian Grammy award winning recording artiste and singer, Burna Boy, has become Africa's biggest international star this year as he touches the whole world with his Afro-beats music. With his mother, Bose Ogulu as manager and sister, Ronami Ogulu as production and creative director, the Burna Boy team which graced Harare two weeks ago, has reached dizzy heights.
Burna Boy who won the Best International Act at the BET awards in June 2020 promises to be one of Africa's top acts for 2022 and the near future.
Given his collaborations with award-winning artistes like Angelique Kidjo, Damian Marley and Lily Allen, Burna Boy has risen in prominence as the Afrobeats sound has also gained global recognition.
This year, Burna Boy will be the first African artiste to headline Madison Square Garden in New York. As New York is the media and brand capital of the world, this concert is showing the world that African music has now arrived at the world's biggest stage.
With this momentum being experienced in the African music community, as well as the increased resources being channelled to the continent in 2022 by various industry players, I don't see any decline for African music in the near future.
Rather, 2022 promises to be much more exciting and we should prepare to experience the best of times from the African music industry. African musicians have over the decades persevered in their craft. In so doing, they have not only carried on the distinctive flavours of their forbearers but also expanded and built upon traditional sounds. As music has flowed from the continent to merge with song patterns from other parts of the world, African music and its cultural context has grown beyond the continent.
African music, with its distinctive emphasis on polyrhythm and beats flowing from percussive instruments, was long treated as subordinate in the international music arena. Music from the continent contrasted the organized sound, instrumentation, and melody which characterised Western music. The distinctive texture in African music is largely due to the cultures that produce the music. Within traditional African societies, music is not to be consumed alone, but is always accompanied by dancing. For within the continent's vast and numerous cultures, music, dance, and rites were all tied to the same cosmic significance — communal living, funerals, marriage celebrations, and festivals.
However, the Afro-beats sound has gone international. It is no longer treated and seen as inferior music. Burna Boy and his Nigerian counterparts  (such as Wiz Kid and Davido ) have shown the world that they are not musically subordinate to anyone.
In 2021, the trail-blazing artiste went coast-to-coast, gracing the stage at New York's Governors Ball and geared up for a Halloween night performance at San Francisco's Outside Lands as a part of his ongoing Space Drift Arena Tour.
After his perfomance in Los Angeles late last year, Burna Boy had this to say:
"I'm feeling legendary, coming from where I'm from and to be doing that in L.A., the capital of entertainment of the world; for me is legendary."
Indeed, Burna Boy at the age of 30 and coming from Nigeria, Africa, has become an international legend. Award-winning Burna Boy   has topped off a stellar music year in which he has won a string of awards and sold-out venues across the globe. Now, at 30, he is one of Africa's most talked-about stars, sampled and featured by some of the world's biggest artistes including Beyonce. We are lucky to have had him in concert here in Harare. I was surprised to see Zimbabweans sing along word for word to his songs.
After a global lockdown and a pandemic-impacted 2020, we have seen the rise of musical talents across the continent, with a renewed vibrancy to set the tone for an active year.  To date, Burna Boy is leading them all.
Music runs in Burna Boy's family. As mentioned earlier, Burna Boy is working with his mother and sister. His father was Fela Kuti's manager.
Burna Boy is said to be giving out food packages to fellow Nigerians in all state provinces of Nigeria. BurnaBoy, who is an ardent reader of political writings has followed Martin Luther King's philosophy which states that: "Life's most persistent and urgent question is, "What are you doing for others?"  He is certainly giving back to the community that brought him up. Indeed, Burna Boy is a surprise successful Nigerian act and should set the pace for all African musicians beyond 2022.
Zimbabwean musicians have to find the finances and resources to reach those dizzy heights which Nigerian musicians have. The Nigerian musicians have opened the gates for the rest of the continentand if Alick Macheso's album launch which took place last week is anything to goby, then we are heading in the right direction.
The year 2022 has been an incredible and record-setting year for the African music industry and everybody will agree that its music has never been more popular around the world.
After a global lockdown and a pandemic-impacted two years, we have seen the rise of musical talents across the continent, with a renewed vibrancy to set the tone for an active year.  To date, Burna Boy is leading them all.
We used to think that it was the Jamaicans only who could penetrate the Western market with their reggae beat, but no the whole world has now woken up to music from the African continent and will continue to do so if our musicgets the right support from both the Zimbabwean government and other interested parties.
We would like to see all the musicians of 2022 rise to international levels as the Nigerians have done to make African music the music of the future.
Since music is such an integral part of our daily lives, to ask " how can African music be developed to be the music of the future?" is really to ask a question about ourselves, and how music will continue to shape how we live. We just have to continue to create and to embrace the music of those who have come before us such as the The Oliver Mtukudzis, the Leonard Dembos, the Thomas Mapfumos, The Mandebvus, The John Chibaduras, The Four Brothers, The Zexie Manatsas, The TineiChikupos, The Harare Mambos, The Hallelua Chicken Runn Band, The James Chimombes, The John Chibaduras, The Fanyana Dubes, The Lovemore Majaivanas and so forth.
The future of music will most likely follow the same trends we are seeing in modern technology.  It will be incredibly social similar to social media, it will become increasingly computerbased and it will serve as a window to the past, held open by any musicians continuing to create music in more traditional ways.
Come on Zimbabwe, let's go and make this continent's music, the best the world has ever seen.
Related Topics