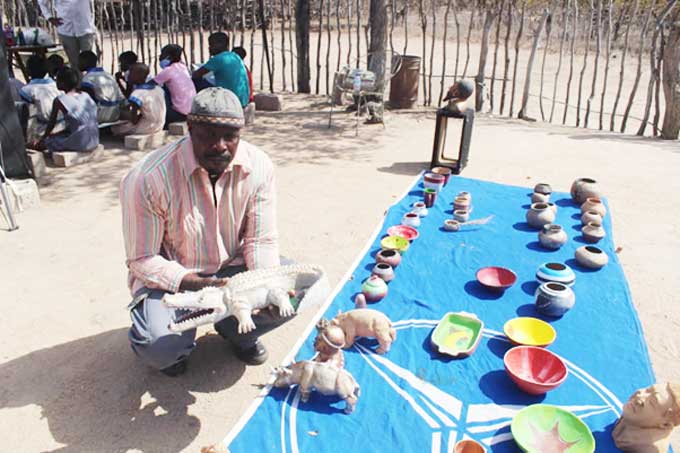 BY SHARON SIBINDI Youths in Mbimba (ward 10), Bulilima West in Plumtree have embraced pottery, visual arts and weaving, among others as they believe art pays.
This was witnessed recently by the Standard Style when the National Gallery of Zimbabwe (NGZ) in Bulawayo held a provincial programme aimed at capacitating 30 visual artists in Plumtree and the surrounding areas.
Thirty students, some of them as young as seven years old, will spend their leisure time doing art work, at a homestead in Mbimba where a veteran artist — Zephaniah Sibanda resides.
NGZ in Bulawayo donated art equipment, which includes paint, brushes, glue, stationery and clay for pottery, among other things to the children who are working with Sibanda.
Sibanda, who dedicates his time with them, said: "This is a way to curb the rise of drug usage, prostitution among other things in this area."
The children and youth in the area, specialise in different types of art work. One of the most interesting and  eye-catching art work was the use of cow-dung, burnt together with finished clay products. This made the products stronger before they are spray painted with different shades to make them more attractive.
"I went to Mzilikazi Arts Centre for three years in 1982," Sibanda said.
"Then I  went to South Africa in 1989 where I worked at some company.
"I decided to come back home in 2020 the time when Covid-19 started.
"When I got here, I was so saddened by the lifestyle these children had adopted.
"Some abused drugs and alcohol, and others were pregnant at a tender age.
"I was then pushed to share  my art skills with these children."
His first class had 70 students with 40 quitting and heading to neighbouring  Botswana and South Africa.
"I started to teach them art, we did pottery where we used clay found in dams and it didn't do well as it cracked.
"I then decided to go back to South Africa and buy proper clay which did not crack at all and it's the one which we are still using today," Sibanda said.
"I then started posting the products done by these children on social media.People loved them with some purchasing one or two things.
"Through social media I met people from the ministry of Arts who linked me with people from tourism. Later I was visited by former NGZ in Bulawayo director Butholezwe Nyathi, who was with former NGZ assistant curator for Bulawayo, Clifford Zulu.
"Recently I was visited by NGZ in Bulawayo regional director Silenkosi Moyo with her crew. Now they have come again to donate some art equipment for these young artists. This makes one so happy and it motivates these youngsters."
NGZ Bulawayo regional director Silenkosi Moyo  said  the provincial arts outreach programme promotes artists in the provinces that are under the catchment of the gallery in Bulawayo.
"The catchment area covers Bulawayo, Midlands, Matabeleland South and Matabeleland North provinces."
"This is a continuation from the efforts we started in 2021 when we went to Midlands," Moyo said.
"So, the purpose is to give the artists in the provinces the same platform to access opportunities like what happens to the artists in our urban spaces in Bulawayo.
"We  are also doing capacity enhancement programmes for the artists.
"In April this year, we did a survey and had a focused group discussion with the artists to find out what are their challenges and their needs.
"So this programme is now a response to the needs that they stated and a response to the challenges that they stated  too.
"Artists got to know how to write artists biographies, profiles simple basic,  artists statements."
She said besides Plumtree town, NGZ also helps Bulilima and Mangwe communities to reach out to the children as a way of mentoring and inspiring them to also take up art.
"We are in Mbiba particularly to attend to children trained by Zephaniah Sibanda, a veteran artist who was trained in Mzilikazi," Moyo said.
"Because of his passion for art, he has identified children in the local community where he stays.
"He is passing on that skill at his home to develop the children, particularly in ceramic.
"We are also here to donate art materials to the children and to also help to edify their skills in fine art and painting because they don't know much about it."
She said children and youth were excited to work with a national institution that servd their needs.
"They are willing to come together and partner with us on so many projects," Moyo said.
"They are looking forward particularly to the annual exhibition that we will have.
"The inaugural one will be this year around November and with the art materials that we donated, they have a platform to refine and edify their skills to prepare their works that are better for the exhibition.
"Already we have started sharing opportunities and one of the young artists; we connected them to a person in Saudi Arabia, an artist who focuses on NFTs.
"So I think it's a good start and  l think we are headed somewhere.
"We also  have one young artists who came to Bulawayo and submitted his sketches at the Bulawayo Gallery.
"Some of the artists have already submitted for the Zimbabwe Visual Arts Awards, which will take place this year.
"We are making a good progress and would  like to thank the Swiss embassy and Alliance Française (AF ) for supporting us."
Some students who spoke to Standard Style said they are happy with the programme which keeps them busy.
They said most of their peers have fallen prey to drug abuse, teenage pregnancies and early marriages.
Accurate Ngwenya (16) dropped out of school in Form 3 due to some challenges.
"I started pottery in 2020 during Covid-19. I then started doing pottery with Sibanda which I really love," Ngwenya said.
"At first I wanted to quit, but then thought twice after seeing most of my peers doing drugs, getting arrested or abusing alcohol.
"I believe one day my work will go international and I know art pays, it needs patience, dedication and discipline."
Nomatter Ncube (13), who is a Grade 7 student at Mbimba specialises in pottery. "I decided to invest my free time in art so that I don't get peer pressure from the others," she said.
"It pains me to see a 13 or 14 year old dropping out of school due to pregnancy.
"I want to have a better future so I come here to do my work and I know one day it will be worthwhile."
Related Topics