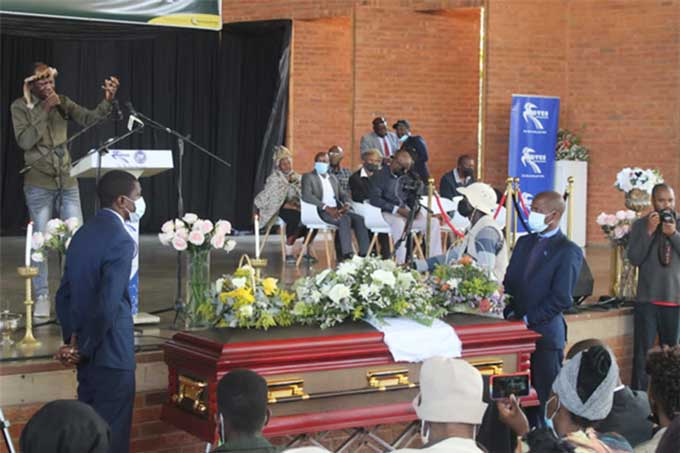 BY SINDISO DUBE IN LUPANE BULAWAYO and Lupane hosted arts doyen Cont Mhlanga's last stage act, as hundreds of people celebrated and paid respect to his illustrious life and career, which started off in 1982.
Mhlanga succumbed to pneumonia last week. He was 64.
Mhlanga's memorial service was held on Friday morning at the Amphi theatre before the body was taken to its final resting place at his homestead in Lupane.
— NewsDay Zimbabwe (@NewsDayZimbabwe) August 6, 2022
Mhlanga had relocated to his rural area in 2016 after his retirement.
However he came out of retirement last year to set up KeYona TV which is set for launch in December.
So big was his send off, with the last send-off of that calibre being of rapper Cal_Vin and Highlanders FC legends Ernest Maphepha Sibanda and Ndumiso Gumede.
Mhlanga's body left a local parlour and was taken to Amakhosi Township Square, where Mhlanga worked from and where many talents were given life.
The funeral cortege made a stop at the hanging tree, which is part of Bulawayo's cultural corridor.
The car carrying the body of the icon then left for the statue of Joshua Nkomo and made rounds, bringing city business to stand still as people paid their last respects to the cultural icon. It was then taken to Amphitheatre for the service before leaving for Lupane.
The event also saw performances by local artists who were given a chance to exhibit their talents by Mhlanga.
Speaker after speaker spoke highly about Cont Mhlanga's larger than life character and opening doors to many artists in Bulawayo and the rest of the country.
Acting President Constantino Chiwenga who was accompanied by his new wife Miniyothabo, who visited the Mhlanga residence at Nguboyenja suburb, described Mhlanga as a champion of Ndebele culture.
"He will be remembered for championing the country's rich culture including Ndebele culture. My wife (Miniyothabo) worked with Mhlanga on the boards of Skyz Metro FM and Breeze FM and it pained us when we heard of his death," he said.
Mhlanga's daughter Gcina Mhlanga announced that a Cont Mhlanga foundation has been formed and it will manage and administrate all works that were done by the late arts guru.
Villagers and arts practitioners yesterday thronged Lupane and laid Mhlanga to rest.
Related Topics