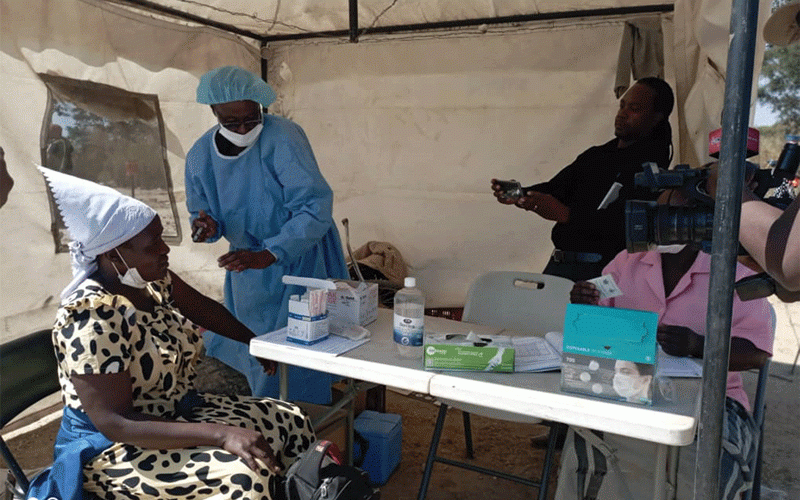 THE adage "Each man for himself and God for us all" aptly describe Svovai Matanda's (not real name) approach to life.
An ardent AFC Mugodhi apostolic sect follower, 44-year-old Matanda of Ward 8, Karoi district is one of the many people that have been vaccinated against Covid-19 under the Zimbabwe Red Cross Society (ZRCS) vaccination drive in the Mashonaland West and Midlands provinces in partnership with the ministry of Health and Child Care with support from Africa CDC Saving Lives and Livelihoods in partnership with the MasterCard Foundation.
"When I got the vaccine, I did not experience any effects; neither did I get sick," she said.
"I received all the three doses and health wise I am doing perfectly fine.
"In our church, seeking medical attention is strictly prohibited but as for me I decided to go against the rules taking into consideration my own health safety.
"The whole idea of me going against the rules despite the consequences is to protect myself and my family from the hideous virus."
Matanda said since her decision to get vaccinated, she has not yet faced any challenges from the church.
"It was a personal decision and no one knows about it, so I'm safe," she said.
"I want to encourage others in my sect to go and get vaccinated too so as to protect themselves from the virus."
The development comes as the apostolic sects have been identified as some of the toughest religious groups to penetrate and convince to access medical services including the Covid-19 jab.
However, last year, members of the Apostolic sect have said they were ready to be vaccinated against Covid-19, but the government should bring the programme right at the shrines to speed up the process.
Latest statistics by the World Health Organisation (WHO), as of last month indicate that more than 6,86 million people had died after contracting the respiratory virus.
However the health watchdog has since dismissed the virus as a global public health emergency with local experts urging the general public to not let their guard down.
Matanda is not the only apostolic member who seems to have gone against the rules to sustain health care for her and family.
Lonia Matore (38) of the Nyeredzi Nomwe Apostolic sect in Mashonaland West province said taking the jab was a personal choice regardless of her church's standing.
"I saw it as a perfect opportunity to shield myself from the virus," she said.
"I am made to understand that the virus is highly transmissible when we gather in huge groups.
"It therefore becomes favourable for one to get vaccinated so as to accumulate immunity against the virus."
A community health worker at Mufure clinic in Chegutu Anna Chigodo said although some apostolic sects such as the Johanne Marange were adamant not to take vaccines, there was hope with other sects.
"When we venture into the communities for our door-to- door vaccination drive, we are met with resistance especially from the Johanne Marange sect but we are grateful that some of the sects have been forthcoming," she said.
"When they come forward, they usually require us to come to their places of residence rather than them coming to the clinic."
She said despite the challenges, some of them are brave enough to visit the clinic and access the jab.
"When they come through, they do so without adorning their church regalia and they secretly signal us of their presence," Chigodo said.
"They do not want to remain at the clinic for longer periods as they are in constant fear of being recognised by their peers."
Chegutu district medical officer Tonderai Nhende said the vaccination drive was a good initiative because there were less cases of Covid -19 recorded in the district.
"The declaration by WHO was more of a technical statement, I would not say that we are out of the woods, it's winter and the virus is more in transmission and more active so we are keeping on vaccinating and spreading messages of hygiene and people wearing masks," said Nhende.
He said there was an urgent need to ensure that transmission was mitigated at all costs.
"In as much as cases have gone down, we are not yet safe, we have things to do so that we prevent transmission."
He also said the Covid-19 door-to-door campaign was an important aspect to ensure that the country reaches 70% herd immunity.
ZRCS secretary-general Elias Hwenga said the programme was meant to mobilise communities in Mashonaland West and Midlands provinces for Covid-19 vaccine demand and uptake activities.
"This programme seeks to understand the beliefs, fears, rumours, questions, and suggestions circulating in communities about the Covid-19, including the vaccine and use this to inform the response," said Hwenga.
"We also want to reduce community fear, stigma, and misinformation, including on the vaccine as well as building trust in the response and the health advice shared, including the vaccine."
He said the programme will also help communities share timely, accurate information about Covid-19, and the vaccine, through most trusted channels.
Related Topics