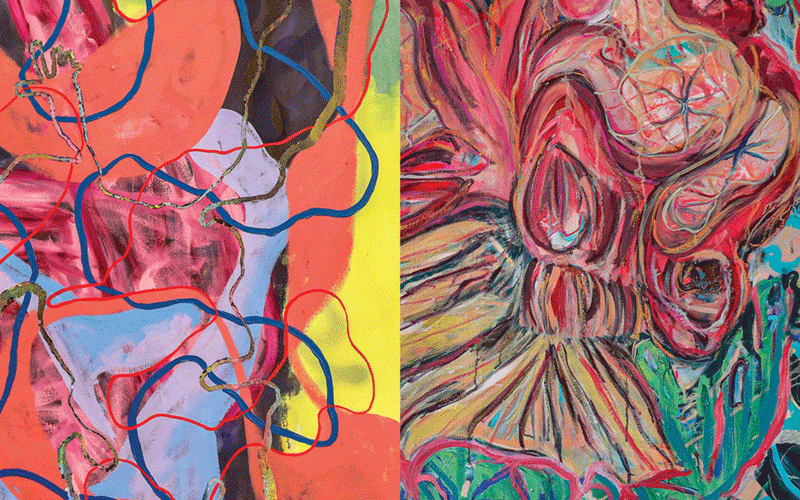 AMANDA Shingirai Mushate and Tashinga Majiri became part of a rare, but not uncommon history of a husband and wife artistic cooperation last weekend when First Floor Gallery Harare launched their exhibition titled "Rudo Rwunowuya Nemabasa," which loosely translates to "Love comes with work".
A few artist couples have left their imprints on art history, including the Mexican couple Frida Kahlo and Diego Rivera, Sonia and Robert Delaunay, Lee Krasner and Jackson Pollock, and performance artistes Marina Abramovic and Ulay.
Closer to home, some of the couples who have shared the same creative space are the late sculptors Locardia and Joseph Nandarika.
Other artist couples are Portia Zvavahera and Gideon Gomo, Gina Maxim, and Misheck Masamvu, in music there is Charles and Olivia Charamba, Selmor Mtukudzi and Tendai Manatsa.
Attendees were treated to a musical duet performed by Mokoomba lead guitarist Trust Samende and Max Aronow, singer and guitarist of the American rock band Deuteronomy.
The couple told Standard Style that they had been working on the exhibition for the past three months.
"We are definitely super thrilled to have put up such a show," they said.
"We always had an idea of doing something like this.
"We have been working together in the same spaces from the beginning and now we are evolving into parents. Most of our intellectual and emotional thoughts came from simply being together, and so we often harbored the idea of displaying our works in one place."
The couple's individual careers are often celebrated individually and often retrospectively. Mushate is establishing herself as a leading voice in contemporary Zimbabwean painting and an innovative young abstractionists with a growing international reputation.
As a young woman and a new mother in a male-dominated field, Mushate is also a role model and an advocate for women artists, making art and careers possible without sacrificing family.
After completing her studies at the National Gallery of Zimbabwe Visual Arts Studio in 2016, she was mentored by Gresham Tapiwa Nyaunde who molded her artistic direction, culminating in her debut solo exhibition at First Floor Gallery in 2018.
Mushate's passionate, playful mazelike canvases have been winning critical and international collector attention globally with works in important private collections in Cape Town, New York, Harare, Amsterdam, London and Paris.
Tashinga, who has a background in poetry and martial arts, considers the piece "Angu Maruva Emusango" or "Wild Flowers" as his favourite in the exhibition. Inspired by a poem he wrote eight years ago, the artwork reflects his journey in finding love and how it aligns with his relationship with Amanda.
"It just so happens that what I wrote back then now resonates a lot with being with Amanda and the kind of person she is." Later, while reflecting on the poem, I created this piece. It's also different from the other pieces in the exhibition and points in the direction of my future works," he explained.
Tashinga graduated in 2019 with a diploma in Fine Art from the National Gallery of Zimbabwe School of Visual Art and Design specialising in painting and print making.
His art has previously been presented in the National Gallery of Zimbabwe, the THK Gallery in Cape Town, and the Nomad Gallery in Brussels. He was also nominated for the 2020 Emerging Painting Invitational.
Valery Kabov, the co-director of First Floor Gallery, described "Rudo Rwunowuya Nemabasa" as an invocation and reflection of Amanda and Tashinga's growth as young individuals, artists, and parents. She emphasized the relentless commitment, poetry, and musicality evident in their works. The exhibition represents their shared foundation and the unique expressions of their artistic visions.
"Where there is love there is work, where there is the love of work and the work of love, there is life," she added.
Related Topics