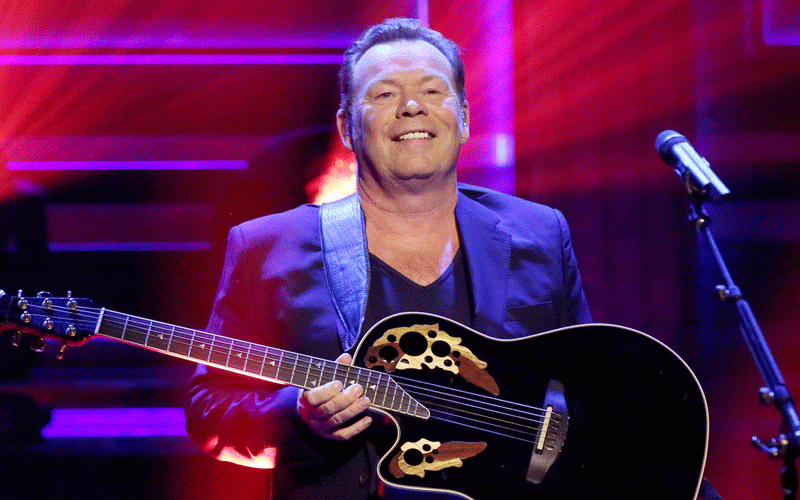 History is that branch of knowledge which deals with past events. UB40 has come and gone. They are now history.
I always like to come up with juicy stories about events in the music world before they take place, but this time I decided to keep my mouth shut about the UB40 concert before it happened. Now I can talk about it as it is now history. I have my reasons:
Before the UB40 concert took place in Harare, a host of rumours were circulating. Some were saying that the band had split up 15 years ago and others said that Ali Campbell would be miming to CDs on pre-recorded music. It got to the extent that the band was not coming to Zimbabwe at all.
To everyone's surprise, Ali came with a full well-rehearsed and polished band which entertained punters to the fullest.
I did not want to write about these rumours before the concert took place in case, they discouraged a few people from attending the concert.
When Walter Wanyanya, the organiser of the Harare show talked to me about the rumours that were doing the rounds, I kept my mouth shut but told him just to ignore them. "Those were just jealous people", I remarked.
A viral snapshot on Twitter had thrown Zimbabweans into a whirlwind of confusion surrounding UB40.
The picture featured a tweet from the official @ub40official account, demanding the removal of their name from a promotional poster for a supposed UB40 reggae extravaganza at Old Hararians scheduled for Africa Day, Thursday, May 25.
In this tweet, UB40 cuts to the chase and clarifies that their former lead singer, Ali Campbell, bid adieu to the band more than a decade ago. The message leaves no room for doubt, stating:
"Please remove us from your post as this event has nothing to do with UB40. This is our ex-singer who left 15 years ago."
Understandably, this picture left Zimbabweans in a state of bewilderment, questioning whether they are being duped by the promoters of the UB40 show.
It is said that these rumours were fuelled by some members of the original UB40 who split up with Ali years ago.
It is also rumoured that Robin Campbell, Ali's brother, who is bitter about his brother's success, could have been behind these rumours.
Robin Campbell, Ali's brother, has over the years spent a lot of money on lawyers trying to get Ali to stop using the name UB40.
Forty-five years ago, three unemployed musos from Birmingham, United Kingdom, infused the one drop rhythms of reggae into pop music.
These were Ali Campbell (vocals), Jimmy Brown (drums) and Earl Falconer (bass), with Norman Hassan (percussion), Yomi Babayemi, Jimmy Lynn, Brian Travers and Robin Campbell (guitarist), and later, Duncan Campbell, Ali's second brother, joining the band.
Brian Travers, the saxophonist and vocalist Astro (Terence Wilson) have since died.
The original band members were friends who knew each other from schools across Birmingham.
The name UB40 was selected in reference to a form given to people claiming unemployment benefits from the UK government's Department of Employment. UB40 stood for Unemployment Benefit, Form 40.
The band formed in 1978, when guitarist Ali Campbell, drummer Jimmy Brown and bassist Earl Falconer began rehearsing reggae songs as well as some of their own tracks.
They were soon joined by several of their friends, including percussionists Yomi Babayemi and Norman Hassan, and then saxophonist Brian Travers and keyboardist Jimmy Lynn.
After the band stayed together with a few line-up changes for nearly 30 years, frontman Ali Campbell decided to quit in 2008.
It was originally said that this was so that Campbell could concentrate on solo projects, but Campbell later said he was leaving due to management and business arguments.
Astro joined UB40 in 1979 — shortly after the band was formed — but left in 2013 and went on to perform with breakaway group UB40 featuring Ali Campbell and Astro, technically and confusingly leaving two UB40s at play.
The members who had left (Ali Campbell, Mickey Virtue and Astro) went into business on their own, naming their version of the band UB40 featuring Ali, Astro and Mickey. It has since been renamed to UB40 featuring Ali Campbell. (Terence Wilson aka Astro and saxophonist Brian Travers have since died. Aged 64 and 62 respectively.)
The other seven members — at this point Mickey Virtue, Robin Campbell, Astro, Brian Travers, Earl Falconer, Jimmy Brown and Norman Hassan — released a statement saying: "Ali made a very simple decision; he chose to pursue and put his solo career over and above continuing to work with UB40 after February 2008. It's as simple as that".
In simple terms, they were trying to claim that Ali was no longer UB40 and that they were the only UB40 remaining.
But let's face it, Ali is UB40 and there is no other. He went solo just before the band went on a tour of Australia. Friction began to swell among the band members. Eventually Ali left. That unique voice is what we are all used to in all the UB40 hits. It comes from Ali and nobody else can imitate it, not even his brothers, Robin or Duncan.
I am in a privileged position to have watched both UB40's, one without Ali Campbell and another with Robin Campbell miming to his brother's voice at Brixton Academy in London. The latter was not the same UB40 we were used to. Before I said anything, the late Radio 3 D.J., Peter Johns, who was with me on the night at the gig commented that the band sounded different.
There is only one UB40. That is Ali Campbell despite the claims made by his brothers, that they own the original UB40.
Now here I come with the live review:
Politics aside. After two supporting acts, Josh Ansley and Silent Nqo had warmed up the crowd with their amazing performances, UB40 gave a splendid performance in Harare. Ali Campbell who did not seem to be as energetic as he was in 1982 due to his advanced years, was in the capital without his brother Robin. He still did it, and l was there to watch him play live on stage. No doubt the band, despite the line-up change had spent a lot of time rehearsing together. They put up a splendid show at Old Hararians Club on Thursday May 25, 2023. Judging by the number of people who attended this concert, it was evident that Reggae has had an enormous impact on the world, including Zimbabwe.
The crowd went stark raving bonkers as Ali Campbell of the legendary silky charm UB40 band smooched them with his honeyed staccato reggae rhythms and golden voice which came with hit after hit. Commencing at exactly 9 o'clock p.m. and finishing at 10.30 p.m., UB40 gave a classic performance.
They churned out hit after hit which included: Here I Am, Homely Girl, Red Red Wine, Many Rivers To Cross, Cherry Oh Baby, Sing Our Own Song, Here I Am (Come Take Me), One In Ten, If It Happens Again, Kingston Town, I Can't Help Falling In Love With You, Please Don't Make Me Cry and many more.
I am not sure why they did not sing one of my favourites; Bring Me Your Cup which starts with a staccato guitar sound. Was it because Robin Campbell, the former lead guitarist was absent? Ali, who plays a left-handed guitar could have done it, but I guess it would have been more difficult with him doing the vocals as well.
Before the show came to an end, Ali asked everyone to observe a moment of silence for the late Tina Turner. We did.
We assumed that Red Red Wine would be the last song, but alas! NO! Only a few people started to trickle out of the venue after they had assumed that the show was over. The rest started crying out for more with one White woman next to me shouting: "Bring Jah Prayzah!".
In no time at all, Paul Slowly, The UB40 drummer, was back on the stage and soon sent out booming sounds as he commenced his drum solo. It was crisp and rhythmic as the rest of the band joined in.
Dr Obadiah Moyo (aka Biscuit), former Zimbabwe's Minister of Health who was dancing next to me started reminiscing about our days in London. He also started to sing along while skanking to the rhythm. He said that seeing the band again after many years was a breath of fresh air.
Three more tunes and the show was finally over.
I had been standing up for nearly three hours and wished there were chairs to sit on in the main arena, but it was all worth it.
Since Robin Campbell, one of the founding members of the original UB40, had the rights to the official name, they were and still are able to continue performing and releasing music without a name change and as the classic UB40. This is why there is confusion about who the real UB40 are. This is also the reason why we continue to follow the tale of the two UB40s.
Feedback: [email protected]
Related Topics